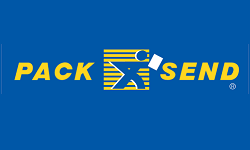 PACK & SEND Franchisee Case Study Feed
Last updated: 06-December-2021
---
Packing in the corporate career -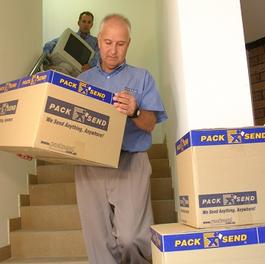 After spending 13 years in Singapore working at major corporate brands, Julian Starr ventured back to the UK searching for a new lease of life. He had proved integral to American Express Asia, firstly as Chief Financial Officer for the bank and then the Controller for the whole company, before moving on to PayPal Asia where he was influential in the early stages of the business. With a decade's worth of experience behind him, Julian was ready for the next chapter.

"I think everyone gets to that point, after so long, when they want to try something different. My role as CFO at PayPal was a difficult act to follow – I was the fifth employee to be recruited and at the end the team had grown to over 5,000 strong. When I started, the company was achieving £100million in revenue and by the time I had left, it was turning over £700million.

"It was at that time; my children had finished school and I had the opportunity to return to the UK. PayPal offered me a role in the UK but the commute from our home in Essex to Richmond each day didn't bring the change I'd been hoping for. I soon realised the time was right for a change."

Julian agreed a transition period out of PayPal which enabled him to explore the next chapter. He whittled down his options to either starting a business himself, buying into an existing company or investing in a franchise. In March 2013, Julian began his intense search into the franchising route.

"During my research, I stumbled upon PACK & SEND and it seemed like the perfect opportunity for me. It was a less risky option because of the proven franchise model and it would give me a little more time with my family once I had established the business."

PACK & SEND is the UK's leading packaging and shipping specialist franchise. Franchisees usually start as owner-operators of their franchise, building a team to manage the needs of their customers. By providing professional packaging services and combining this with a wide range of delivery options, they can send anything, anywhere. They form part of the UK's £70billion logistics industry.

"It also helped that PACK & SEND solves the issues I experienced in my time at PayPal. There were always problems with the cross-border logistics side of the business, so to have those solutions at my fingertips felt very satisfying."

Julian started his due diligence by speaking to other franchisees and making sure that PACK & SEND was right for him. Once he'd made his mind up, he was ready to embark on their intensive training programme to prepare him for the opening of his very own service centre.

"My son, Bradley, and I went to the Reading head office for a week of on-the-job training. I worked on the sales side whilst my son focused on the packing – that was the plan all along for when our own store opened. We learnt more about the business but it was the operational side that benefitted us most. It was crucial to get hands-on time with customers and process enquiries under the guidance of someone experienced from PACK & SEND - some items really do take you by surprise!

"The most challenging part of the start-up process for me was finding the right premises. You want a location which is accessible to our range of customers and that will also work financially for our business plan. The PACK & SEND support team assisted in finding the right type of premises in the target area."

The father and son duo launched their PACK & SEND business in London Spitalfields in September 2013. The pair were fully aware that the first year of any new business can be tough. They both knew they had to be realistic with their approach and agreed to set their 12-month target to breakeven.

"We were excited for the challenge. We focused heavily on our marketing and created a buzz around us starting up. We didn't have any competitors in the area but that also meant we had to educate our potential customers on what was a completely new service. Our hard work soon paid off as, due to winning a very large customer, we actually smashed through our target, breaking even within six months – with a final first-year turnover of just under £200,000."

In the second year, PACK & SEND London Spitalfields increased its turnover by 47%. Since then, business has continued to show healthy growth through a mixture of new and repeat clients. Given the growth, to handle peak times, Julian's wife, Lisa, helps out.

"When it's busy, Lisa comes in to continue our smooth delivery of day-to-day customer service. That allowed me to focus on the operational side of things, managing the accounts and dealing with the logistics.

"Customer retention is vital to consistently grow a business and is just as important as finding new customers. PACK & SEND are focused on excellent customer service and this has certainly been a good strategy for our business growth. It sounds simple but, if we provide a solution with ease for any packing or delivery job, our customers will keep coming back."

Franchisees benefit from a strategic supplier network which would be difficult to negotiate as an independent business. Specialist rates are available from all major logistics brands, whilst IT, finance and marketing systems at head office ensure you are always ahead of the game.

"No item is too crazy to pack and deliver but the list of suppliers I can rely on certainly helps when we get odd requests! The list of things we handle is endless – some of the most challenging probably being large antique model ships with intricate rigging. It's one of the satisfying things about the PACK & SEND franchise – being able to provide a solution to some of the more difficult jobs."

"PACK & SEND has also given me the freedom that I was looking for. I now have the time to do so much more with my family - I love taking my son to football matches. On top of all that, I was able to offer him his first job. If he wants, he'll never have to do the commute or work away from home like I had to."
---
PACK & SEND – A franchise business for corporate managers - 16-July-2013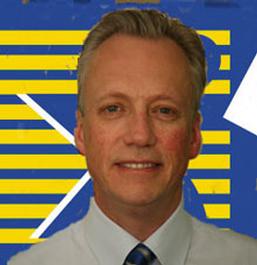 Richard Webb is a veteran of a high-flying career in media trading that took him from an advertising agency buyer to managing director at Mirror Group Newspapers. He left in 2008 to set up a media consultancy and a manufacturing business (ShirtStar). In November 2011 he started a Pack & Send franchise in Richmond.
Why did you decide to take on a franchise and what appealed to you about Pack & Send?

I wanted a transactional business that was going to give me a regular income and could be grown and scaled. I knew it would be very hands-on in the early stages, but eventually I wanted something that would let me step back a little. There were plenty of franchises out there but most of them seemed to be pretty poor quality or to be operating in a saturated market.
Pack & Send is a physical business that is not going to be killed by the internet. I like the concept and the fact that it's new to the UK – that makes it a risk but also a great opportunity. Like all franchises, one gets a territory of an agreed size but, as Pack & Send is fairly new and the concentration of stores is not yet that high, to all intents and purposes I can operate in a much bigger area. It's a high gross margin business based on service, innovation and delivery and there just aren't many companies nation-wide that have our skills and ability – we offer a retail service that fills a gap in the market between the high volume corporate contracts offered by the freight companies and the discounted but basic delivery services available to consumers.
So far it's been entirely what I expected it to be.
In what way did your earlier experience in other areas/careers help?

My career has always involved dealing with people, negotiating and trading, so I use that experience to deal with private and business customers alike. I understand the corporate mentality and that helps with some of the bigger companies that use our services.
I'm a great believer in doing things properly even if it's slightly more expensive and involves a little more work. If you do a good job for people they will remember, and our customers are already giving us lots of word-of-mouth recommendations.
Have there been any unexpected challenges or especially challenging cases?

One of the more interesting challenges was a Tang Dynasty Chinese horse sculpture with broken ears. It had to make a round trip to a craftsman to be fixed – and come back in one piece. We used a custom-made foam bed for the horse which became a re-usable transport case for it.
We create solutions on a daily basis with a bit of lateral thinking and some imagination. It helps to have some construction skills and be good with tools, and that's all part of the fun. We get a lot of help from head office and the rest of the network but ultimately we have to decide on the solution ourselves.
What does a typical day look like? What do you love about your work now?

We have to solve different problems every day and finding solutions provides a sense of satisfaction. We work out both how to pack and ship all kinds of things to ensure safe and timely delivery, but also to keep the costs competitive. We could be dealing with orders that range from £50 for a private individual to £4,000 for a corporate customer and working out how to transport anything from circus equipment to delicate computer parts. It's not rocket science but we have the means to take away a lot of our customers' headaches, such as packing challenges and customs paperwork. I believe all of our customers have been delighted with the service and many have come back – we help solve people's problems and that's a great thing to do.
What would you advise someone who took on a Pack & Send franchise?

If you want to do something a bit different and more interesting Pack & Send is a fantastic opportunity. If you're not comfortable with the physical side of it and humping boxes around, running vans and dealing with large volumes of material, then it's probably not for you. You will need to be reasonably practical and good at dealing with people.
What are your plans for the future?

My ambition is to make a huge success of this franchise after which I hope to expand into more branches.

---
PACK & SEND couple find success in franchising - 22-April-2013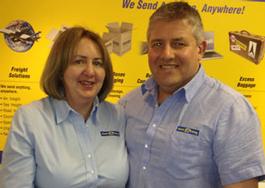 Franchisees: Helen & Colin McDonald
Territory: Southampton
Franchise: PACK & SEND
What did you do before you ran your franchise?
Helen was a police officer for almost 29 years undertaking roles from an area beat officer to scenes of crime investigator amongst other things. Colin was an area manager with several breweries up to 2007 – managing between 40 and 60 pubs in England and the Welsh borders. He also managed two supermarkets for the Co-op for eighteen months before loining PACK & SEND.
What made you decide to work together?
The couple had discussed what would happen when Helen retired from the police as she would still be relatively young and had considered a bed and breakfast at one stage. However, just as Helen was due to retire in March 2012, the opportunity arose to purchase the PACK & SEND in Southampton franchise from the previous franchisee who was selling due to ill health. Colin knew the business, the existing customer base and the financial performance, so the decision making process was relatively straight forward . Being a couple who own the business ensures that you both have the same goal to succeed .
What appealed to you about the brand?
The PACK & SEND business has been trading for 20 years since its launch in Australia and, as Colin was already involved in the franchise, the couple could see the potential growth in the business and the existing customer base in Southampton.
Whilst it is still new to the UK, the PACK & SEND proposition is unique in the market which makes raising awareness of the business in the local area the biggest challenge for franchisees.
The variety of jobs from high value antiques, sentimental family heirlooms, to sending 3 metre long ceiling panels for super yachts, means every enquiry brings a different challenge and tremendous satisfaction when you provide the customer with a tailor made solution.
How do you work together?
Deciding how Helen would slot into the business was a challenge as Colin already had a role and Helen had to be inducted whilst keeping the business running. As a couple we have allocated tasks that use our personal strengths. Helen's interpersonal skills, developed over many years of helping and serving the general public, are focussed on the customer facing parts of the operation in store, on the phone, through email and customer feedback . Colin spent many years appointing and advising self-employed publicans on how to grow and manage their businesses so these areas of the operation fall under his remit. Both of them get involved in packing though Helen wisely 'delegates' the heavier boxes and parcels to the other staff members boxes around the store!
Good communication between each other and no assumptions are key to success. The biggest challenge when working together is to achieve a sensible work /life balance. As with most small businesses, the current economic climate makes sales and profit growth very time-consuming but, whilst there are days that are just too long, working together means they both know what needs to be done.
What advice would you give to other couples considering franchising?
Any couple considering running their own business must be honest with each other and be prepared to see a different person to the one they see in a home environment.
The plus points are that you are your own bosses in control of your own destiny and will reap the rewards of your business success. You will find your partner has qualities that you never realised they had.
---
PACK & SEND franchise allows for better quality of life - 25-March-2013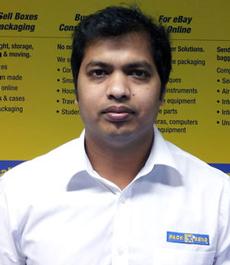 Franchisee: Mr Hari Bodi
Age: 32
Are you married/working with partner - Married
Territory of franchise: Oxford
Brief career biog: Over 12 years experience within the fast food and retail market, gained in selling, marketing and general management. Turned fast food stores which were running in losses to profit powerhouses.
Franchisee Questions:
What did you do before franchising and what led you to look into it?
JV Partner in two of the Dominos Pizza Outlets. I was looking for a change from Food business to something like a 'normal' office hours business which led me to take up the franchise opportunity with PACK & SEND
Why this sector and why PACK & SEND? How did you find out about them?
I was always interested in retail business, in my 12 years of experience in retail I have sold Rice, Bikes, Motorbikes, Cooking Oil, Dominos Pizza and now Pack & Send. PACK & SEND is unique in its own way and that is what excited me to know more about this business model.
In PACK & SEND we specialise in Packing Fragile, Large, Awkward, Valuable, Art & Antiques and Shipping with in UK or anywhere in the world. I found PACK & SEND online (Google) when researching new opportunities.
How did you find the process of raising funds?
I needed to get some bank lending but the Business Manager at our bank (NatWest) was very efficient at arranging the funds, it was quite easy and a straight forward process.
How long did the whole process from funds/applying to training to getting up and running, take?
4 – 6 Months
What support and training did you receive and continue to receive from the franchisor?
The training programme provided wider knowledge about PACK & SEND which included the packing, shipping, marketing and sales etc. After finishing my training and I started trading in my store and in the first month I sometimes had doubts when it came to packing methods and it was easy to get in touch with the corporate team to clarify the best approach. They were also helpful in doing a marketing plan for my store and were in the store with my for the first week or so.
How has it been going so far?
It has been 3 months since I took on the PACK & SEND store in Oxford and the progress has been steady. Everyday is exciting as you don't know what you can expect from customers and what we will have to pack and ship next. It is also stimulating as there are often several ways to help with a customer's complex needs and I enjoy putting suitable proposals together for them.
What's your typical day like (if there's such a thing!) DIFFICULT TO ANSWER AS ALWAYS DIFFERENT
What do you foresee for the short and long-term future of your business?
The short term business plan is to train my new staff and grow the sales in my Oxford store so that it meets the budgeted monthly sales on a regular basis. This will then allow me to expand by opening multiple stores.
How has it had an impact on your life? (working life, quality of life, time with family, income, etc)

PACK & SEND has fulfilled my need for change when it comes to work life, as I was looking for an office hours business. This has improved the quality of my life and the time I can spend with the family and friends.
---
Pack & Send franchisee has found unique business - 15-February-2012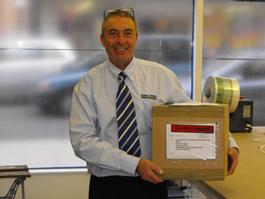 Name: Nick Jennings
Location: Southampton
Franchise: Pack & Send

Why did you go down the franchise route? And why did you choose your franchise?
I looked at a number of businesses for sale and decided to try a franchise. I looked at approx 7 franchises in marketing, finance and other areas before choosing Pack & Send based on its unique offering within the UK and the transparency and credibility of the UK management team.
The other thing that impressed me was that they never tried to sell the concept to me – whilst they were very happy to provide me with business and market information and let me talk openly with whichever other franchisees I wanted too. They are very confident in the business and it was very much up to me to sell it to myself.
What did you do before taking up a franchise?
I started and ran an electronics company for 18 year before it was successfully sold to one of its American customers.
How did you raise the finance?
From my own funds but involved my bank from the start for an overdraft facility.
What training and support did you receive initially and ongoing?
I and my staff attended a 3 week training course provided by the master franchisee in Reading and they provided a month in store support for the first month we were trading. Pack & Send UK have provided regular ongoing support via telephone, email and store visits and this has extended to working in the store to help train new staff and resolve any issues we may have had.
What is a typical day for you as a franchisee?
The days tend to be very variable depending on what jobs come in. It usually involves quoting for jobs received via the internet, phone and walk in's, picking up items locally, packing them and then organising their dispatch worldwide, which very much depends on what has come in. This can be very variable because we specialise in items that cannot be just thrown in a box and then in the back of a couriers van!
Then there is the marketing and relationship building with local businesses, dealers and suppliers along with the follow up calls to customers for whom we have supplied estimates.
What challenges have you faced?
The Brand is still new which has advantages in that those who get involved early on will do very well but it also means that marketing the service is very important. The concept is aimed at people who care about the items they are sending so it is important people understand the benefits of the service we offer in terms of specialist packing and shipping services. i.e. It's not worth sending it if its get broken or lost!
Has becoming a franchisee changed your life, if so how?
Yes I am now back to work after being semi-retired. It is entirely different to my previous occupation which required a great deal of R&D expenditure before a product was ready to sell. Payment for our services is usually upfront.
It is also great in that whilst I'm very much in control of my own business I have what has been first class support from the team in Reading. It has also been great how they have managed to develop such an immense team spirit amongst the franchisees.
What advice would you give to someone thinking of buying their first franchise?
Do plenty of research about the market, the area you intend to operate and the concept of the product or service. Also check out any competition. One thing that a lot of people seem to ignore is the quality of the management team at the Franchisor – you should make sure they have a high calibre team.
Don't necessary settle for the first franchise you see.
What are your plans for the future?
To expand the business.
Would you do it again?
Our concept is to create a chain of shops – so yes.
---
Taking control with Pack & Send franchise - 10-February-2012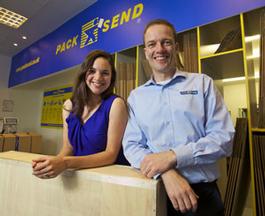 Name: Phil & Katie Diacon
Location: Bristol
Franchise: Pack & Send

Outline why you both chose to launch a franchise and what was it about the Pack & Send opportunity that appealed so much?
After being in the Armed Forces, starting a franchise business was a quick and easy solution to self-employment. We chose Pack & Send because it is a tried and proved system, it was new to the market, and there were great opportunities to get more involved with building awareness of the brand. In the current economic climate and market, we recognised that there was a fantastic potential for growth in the UK.
Our decision to launch a franchise business with Pack & Send was based primarily on the potential of growth in the UK - we were keen to take control in various parts of the franchise system and therefore we did not want to invest in a mature franchise business where you had to fit into the gaps that already exist.
In terms of research, we then began our due diligence which took a few months. Pack & Send highly recommended that we spoke to existing franchisees, and they encouraged us to speak to those we wanted to and as such, they were obviously transparent and extremely confident in the training and support they provided.
What did you do before taking up your Pack & Send franchise?
Before becoming Pack & Send franchisees we were a pilot and engineer in the Armed Forces.
How did you raise the finance?
We raised the necessary finance for this franchise mostly from our own private funds but a small percentage came from the bank.
What training and support did you receive initially and ongoing?
Pack & Send have an excellent training programme which teaches you about the freight industry, how to run the store and how to pack the items. We feel that they are always available to answer queries and they were greatly supportive throughout the entire start-up process and ever since. They even help out in the store throughout the year.
What we believe Pack & Send provides is very positive and encouraging support - you receive a tried and tested franchise model that you have to follow in order to make the business work. Importantly, the Pack & Send support team have great 'know-how' and they give you their full attention and support when you show the same level of committment to the brand. One of the key decisive factors for us was that we felt that we could do business with these people as they share our own values.
What is a typical day for you as a Pack & Send franchisee?
On a typical day our employees open up at 0830 and we start tracking the parcels in the system. We consistently receive calls and enquiries throughout the day which we handle while packing other items to ensure they leave on time. On top of this, there are always collections to make and meetings with companies throughout Bristol to discuss their needs and requirements. The team finally finish around 1730 – satisfied with a productive day and generally fairly tired!
What challenges have you faced?
When we have extremely busy we have to plan ahead, however, our biggest challenges are found in the recruitment of staff. It is quite a juggling act to balance HR issues with all other aspects of business.
Has becoming a Pack & Send franchisee changed your life, if so how?
We are still in the early stages of our business and are still growing steadily but we definitely have more flexibility in our life and aren't under constant threat of visiting a sandy country which puts out mind at ease.
What advice would you give to someone thinking of buying their first franchise?
We would recommend that you thoroughly research the franchise, the market, and the franchisor. It is worth remembering that meetings are an opportunity to interview them as much as an chance for them to question you. It is important to feel that you are able to work with them to make the franchise business successful. Also, it is necessary to have fairly conservative estimates in regards to your financial planning figures before any commitment is made.
What are your plans for the future?
We are looking to grow the business at a steady rate and to recruit another employee which will allow us to have even more flexibility so as to work on growing the franchise further. We are even considering launching another store too.
Would you do it again?
Absolutely!
---