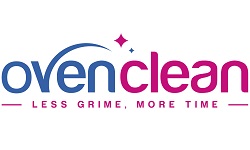 Ovenclean Franchisee Case Study Feed
Last updated: 04-July-2022
---
Redundancy creates new opportunity for Ovenclean franchisee -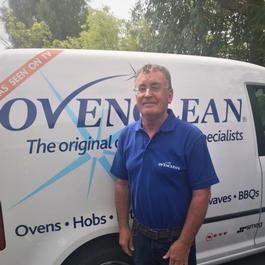 The Coronavirus pandemic saw swathes of people furloughed and, later, made redundant from their job roles. Many had been in the same career for decades and knew nothing else, so quickly had to find an alternative opportunity. For Kevin, being made redundant offered the chance to change his lifestyle and achieve greater job satisfaction, with an Ovenclean franchise.
Caught in a rut
Prior to 2020, Kevin Broadley worked as a contracts manager, carrying out commercial kitchen and restaurant fit outs for contract catering companies in the B&I, schools, university and leisure sectors. Though he had enjoyed his role for many years, something about his day-to-day duties had changed.
He said: "In the 12 months before I left my job, I started to feel that there was more to life than busting a gut working for someone else. I didn't feel appreciated by my employer, or the clients I was working for.
"I found myself caught in a bit of a rut; though I was personally committed to doing a great job, I felt trapped, controlled and micro managed. I was travelling all over the country, working excessively long days and was very stressed out – the effects of my professional life started to impact my personal life, and prevented me playing sport at a competitive level. Something had to change."
In April 2020, Kevin was furloughed and three months later, he was made redundant.
A different route
Rather than find a new fully employed role, which might've seen Kevin experience the same feelings and concerns as in his previous job, he opted to follow a different path. Knowing he wanted a job that would challenge him, and where he could interact with the public, he explored franchising and came across Ovenclean.
He said: "I knew that, with franchising, I would have to get my head around the fact I would be self-employed, but I was prepared to work hard.
"Oven cleaning might not seem a glamorous job, but I could be my own boss, make my own decisions and make a big difference to people. If I could take a job off their hands that they didn't want to do, and make them happy with the result, I was confident I could grow a successful business."
A new career with Ovenclean
Kevin got in touch with the Ovenclean team and having been along to a 'find-out-more' open day, he placed his deposit for the Ovenclean Nottingham franchise. Not currently in employment, Kevin was able to start his training programme shortly afterwards, ahead of getting to work.
He said: "There were two weeks of intensive, on the job training, working alongside an experienced franchisee who provided me a wealth of mentoring support.
"I also had direct contact with head office who offered excellent sales and marketing advice and guidance. They ensure the brand is promoted at a national level with very effective advertising campaigns, which gave me the confidence there would always be a steady flow of enquiries coming through from prospective customers. However, they also encouraged me and taught me how to build up my own network, by doing such a good job for customers that they felt compelled to recommend me to their friends and family.
"The training period and starting my franchise shortly afterwards took a bit of adjustment. I wasn't used to working physically and intensely for sustained periods of time due to being furloughed, but I soon built up my stamina and fitness. One unexpected benefit of the job is that I've lost weight, I'm fitter and I'm healthier."
A learning curve
Migrating from employment to franchising requires a change in mentality, along with the typical challenges of running your own business. But Kevin has approached any hurdles head on, using them as an opportunity to learn.
He said: "I had a few challenging days in my early weeks, where things didn't go quite according to plan. But I was always able to call on my mentor and the wider Ovenclean support network, who helped me through every obstacle.
"Within a few weeks, I really started to notice the benefits of owning a franchise. I have the flexibility to choose what I do on a daily basis, and don't have to answer to anyone. I have job satisfaction every single day, because customers recognise I've done a great job and it means a lot to them and to me. I feel so proud of what I've achieved in such a short space of time and know there are more great things to come."
Top tips
Kevin is several months into his new franchise and is enjoying being in control of his own destiny. His redundancy was a twist of fate which encouraged him to take a new career path, but he encourages anyone who isn't happy in their job to consider self-employment and franchising.
He said: "This is such a simple business; do a good job and your customer will have you back on a regular basis to do a job they hate. They're happy to pay you to do it, and happy to pass on a good word, too.
"You meet all sorts of people working in this role, and I love the opportunity to engage with the public. Some want to talk to you the whole way through the job, others prefer to let you get on with it. But every single person I've come across has been lovely and easy to get on with.
"I'd recommend franchising to anyone. Take a leap of faith and don't look back – the rewards are so worth it. Be prepared to work hard, because you only get out of it what you put in. But I can honestly say I am so much happier, relaxed and content than I ever was when working for someone else. I have a sense of purpose and no sense of stress. Working for Ovenclean is a breath of fresh air."
---
Lockdown easier to manage due to being part of an established franchise network -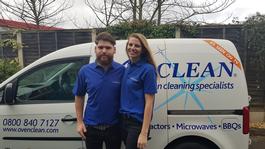 The Coronavirus lockdown triggered a series of life-changing events for Mark and Daisie Griffiths, all of which have been made easier to manage thanks to their role as franchisees with Ovenclean.
Having only launched their network in January 2020, they didn't have much time to build the business before Covid-19 hit. Thanks to being part of the Franchise Brands network, the pair were safe in the knowledge their jobs were safe when restrictions came into place.
However, Mark was unable to conduct cleaning jobs and Daisie, who was pregnant at the time, was furloughed from her part time role in a pub. The extra time offered to the couple to be at home provided them food for thought and instilled habits which they simply didn't want to shake off.
Mark said: "We were both desperate to get back to work but we'd been able to dedicate extra time to our son, home schooling him and getting outside more with him. When society reopened again, that freedom and flexibility had become a habit, and was something we didn't want to compromise on ever again."
Today, Mark and Daisie work their Ovenclean diaries around their children but are still able to conduct enough cleans to pay their bills, add to savings, enjoy breaks with their family and plan for the future.
Mark said: "When my son started school in September, I blocked out my diary every morning and afternoon for a week to be able to take him in and pick him up. It was such an important time for him, and I wanted to be part of it. And since Daisie had our little girl four months ago, it's been a blessing for us that we can balance jobs with me being at home to share the responsibility.
"Last week when it snowed, my son was really excited and wanted to play outside. I'd seen the forecast days earlier and had planned to have the morning off with him for exactly that.
"These are the type of things I would never have been able to do in my last job – it would've been impossible. That's what makes this job second to none."
---
New career path leads to Ovenclean -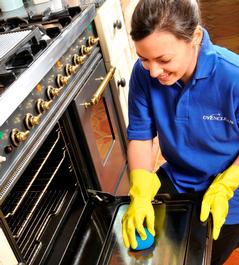 A previously uninspiring job role which focused on negative customer experiences left Pam unhappy in her career. Her supportive husband, who recognised how fantastic she was at working with the public, encouraged her to seek a new path. Together, they researched franchise opportunities and came across Ovenclean. Now, she's happier than ever before.
Before Ovenclean
Pam Patel has always had a customer-facing job role. Having worked for a national coach company and in breakdown cover for over 10 years, she went on to join the company's customer complaints department. What she thought would be a role supporting the public with their travel challenges turned out to be a demanding job which left little to be desired.
She said: "The only way to describe my previous job, is 'depressing'. I was working from home which meant I was alone for most of the day, and though I tried to stay positive about the situations I was presented with, some were very difficult to manage. I'd receive calls about the most ridiculous scenarios – such as customers asking for refunds because they didn't like the person they had to sit next to.
"I thought there had to be something different out there, but I didn't feel positive enough about work to actively search. My husband realised how big an impact my job was having on me, and made me see I could achieve more. He has a job as a salesman, visiting people's homes and mixing with the public. He loves it, and he thought I would too. It turned out he was right."
A fun and flourishing franchise
Pam and her husband researched jobs where she could make a difference to other people, offering a service they didn't want to do themselves and which enabled her to regularly meet new people, and came across Ovenclean. She had reservations, but, spurred on by her husband, decided to take the plunge into self-employment.
She said: "Ovenclean was totally different to what I had always done, and I was worried that I wouldn't get enough business through the door – there's a lot of responsibility with being self-employed.
"But when I enquired about an Ovenclean franchise opportunity in my local area, I got reassurance very quickly. I attended an Open day where you meet experienced Ovenclean franchisees who explained how they had come from boring careers and would never go back. It made me think I could do it, so we invested."
Learning from the experts
Anyone who joins the Ovenclean network is given on-the-job training and provided with a dedicated mentor who advises on how to get the most from your role. Pam was offered a husband and wife duo of mentors, who helped her get to grips with the job quickly.
She said: "I was introduced to Kevin and Jane who run their franchise as a couple. They gave me so much support, I'll always be grateful to them – we're still in touch today, in fact. Ovenclean also offered me head office guidance, to ensure my accounting and IT systems were ready for me to start taking bookings and issuing invoices.
"I chose not to actively market myself for the first few months while I learned the ropes, so my first lead came through Head Office. I was still technically in training and was nervous, but I focused on everything I had been taught so far, and drew on my experience of building a rapport with customers in all of my previous roles, and the job was a success.
"From there, I've slowly started building my own profile, using social media to develop the brand locally as well as newspapers and word of mouth recommendations. The business has grown quickly, and I absolutely love it."
Preparation is key
Describing herself as super organised, as the business has grown Pam has identified ways to make her business more efficient and agile, ensuring she is prepared for whatever the day brings.
She said: "The key is to get ready for your day, the night before. I clean my van, top up my solutions and make sure everything is ready for the next day so that I'm set to go bright and early. I'm super organised and leave reminders in my diary for when I need to get my cleaning gasses topped up, or when I need to replenish my micro cloths.
"Because we're both in the home improvement industry, my husband and I can refer customers to each other which has been an efficient way of building up more demand. They meet one of us, see us do a good job and know the other one will deliver to the same standard – I suppose you could call us a bit of a power couple!"
Complete job satisfaction
Pam never anticipated owning her own business, or cleaning ovens for a living, but says the satisfaction she gets outweighs anything she has ever experienced in previous roles.
She said: "The exciting part is not really knowing what to expect from each customer. Sometimes I'm in and out within an hour, other times I'm there much longer. But whatever the case, the best part is the result. I absolutely love looking at my customers' faces when they see I've got their oven looking cleaner than they ever expected it to. I know how happy I am when I do my own, so they must feel really happy for someone else to have done it for them. I've actually had a few hugs off really satisfied customers!
"I form a strong bond with some customers; I'm in their house for a while and we get chatting. I know which ones will want me to come back, and which will refer me to their friends. It's a hard, physically demanding job– but it's so satisfying.
"On average, I do four jobs a day and then spend a bit of time getting rid of the mess and cleaning my equipment. My friend helps me with that part, so it gets done quicker, and every day I get to catch up with her which is another bonus."
One eye on the future
Pam's success as an Ovenclean franchisee has caused her to think big when it comes to the future. She's keen to grow her business and create more of an empire. But whatever the future holds, she knows it lies with Ovenclean.
She said: "I've got my eye on a neighbouring area, and when that comes up for sale, I would like to purchase it and extend my network. It'll mean I have to take someone on, buy a second van and potentially do more of the sales, booking and invoicing than I do cleaning. But who knows what the future holds – it's promising and there are lots of avenues to explore.
"The main difference for me since joining Ovenclean is that I wake up happy. I wish I'd done this 10 years ago. My husband pushed me to get to this point and I'm so glad he did. I only have to rely on myself, and I know that I'll do a good job. It's my business, my time, my happiness. And that's such a huge reward."
---
"I'm now into my second year and loving every minute of it." - 06-March-2020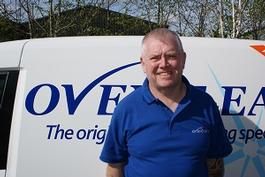 Name: Mark Pascoe
Franchise: Ovenclean
Franchisee since: April 2017
Mark worked in the construction industry on and off for over 20 years when an accident at work left him needing an operation and 3 months off work. In this time, he was able to start thinking about his future, and that's when he noticed an advert for Ovenclean in a National newspaper.

"When I saw the advert I visited the website, and after reading some case studies, decided to give them a ring for more information. I had been self-employed before so understood the concept of working for myself and being my own boss, which is why the opportunity really appealed to me."

"Starting out, I spent two weeks on the job training with an established Franchisee, which was the best training I've had. The follow up support from HQ was spot-on with daily conversation for the first couple of weeks, followed by regular contact. I know they are always available when I need them."

"After my injury at work I now suffer from Rheumatoid arthritis which, although under control, has its limits. An Ovenclean franchise offers the opportunity for flexible work hours, meaning you can do as much or as little as you want. As with any business, you get out what you put in. For me, I work around 2 – 3 bookings a day which is comfortable for me to maintain with my arthritis. Working the hours I want, and that suit my health, means I now have a much better work-life balance. I feel so much better in mind and body"

"In my previous role I was always under stress to meet deadlines which were unrealistic. With Ovenclean, I can enjoy going to work knowing that each day I will be meeting new people, going to new places, and get satisfaction from delivering a job well done. I'm fortunate enough now to not be under pressure to undertake any more work, although I know it is there if I want it."

"Of course, there are also challenges. You have to be focused and understand your costs when running a business. Although you can be flexible with the work you book, you have to maintain the appointments coming in to keep the wheels turning and the earnings coming in to pay your bills. Self-employment is not for the faint-hearted, it takes hard work."

"In my opinion, a successful franchisee would be hard-working, focused, and be able to use all the things you have learnt over your lifetime (good, bad or indifferent) to your advantage now you are the boss."

We asked Mark what advice he would give to someone looking to buy their first franchise.

"Don't just dream it, do it. If you're motivated, want to be your own boss, enjoy meeting people and are not easily fazed, I can't think of a better way of building a new business."

"Nothing happens overnight. My plan from day one was 5 years of hard graft. I'm now into my second year and loving every minute of it; building my business, growing my client base and now reaping the re-cleans on a regular basis. My only regret is that I didn't see this opportunity earlier in my working life."
---
"What appealed to me about Ovenclean was being independent" - 18-October-2019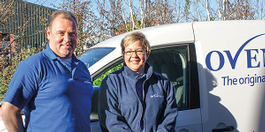 Name: Robert Wall
Franchise: Ovenclean
Franchisee since: 2016
Robert Wall worked as a milkman for 30 years before he decided to move areas and needed to look for a new job. He had considered self-employment in the past, and after hearing about the benefits of an Ovenclean franchise from a friend, decided to join the network in 2016.

"A friend of my wife had recently bought an Ovenclean franchise-and was doing very well from it. Knowing that he was successful within his first year, and after carrying out my own research, I felt convinced that Ovenclean would be a good business to start up."

Once Robert spoke to existing franchisees and attended the open day in Worcestershire, he was ready to start his business. Ovenclean franchisees benefit from fantastic job satisfaction due to being able to fit the flexible opportunity around their lifestyle:

"What appealed to me about Ovenclean was being independent – working to my own hours and days so that I could have a better work-life balance with my wife. Overall, Ovenclean looked like a great business proposition with good support.

"The benefits of joining a franchise rather than going it alone is the backing of a well-established brand and the support of Head Office." All Ovenclean franchisees receive two weeks on-the-job training with a business mentor, who is a current franchisee. As well as on-going and consistent support from a specialist team, franchisees can also attend 1-day sales, marketing and social media courses.

"The biggest tools of growth have been doing a good job to get recleans, recommendations and reviews. This is invaluable because word of mouth goes a very long way" Robert continues. "Use of social media has also been a huge benefit to us, as well as leafleting, advertising in local magazines and running supermarket promotions. As long as you do a great job, you'll get those repeat bookings."

"You definitely need to be willing to put the work in if you want to be successful. It took time to get into a routine to keep on top of the admin, banking, marketing etc., but now my wife works with me one day a week doing this, and this works really well for us. Sometimes it only needs a couple of hours, but it's a good idea to keep on top of it.

"I work five days a week, which allows me to adapt my working week to fit in with my wife's job, as her rota changes weekly so we can get days off together. It's great being in charge of my own schedule and knowing I can take the time I need to for me.

"My advice to prospective franchisees would be to go for it, be prepared to work very hard and don't give up. Keep doing a great job and the recommendations WILL come in!"
---
Interview: "My life has definitely improved - I've got it back!" - 19-April-2019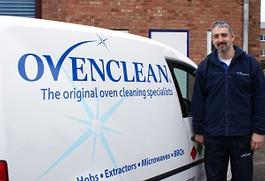 Name: Roger Butcher

Franchise: Ovenclean

Location: Milton Keynes South

Roger Butcher has been part of the Ovenclean network since 2012, which is when he realised that working for himself would provide greater job security and flexibility.

"After facing redundancy from previous jobs in the motor trade and customer service, I decided that I wanted to work for myself. Franchising was the ideal route to achieve that goal."

"After shortlisting Ovenclean, I looked at the competition in my local area. I also contacted a number of existing franchisees to see how their businesses were doing and to find out about their Ovenclean experiences. After going out with an existing franchisee to see how the business operated on a daily basis, I made my final decision."

"The thing that appealed to me about Ovenclean was the repeat regular customers every 6-12 months, where your database can provide a regular flow of customers."

Indeed, our franchisees benefit from a huge amount of repeat and referral business. Our innovative products provide an outstanding clean which mean that customers are thrilled with the results.

"You also have the support of a very experienced team at Ovenclean Head Office." continues Roger. "They provide technical advice, marketing tips and there's a 24/7 call centre which provides a steady amount of customer leads from national marketing campaigns."

As well as on-going support from a specialist team, Ovenclean put new starters through 2 weeks of training with a business mentor, an existing franchisee. This provides the opportunity to see the franchise in operation and learn on the job.

We asked Roger how his life has improved since joining Ovenclean and whether he would do anything differently:

"My life has definitely improved – I've got it back! I now have more time for family, can help with the school-run and have a great work/life balance. It's a scary prospect becoming self-employed, but the flexibility of working and the great way of life more than compensates for that."

"The best tool for success and growth is you! It's all down to the individual - your hard work and determination can be the most important factor to building the business. If you keep going and do regular marketing, this business does work. The more you get in, the more you get out with Ovenclean."

"At the moment I have built the business to a level I am comfortable with, in the future I may like to get another van on the road and manage the business. We will see!"

With Ovenclean, you have the potential to expand if you wish. Many of our franchisees manage multi-van and multi-territory operations, and others operate one van and one territory. The Ovenclean business model is fully flexible around your needs and lifestyle choices.

To recieve more details about a franchise opportunity with OvenClean, request an obligation-free prospectus here!
---
Interview: "I'm completely in control of what I do and when I do it!" - 04-January-2019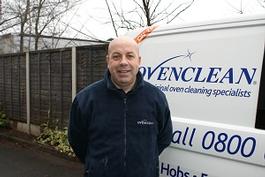 Name: Richard Metcalfe

Franchise: OvenClean

Location: Northallerton Darlington & Teesside

Richard Metcalfe joined the franchise in 2016. An Ovenclean franchise has given him financial security and the flexibility to fit his job around his home life. He tells us a little more about his Ovenclean journey:

"Prior to being a Franchisee, I was a Call Centre Manager/Operations Manager. My main functions were the day-to-day running of a department of circa 100 people. After being made redundant multiple times in different jobs, I decided to look into franchising because it guaranteed a job and financial security."

Franchising gives you the opportunity to set up your own business without going it alone. Richard had narrowed down his preference to oven cleaning, but Ovenclean stood out amongst the other oven cleaning franchises that he had looked at:

"I looked at other oven cleaning franchises, but Ovenclean was definitely the best option - the brand is by far the biggest advantage. Ovenclean is a long-established franchise and offers support from day one. There is a clear route forward and an existing business model which works. All you need to add is hard work, and plenty of it!"

If you are prepared to work hard and follow the Ovenclean business model, you will succeed. All our franchises benefit from proven national marketing, comprehensive initial training and on-going support to help them launch and develop their business.

"My training consisted of an initial 2 weeks with my business mentor, an existing franchisee. This was without doubt vital – you get to see the franchise in operation, the product, and how it is Marketing led. I also undertook a marketing course and have received consistent support from the Business development team at Head Office."

As well as receiving excellent support and training, Ovenclean franchises benefit from a great work-life balance as the opportunity can easily be fit around your lifestyle. Richard describes his typical day at work:

"I'm out of the house at 8am to get to my first appointment early, and then clean 3 to 4 ovens daily. I'm finished at around 2-3pm and then go home, convert any leads and fill my diary. I'm completely in control of what I do and when I do it."

Now Richard's built a successful business, his next step is growth, and he's confident that he can do this through effective marketing.

"My biggest tool for growth has been focussing on Marketing. As well as the leads from Head Office, my own free marketing via Facebook, the branded van, leaflets and local advertising in newspapers has been invaluable. Village Fetes, school fetes and other local events have also helped me maintain growth and will hopefully help me sustain it in the future."

"At the moment though, I'm very happy with how the business is going. To be honest, there's nothing that I would differently apart from one thing… I wish I had done it earlier!"

Find out more about franchise opportunities with OvenClean here!
---
Interview: "After researching the market and other franchises, Ovenclean was by far the best!" -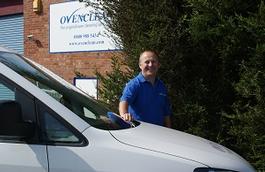 Name: John Stewart

Franchise: OvenClean

Location: West Cambridge

John Stewart joined Ovenclean in 2013, after wanting to re-invent himself in a completely different career. He tells us more:
"After working in a large clinical company for a number of years, I wanted something which was completely different. I happened to come across an advert in the Daily Mail for Ovenclean, so I decided to investigate further. I had cleaned ovens for my family before and really enjoyed the satisfaction of it being so clean at the end."

You don't need any previous experience to invest in an Ovenclean franchise. There are many reasons as to why people decide to join the network, including the flexibility of the business model, fantastic job satisfaction and return on investment – there is the potential to earn a very good income.

John's discusses what appealed to him: "After researching the market and other franchises, Ovenclean was by far the best! The return on investment you get for the cost of the package is well worth it - including the Marketing support, brand name and support from Head Office and existing franchisees. The reputable brand name, training and guidance ultimately means there is far less risk than setting up alone!"

Franchisees receive 2 weeks of training with a business mentor, who is an existing franchisee. There is also a specialist team at Head Office to provide any technical, emotional and business support.

"There are definitely oven cleaning companies who do it cheaper, but at Ovenclean we are able to negotiate a higher price because the quality is so much better. We do a deep clean and full 'MOT' of the oven. Because of the fantastic quality, customers always come back to Ovenclean and are thrilled with the results."

"You just need to get your name out there in your local area. Regular leafleting, advertising in local magazines, word-of-mouth and doing a great job are the main ways that I have grown my business."

We asked John if he felt that Ovenclean was the right decision for him, and what advice he would give to others:

"I would definitely recommend Ovenclean to a friend. It's not at all easy, you need to go out and fight for it but because you are directly benefitting from your own hard work, you don't mind!"

"It great to be in control of my own destiny, and I've become far more confident in my own abilities since joining Ovenclean. I only have one regret… I wish I'd done it sooner!"

To learn more about franchise opportunities with OvenClean, please download a prospectus here!
---
"We wanted the flexibility of running our own business, with the support of an established network." -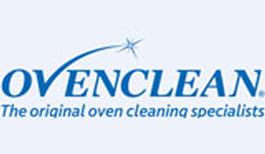 Name: Clive and Clare Pearson
Location: Camberley
Family: Two children, Katy and Michael (16 year old twins)
Please describe the circumstances in which you became an Ovenclean franchisee (i.e why did you choose the franchise etc):
Our twins were 18 months old when we become ovenclean franchisees. I had worked in publishing in London and Clive worked in sales, which often involved travelling. We wanted the flexibility of running our own local business, but with the support of an established network.
If you work in a partnership, please describe how this works for you:
I run the administrative side of the business (diary/accounts etc) and Clive is at the sharp end cleaning the ovens!
How often do you work? / How much time do you commit?
We are both very committed to the business. Clive works very flexible hours depending on the time of year and how busy we are. December is always very busy - 7 days a week in the early days of starting the business. We can start early/finish late as needed, but during quieter months (August for example), it's easier to take some holiday ourselves. I work as and when is needed - often the best time to call people for redo's is early evening (5 - 7), but otherwise I can fit in diary/accounts etc during the school day.
How does the job fit around your family life?
See above - it's easy to divert the phone to my mobile and carry the diary with me wherever I am. This especially applied when the children were much younger and I was out and about with them during school holidays.
How have you found the support/training from head office?
Head office has always been very supportive - we were one of the first franchisees to join OvenClean 15 years ago and have always felt very valued.
Do you advertise? What works for you?
Initially when starting the business we leafleted and advertised in local papers, yellow pages etc. After 15 years we have a large customer database so word of mouth is also very important, and local community magazines also work well.
Are there any downsides to the role?
Like any business where you are self employed, there is always the issue of no paid holidays but you just need to factor this in to running costs throughout the year.
Why would you recommend this opportunity to other mums?
Yes - definitely. It's allowed me to run a business, while staying at home to bring up my family.
How would you say your life has changed since becoming a franchisee?
It's given us the freedom to run a business within an established framework, while allowing us a flexible family life.
---
"Choose the right franchise for you and you won't regret it." -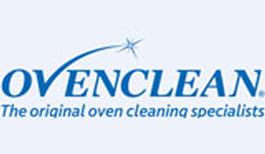 Name: Debbie Pell

Location: Essex

Franchise: Southend-on-Sea

After working in a variety of jobs since leaving school, Debbie made a lifechanging decision to invest in an Ovenclean franchise. Although she had some reservations about becoming self-employed, she feels that the support of Ovenclean has played a huge part in her success, through launching, expanding and then selling her business to go travelling around Europe!

We asked Debbie why she selected Ovenclean as her chosen franchise: "I looked at several franchises before Ovenclean. The national network of Ovenclean instantly appealed to me, as did the professionalism of the marketing materials, training and ongoing support."

Debbie claims that she received excellent support from day one. Ovenclean franchisees receive intensive 'on-the-job' training for 2 weeks, which is supervised by another franchise owner. Thereafter, franchisees benefit from on-going support from a specialist, experienced team at Head Office. They are also the only oven cleaning franchise that advertise on national TV.

"The training gave me a good basis from which to learn more as I progressed. I've always felt very supported by Head Office, even with all the changes that Ovenclean as a franchisor has gone through in the years that I've been with them."

The training and support helped Debbie to be successful from day one: "My launch period was successful, enjoyable and exciting. My business has then grown steadily year on year in terms of my customer database and turnover. It's taken a lot of hard work and commitment and I did buy a second territory when I felt ready to grow even further."

Debbie has faced some challenges along her journey, as everyone does when becoming self-employed, but she overcame these and is now more confident in her abilities than ever before!

"Being self-sufficient on a day-to-day basis and being totally responsible for everything has been the biggest challenge. Having a supportive partner and family around me has helped enormously and I've always felt very supported by Head Office. It's given me a huge confidence boost in my own ability to run and manage a business."

Debbie also told us about her decision to sell her business and her plans for the future:

"Head Office enormously helped me to successfully sell the franchise by providing excellent advice and putting my business forward to prospective buyers. My plans for the immediate future are travelling around Europe first with my partner. Then who knows?! We are lucky enough to be flexible about our future choices."

When asked to sum up her experience with Ovenclean, Debbie confirmed "Ovenclean has given me a good living for the past 9 years and I would recommend it to any prospective purchaser. I don't have any regrets."

"Choose the right franchise for you and you won't regret it. It's a great start for anyone thinking of working for themselves, it gives a safety net of support and you will never be short of someone to guide and advise you."
---
Control your own destiny with an Ovenclean franchise -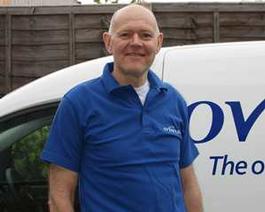 Both Steven Sykes and Estelle Robertson had very successful careers, but they decided that they wanted a better work life balance - something that they could achieve through an Ovenclean franchise. Although they have faced some challenges, 18 months down the line Steven and Estelle are thoroughly enjoying the benefits of owning their own business and are seeing huge demand for their service.
Steven and Estelle chose a franchise due to risk limitation. "Ovenclean offered a proven business model, a way of operating that showed us evidence of a successful track record. We wanted a regular income but without the constrictions, demands and stresses of corporate life."
After meeting with several other oven cleaning franchise operations, lots of reflection, debating and further research, Steven and Estelle decided that Ovenclean felt right for them. The outstanding training and support appealed to them, and Ovenclean are also only the only oven cleaning franchise that advertises on national TV.
"The initial support consisted of 2 weeks intensive 'on-the-job' training which was supervised by another franchise owner. There was much much more involved in the process of cleaning an oven than one would have imagined! However, ongoing support was received from Ovenclean HQ on request - the team are truly knowledgeable, extremely helpful and only ever a phone call away."
Like most business owners, Steven and Estelle experienced some challenges along their journey to success, but with hard work and determination they've made their business more successful than ever before!
"We experienced a period of drought as any business does. It was a very sobering and new experience for us – our business has previously been pretty busy, with a constant roll of calls, e-mails and cleans.
"Through hard work and support from Head Office, we most certainly turned it around! We had the best ever trading period since the business began largely due to prospecting for new business. We completed 40-60 oven cleans over 2 weeks and have already been assured of getting the contract next year."
So, Steven and Estelle's business dip turned into a business peak. They have most definitely achieved their business goals, so we asked them where would you like to go from here? What are your plans for the future?
"In time, we would definitely like to grow our business and recruit others to work with us. Our ambition is to be able to fill several diaries with cleans."
We also asked Steven and Estelle if they would do it all again, and they said "In a heartbeat! Owning a franchise has given us the ability to control our own destiny. If you follow the proven model that is laid out by Ovenclean, you will succeed."
"It's not an easy option, but it's one of the most rewarding and satisfying things we have ever done. The business is there and the opportunity is waiting if you are prepared to be dedicated and work hard."
---
Exclusive Interview: "Ovenclean's support has been invaluable to my success" - 21-November-2016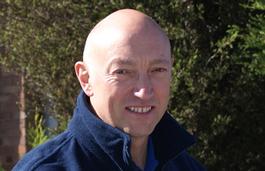 Name: Graham Kerridge
Location: Norfolk
Franchise: Ovenclean
Tell us a bit about yourself and what you were doing prior to buying a franchise business?
I worked for 16 years as a Prison Officer, but there were a lot of changes that were happening in the prison service. I realised that the service I once worked for wasn't the service I initially joined, so I decided that it was time to make a chance, and I haven't looked back since!
Why did you go down the franchise route? And why did you choose your Ovenclean franchise?
I never anticipated that I would own my own business and be working for Ovenclean – it all seemed such a scary thing. It just happened that I was looking through a business magazine and there was an Ovenclean advert.
I liked what I had seen so much that I booked myself onto one of the open days. It's fair to say that I was even more impressed once me and my wife had attended the open day – we left with huge grins on our faces and were eager to get started.
What training and support did you receive initially and ongoing?
"I can't praise Head Office enough with the support and training they have given me – their help and advice has been really valuable. I began my training with a business mentor – an established franchisee – which was extremely useful."
From day one the support team provided me with emotional support, technical support and marketing advice which made the transition from employment to self-employment very easy. They know what you need to be doing in order to get the phone ringing.
What is a typical day for you as a franchisee?
I've been fortunate enough to be very busy from day one, it's always been a steady increase in work. People like a strong, recognised brand like Ovenclean, and when the van turns up it looks very professional and customers are very impressed.
The feedback that you receive from customers on a regular basis also really makes the job worthwhile. I'm now at the point where I need to be thinking about expanding the business.
Has becoming an Ovenclean franchisee changed your life, if so how?
"My time as an Ovenclean franchisee has been fantastic. Many of my customers are now not just customers, but they have also become good friends. The positive feedback and remarks that I receive from them are really rewarding, and this really makes the job worthwhile."
What is the most invaluable piece of advice you could give someone looking to buy their first franchise?
What you put into it is what you will get out of it. It's hard work but you don't mind putting the effort in, as at the end of the day, you're the one reaping the rewards. if you do a good job, then you'll be coming back!
What are your plans for the future?
I need to make a choice about expanding the business, do I take on another person and another van or buy another area?
Would you do it again?
Definitely, I just wish I would have done it sooner!
Learn more about franchise opportunities with Ovenclean here.
---