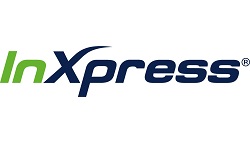 InXpress Franchisee Case Study Feed
Last updated: 04-July-2022
---
Award is crowning achievement for Stuart - king of the couriers! -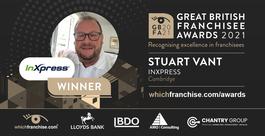 Think of everything that's ever irritated you about couriers, and then forget it. There is one out there who's really, genuinely concerned about giving the customer-service we all dream of - and that's why he's just won the Great British Franchisee Award.
Stuart Vant, owner of the InXpress franchise in Cambridgeshire, calls it going the extra mile - and he and his staff do, literally, if it means they can avoid letting a recipient down.
While so many courier companies make it almost impossible to remonstrate with them or even talk to a human, Stuart's customer service line is open at six o'clock in the morning every day and staffed by can-do people who actually want to solve problems.
And if something does go wrong - perhaps a van breaking down, a Brexit paperwork issue or a driver somewhere in the delivery chain goes sick - Stuart pulls out all the stops to get the delivery through to the recipient, even if it costs his company 20 times what the original contract was worth.
His extraordinary attitude to customer service and recipient satisfaction couldn't fail to turn the heads of the judges of the Great British Franchisee Awards, yet Stuart can't help feeling emotional when he's asked about his thoroughly deserved success.
"It's the most amazing thing that's ever happened to me and my family," he says. "We can't believe it.
"And most of the messages coming through are from other franchisees who know what it takes to do this job.
"It's mind-blowing. I now have the award on my e-mail signature and I'm so proud whenever I send one."
What makes Stuart and his franchise so rare is that most couriers don't even entertain complaints from people whose packages haven't arrived, insisting instead that their contract is with the sender, not the recipient.
But Stuart doesn't buy that.
"Once you've got a new customer, you have to give extra-mile customer service. We have a budget for repairing any non-deliveries of goods that are urgent, such as fresh food, and if there is a delay, we text the recipient so they don't get on to our customer and our customer isn't embarrassed.
"We see the bigger picture - and it's paid off, because our customers love the fact that we answer the phone, 24-7."
Stuart, who used to work for UK Mail, launched his franchise by offering free shipping to the police and ambulance service in the area, if they had a parcel to send to a loved one, for instance.
"As a family, we've pretty well survived but not thrived all our lives. I saw other franchisees around me having nice cars and nice trips and going to conferences and thought this is what I want.
"So we ran with it. We ring people every single day, and if we say we're going to deliver something, we will, and they know that if there is a problem, we will tell them first.
"The people of InXpress are amazing - the other franchisees, Head Office, the management."
Stuart, who employs four members of his family people on good salaries in these difficult times, won the newly-created award from whichfranchise for being an outstanding franchisee in all aspects of his business.
The Great British Franchisee Awards recognise franchisees' exceptional performance and business experience, ability to drive business growth, staff retention, customer satisfaction, community involvement, inspired leadership, and franchise involvement.
The awards are run by whichfranchise, supported by Lloyds Bank, BDO, AMO Consulting and Chantry Group.
---
How being made redundant pushed me into my dream career - 27-April-2018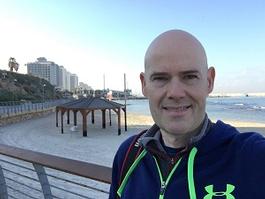 Taking back control of your working week. Avoiding the red-tape of corporate politics. Working without someone micro-managing you. The stuff of dreams. The myth of legends. Right?

This time last year, Steve was made redundant from a 32-year job, "I worked for a large corporation, primarily in sales, often travelling between the UK and the States." He explains. "I genuinely loved my job, especially engaging with customers. But over time, the company altered as accountants with a priority for spreadsheets taking control! My role changed as red-tape and politics took over, making it an unenjoyable working environment."

The New Year always seems to bring the ability for fresh focus, and fresh ideas, and for Steve, redundancy brought a freedom to re-think how he wanted to work. "I actually had a dream of running my own business. I wanted to be out there, around my own customers, doing what I loved to do most – sales!"

Re-dressing the misperception of franchising

Steve received advice as he began looking for a career which would actually fit him, instead of forcing him to fit the job.

"In January, I applied for a job," Steve explains, "without having realised it was actually a franchise role! I had thought franchising was all fast food and coffee shops, or labour-intensive businesses, like pet services and home/gardening services, which was not what I wanted to do. Looking into franchising a bit deeper, I saw there was actually a huge spectrum of opportunity!"

InXpress hit the mark for the man who loves sales!

Steve has always been passionate about customer engagement, and enjoys the buzz of making the sale. There was something about InXpress which just clicked. "When I was introduced to InXpress I really liked the sound of it, but I wasn't sure I could to do it, as didn't know much about logistics. I was drawn to how the business is IT-based, and can be operated from literally anywhere.

"If I am being honest, I was also attracted by the residual income element InXpress offer." Steve continues. "At first I thought it was too good to be true. But as I spoke with real InXpress franchisees, it was clear this was a real and valid income stream, achievable after the initial sale has ben sealed, and with on-going development of my client relationship."

Community spirit rather than in-house competition

After his first year, Steve has enjoyed the challenge, not of trying to be better than others within the InXpress network, but in building his own business. "It's been hard work," He says. "But I have a huge sense of satisfaction! I love the fact I am no longer hindered or dragged down by bureaucracy and red tape – I deal with customers in my time, and in a way which suits both them and me. After the corporate world, I feel that InXpress has given me back the joy of engaging with my customers. Which is exactly where I wanted to be."

Family before work over Christmas

Dr. Angela Lee Duckworth, a lecturer at the University of Pennsylvania, gave a Ted Talk in 2013. Having conducted studies of military cadets, students and people starting out in sales, she found the characteristic which determined success more than anything else, was grit and determination.

For Steve, this has proven true. "For the first time in my work-life memory, I was able to actually switch-off and enjoy Christmas and seeing in 2018 with my family! The holiday season used to be 'business as usual', but having wanted things to be different this year, I was determined to be 'in the moment' with my family, instead of dealing with work! To achieve this was a dream come true!"

To learn more about franchise opportunities with InXpress request an obligation-free prospectus here!
---
InXpress Franchisee Neena Gupta - Business Mentor to Young People - 03-August-2018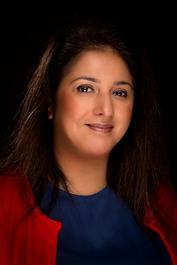 A night out at a stag-do led to Neena's husband volunteering her to help a friend out when his wife was about to give birth. Within a year, they had taken on their own InXpress franchise in Watford, and five years later, Neena now employs a strong team who support her vision to give back to the community, "My team are extremely efficient which gives me the confidence to know they have everything in hand, and frees me to pursue my passion to see young people grow."
Neena has a background with the NHS patient pathway, "so nothing to do with shipping and boxes." She says. Neena made the move into an InXpress franchise when she was temporarily involved in another franchisees business, and seeing for herself how the business model works. Having owned her own franchise for over five years, Neena is now in the unique position of using her past and present work experience, in a mentoring programme for students.
Neena initially started around 20 years ago when she would help her in-laws and cousins with crafting their CVs and provide them with interview practice, "I would just ask them questions, as a way of preparing them for the interview, then with their business plan honing. My husband says I have a constructive way of ripping a business plan apart and looking at where and how it can fail. So, when I used to do that for my cousins, it developed into something more on a wider perspective. From a business perspective, there is a benefit to investing in companies which are less than three years old, and part of the investment we felt we could realistically offer, was through a mentoring programme."
Neena connected with students initially when they contacted Entrepreneur First, who she was introduced to by a friend. She then met someone from Cranfield University and was involved for a while in their MBA programme, "These are people who create businesses which look either for funding, or for funding and mentoring." Neena explains.
From these platforms, a greater opportunity arose for Neena, through Oaklands College, in St Albans, close to where she is based with InXpress, "Because of what I have done through local networking, I was introduced to a lady from Oaklands College. They have a Dragon's Den style concept, where once a month, students come and pitch their business, with the hope one of us will invest our own time, money, and contacts in order to help them develop their business concept. I tend to mentor five students at a time, which fits easily with my InXpress business. I provide them with an hour-long coaching session, when we will look at their business plan, look where they're going, look at what they need, how can they grow, how can we take them to the next level. And really provide them with the support they need."
The InXpress Gives Back outreach program invites our franchisees, sales reps, customer service and corporate staff to see learn and engage in the community in service projects, as InXpress is committed to serving the community through education and outreach activities. For Neena, this is just one of the ways she has found, which has allowed her to be able to Give Back to her local community.
---
Exclusive Interview: "There was no hard sell, InXpress' success spoke for itself" - 12-September-2016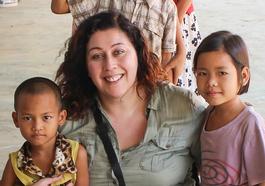 Name: Rebecca Robyns
Location: Hull
Franchise:InXpress
Tell us a bit about yourself and what you were doing prior to buying a franchise business?
Before I joined InXpress I was doing a lot of freelance work in marketing and sales. I worked for various agencies on 6 month contracts or 6 week projects depending on what the client required. For a long time I was very busy with that and worked on a wide variety of projects from Computing to Lifestyle magazines. I enjoyed the freedom of working from home and, as the Mother of two children, I was able to manage my work-life balance really well and the money was great. Prior to that I ran a fashion house for a few years and won the "Young Woman of Achievement" award from Hull Enterprise, who help and support local businesses in my home town. I loved running a shop but soon realised that working what was effectively 7 days a week with a baby and a toddler wasn't going to last long-term, I was exhausted!
It was during my freelancing period that I found out about InXpress, I was working for a magazine and another franchisee was placing an advertisement in the magazine because they were looking for a sales person. I managed to talk myself into the job rather than them have to advertise it! Working for another franchisee gave me good experience in the business and working with the software.
I realised that I was making him a lot of money and I thought I could do it for myself! To my delight the Hull franchise was available to buy and so I seized the opportunity.
Why did you choose your particular franchise business? What research did you undertake?
"I chose InXpress mainly due to having worked in the business for another franchise and so was already familiar with it and could see the real benefits for myself. I wanted something that was proven because I knew it was going to affect my family and our future. I didn't want to gamble on that! I was also lucky that my ex-husband, Malcolm, was on hand to help me, he has a wealth of experience in business and has since taken on a more involved role in the business, and helped to drive it forward."
Having worked for InXpress already and speaking to a few other franchisees, I could see what they were achieving and knew the business was within reach for me.
I also liked the support at InXpress. As soon as you join they're very open about how everything is run. You can always call other franchisees for advice and to find out more about the franchise opportunity. InXpress Head Office put you in touch with a range of successful franchisees so that you can meet with them or talk to them over the phone. There's transparency with InXpress and there's a nice family feel to the business.
How did you raise the finance for funding your InXpress franchise? Did you use any financial support (grants etc.) specific to business start-up?
I just took out a regular loan over 3 years but we managed to pay off the loan within the first year so now I am able to enjoy the rewards of the business.
What training and support did you receive initially and ongoing from your franchisor?
Before I signed up to become a franchisee I went on a sales training course that introduced me to InXpress with the CEO, John Thompson and effervescent sales Trainer and motivator, Kenny B and was pretty hooked from there. When it came to buying a franchise, I was left to make up my mind with no pressure whatsoever and this again was a good sign, no hard sell was involved. The training was brilliant but a week is nothing! You've got to get out there and do it for yourself – there's no substitute for hard work!
"I visited another franchisee, Andy Mitchell from Guildford, because he was the number one franchisee at the time and he was really supportive and answered all of my questions. I also visited a few more local franchisees. You can always pick up the phone to someone, whether it's another franchisee or the support team at Head Office – there's always someone on the other end of the phone to help."
InXpress really is a family network and that's a great thing to have behind you.
What is a typical day for you as a franchisee?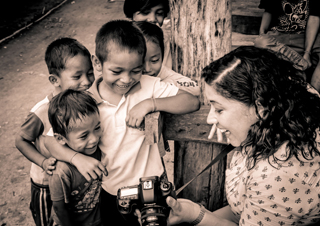 I'm multi-tasking at present with my EYE SeeMe project which will be part of InXpress's "Giving Back" charity scheme and so I am lucky that I have a very capable and supportive team around me.
As we've become more and more successful, I've found that the phones don't ring as much but a typical day involves answering customer queries, being available to customers, checking on shipments, generating new business and customer visits.
At InXpress we are in close contact with our customers – it's a handholding relationship. We make sure that we speak to our customers at least once a fortnight and our key clients who are shipping a vast amount of goods need regular support. If we have a new customer, we go out and train them on Webship which is our booking platform. My time is a combination of time in the office and customer visits.
Without Malcolm, who is filling my shoes at the moment and Gavin Orrey who is my office manager, I wouldn't be able to do what I do. I also have Mariah who does the telesales support and my son Will, who is now working part-time in the business during the school holidays!
What challenges have you faced?
I faced the usual challenges of being a business owner. Sometimes you get customers who you have to go above and beyond for. For some customers, everything is about price and they are usually the most difficult customers!
"We can offer great prices but one of the main things about InXpress is the quality of the service we offer. We offer a more localised customer care, something that larger corporations cannot always give due to their size, and that's something that money can't buy!"
There are also the odd shipments that have problems that you can't do anything about but other than that I haven't really faced many challenges.
Has becoming an InXpress franchisee changed your life, if so how?
Yes, it has. It has improved the quality of my life in a financial sense but it has also given me personal freedom to run my charity project.There's no way I could have run my charity project with a fixed 9-5 job because I wouldn't be able to go out to South East Asia regularly. It has also changed my families lives too as my two sons have enjoyed a private education as a result and is one of the reasons I have set up a charity to help children into education in south east Asia, as I feel incredibly grateful and am a firm believer in giving back where you can.
In your opinion, what makes a successful franchisee?
It would be someone who doesn't give up. You have to work long hours initially and really focus on the business. If you put the work in at the beginning and really focus on it, you will succeed. If you get it right and get the right customers and formula the rest will blossom from there. There are no shortcuts!
It did take me a couple of years to get the right balance!
What are your plans for the future?
I want to grow the franchise and my charity project alongside each other. I want to have a successful business but I also want to help as many children globally as possible to get access to education.
I'm lucky that I have great staff so I don't have to step back into the business all the time. I think the staff know if better than I do now but I'm passionate about InXpress and I always want to keep an eye on it to make sure my staff are looked after properly. It's all a careful balancing act.
For more information on this exciting franchise opportunity, request InXpress's prospectus here.
---
Exclusive Interview: "I am building a secure future for my family" - 14-June-2016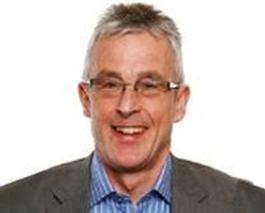 Name: Steve Lamb
Location: Edinburgh
Franchise: InXpress
Tell us a bit about yourself and what you were doing prior to buying a franchise business?
I've been married to my Wife Allison for 28 years and we have 3 great children; Olivia (19) and Declan (18) are at university while Harrison (14) is at High School.
Both Allison and I come from the Manchester area and moved to Scotland in 2001 when I joined Scottish & Newcastle. Prior to this I'd held senior sales positions with both Pepsico and GlaxoSmithKline.
Why did you go down the franchise route? And why did you choose InXpress franchise?
"After being made redundant, I didn't want to uproot my family again to move back to England so we decided to look upon it as an opportunity to secure and control our future by working for ourselves."
We considered a number of opportunities but felt that the InXpress model and nature of the business best suited our skills and competencies. Allison previously managed a telesales team for both a national and regional newspaper.
How did you raise the finance?
My redundancy package
What training and support did you receive initially and ongoing?
For our training, we undertook a 5-day sales and motivational course followed by a 2-day software and administrational workshop. Annually we have three regional meetings along with a National Conference and a Sales Conference where relevant topical training is provided.
What is a typical day for you as an InXpress franchisee?
We have 2 full time Customer Service Assistants (Gillian & Candice) so we'll have a quick briefing at 8.45am covering targets, new systems/processes, issues and opportunities.
We'll have all our own individual objectives for the day with Gillian, Candice and Allison focused on managing the existing customer needs while looking to increase the breadth and depth of business we do with them.
My primary role is to secure new business so I'll either be meeting with potential new clients or in the office cold calling.
What challenges have you faced?
The variety involved in this industry means that we face new challenges on a daily basis. Thankfully we have strong relationships with our carrier partners and as a result we can normally resolve and remedy the majority of issues that we face. Key challenges that we've faced over the last 6 years are;
1. Recruitment, training and development of staff
2. Office location
3. Introduction of accountancy software
4. Work/life balance
Has becoming an InXpress franchisee changed your life, if so how?
"To a certain degree we are in control of our own destiny, while the success of the franchise has afforded us some financial freedom."
What is the most invaluable piece of advice you could give someone looking to buy their first franchise?
Have a robust business plan and ensure that you get your accountant to critique it.
In your opinion, what makes a successful franchisee?
Someone who has a strong work ethic, a "can do" attitude and who's self sufficient.
What are your plans for the future?
Look to purchase a franchise in the USA while maintaining the current UK franchise, which could be managed by either staff or our children, once they've finished university.
Would you do it again?
Definitely!
To receive more information on InXpress, why not request our FREE and non-obligatory franchise prospectus here.
---
Success is down to hard work and a good franchise - 20-June-2012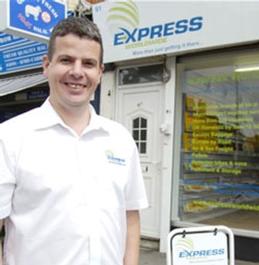 Name: Craig Atkins
Location: Reading
Franchise: InXpress

Why did you go down the franchise route? And why did you choose InXpress franchise?
I have always had a bit of an entrepreneur spirit. I was looking for a second business at the time (2007) that I could manage from a distance without having to buy/replace expensive stock. Once I realised the potential in this business I soon dedicated more of my time on it and since 2009 I have been working full time in InXpress
What did you do before taking up your InXpress franchise?
I was a retail manager/auditor within the Kingfisher Group (Woolies, B&Q, Superdrug etc) covering 91 stores throughout the Midlands helping them achieve stocktake budgets and minimize internal/external losses. In 2003 I moved South to set up my own small auditing company doing the same process helping SME retailers in London achieve the same goals
How did you raise the finance?
I loaned the money from my auditing business.
What training and support did you receive initially and ongoing?
Initially I went on the training course in Rochdale. Having had zero experience in this trade I found that extremely helpful in understanding sales tactics and how to achieve my goals through Ken's magic formula .Ongoing I have tapped into the knowledge of the support centre and experienced Franchisees along the way to help me understand the mechanics of the system as product knowledge is by far the biggest learning curve in the first 6 months
What is a typical day for you as an InXpress franchisee?
I have opened a retail unit in Reading selling our services to the public. This doubles as a B2B office and I base myself here each day whilst going out to various meetings with customers and suppliers. As I now have a customer service team I can now focus on customer retention and longer term strategies.
What challenges have you faced?
As with any business there are many challenges along the way. The biggest challenge is getting good staff around you. Once I had a good sales/support team around me the business took off as I can focus on running the business instead of fire fighting. Everyone in my business gets a bonus based on % profit as I believe happy staff makes a successful team.
Also opening a shop has been a real challenge trying to educate customers away from the Post Office and not getting any support from the carriers in buying into what I am trying to achieve. I am now working with the local University and various charities to get our name out there from a retail point of view and this will take time
Has becoming a franchisee changed your life, if so how?
Not yet as my first 3 years were all about investing in staff and location. However my last 2 years have shown a healthy profit and the foundations are now in place for it to change my life over the next 5-10 years
What advice would you give to someone thinking of buying their first franchise?
Don't come into it thinking a pot of gold will fall into your lap. You have to work very hard, listen to people who have succeeded, do plenty of research and the rewards will come
What are your plans for the future?
To build a strong business that will give my family financial freedom and to play my part in making InXpress-UK become THE destination for all SME businesses
Would you do it again?
Absolutely!

---