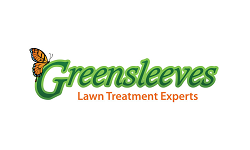 Greensleeves Lawn Care Franchisee Case Study Feed
Last updated: 19-August-2022
---
Six months on as a franchisee - Neil Grainger's franchise journey -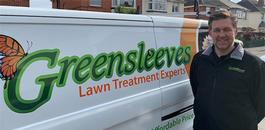 The first six months of new business ownership are likely to be a rollercoaster ride for anyone. Not only will you experience the highs of building a new business but also the challenges of global and local business landscapes continually evolving. However, for franchisees, the wisdom of a supportive franchisor can help you come through the opening months to create a business with a strong and lasting foundation.
Greensleeves' 100th Franchisee Neil Grainger has just completed his first six months with the lawncare company. Since investing with the franchise and launching in the fabulous coastal town of Bournemouth, Neil's business has gone from strength to strength and is already treating the lawns of 132 customers.
"When I started six months ago, I set myself some goals. Now, I'm happy to say I've certainly exceeded my expectations. I'm in a great location and have a good number of customers, but now the goal is to get even more," said Neil.
Neil joined Greensleeves alongside Keith Fox and Radko Yordanov, both launching new territories in Derbyshire and Brentwood. Combined Keith and Radko are looking after well over 300 customers' lawns between them.
"Since leaving my last job as a precision engineer to become a franchisee with Greensleeves, my work-life balance has improved drastically. I get to spend more time with my family and do the school drop-offs, which I much prefer to getting up and going to a factory job I didn't enjoy," explained Neil.
"I've been so impressed with the support I've received from head office over the past six months. The team are really accessible, and they always reply within a few minutes whenever I have a question. I also have access to the wider network through a WhatsApp group, so if I'm out on the lawns and ever need suggestions on which treatment to use I can just drop a message in there. The response is always pretty much instant. Last month, head office also launched an app called Greensleeves Live to speed up our admin process. This has really benefitted my day-to-day running of the franchise."
This month, Greensleeves is also welcoming two new franchisees to their network, Mick Perrone, who is launching the Bedford territory, and Richard Crewdson, who is kickstarting the Lancaster territory. Both Mick and Richard are new to business ownership and are looking forward to taking on a new challenge.
As franchisees grow their businesses, they begin to take on staff to help deliver their services. To ensure consistency of high-quality customer service and lawn-care treatments, the horticultural franchise has developed a Staff Training Academy for franchisees' staff.
Fiona Williams, franchisee at Greensleeves Stockport, Oldham, Trafford & Tatton, recently had a new team member go through the training academy. "We wanted our newest employee to be able to see how we do things at Greensleeves - the 'Greensleeves way' if you like. The training reiterates what the brand does and our values. We completed the training on zoom with them and the content was great."
Steven Large, Greensleeves' Corporate Manager who developed the academy said, "We decided it'd be a great idea to put together a training package for the new guys, including a brand induction. The training helps us deliver industry-standard training and consists of four modules for staff to complete. The academy enables learning and development, giving staff a sense of belonging. So far, we've had 36 people complete training as part of the new academy and the feedback has been really positive. It's great for our franchisees because staff feel valued, leading to increased staff retention."
---
Interview with Jim Stewart of Greensleeves Lawn Care, Aberdeenshire -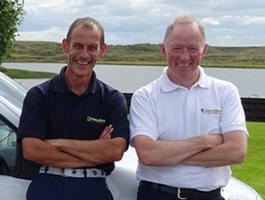 Franchisee: Jim Stewart
Location: Aberdeenshire
Franchise: Greensleeves Lawn Care
Why did you go down the franchise route? And why did you choose your franchise?
I was immediately attracted to investing in a franchise because of the proven track record of success they provide, along with the low business failure rate. I felt that the market knowledge, supplier relations, marketing expertise and defined tried and tested procedures that come with purchasing a franchise were extremely beneficial and something that I would not have access to as an independent, new start up business. I was also acutely aware that I would be in an advantageous position whereby I could learn from others mistakes and receive excellent training. All this combined with the realistic buy in costs and exclusive geographic area made franchising the obvious route for me.
Like many people who have spent their professional careers going from car or aeroplane to stuffy office meetings and hotel rooms the appeal of working outdoors was a real draw. I was very much attracted by the vision of a much healthier working environment and a healthier, more active lifestyle. Lawn Care provided all this and when I met Greensleeves I knew they were the company for me.
What did you do before taking up a franchise?
After 25 years as an executive in the electronic component industry I was made redundant in 2010 which came as a shock. I took the time off to look around at what areas I could venture into and decided franchising was perfect for me. Whilst I wanted to run my own company I also wanted the security that a franchise offers.
What training and support did you receive initially and ongoing?
The initial training took place over two weeks at Greensleeves head office. It was organised to coincide with some other new starters which was nice as everyone is in the same boat and you all learn together. The training package was extremely comprehensive focusing on all aspects of the business from practical lessons on how to carry out the actual lawn treatments through to business administration, finance and marketing training. I was impressed with the level of support provided, nothing was too much trouble. The support was ongoing as well with regular contact and visits once I was up and running.
What is a typical day for you as a franchisee?
My daily work routine has altered as the business has developed and is very varied. We are very fortunate that we have a great team of customer facing staff that are out treating lawns 5 or sometimes 6 days a week. This allows me the time to manage the business and make sure we are giving the best service we can whilst maximising our business opportunity. I spend one day a week in the office keeping on top of enquiries and following up on quotations. The rest of the week I am out seeing potential new customers and handling service calls. When time allows I will do some door to door canvassing which is a great way to attract new customers. I really enjoy being outdoors and meeting people whilst growing my business.
What challenges have you faced?
The weather can be extremely challenging – it has a significant impact on our business for example last summer's heavy rainfall meant that lawns were by and large looking lush. On the other hand the warm and damp conditions lead to many lawns developing red thread and in some cases moss continuing to grow through the summer months, we therefore had to take appropriate action to rectify this. So far this summer the warm, dry conditions have left many lawns looking dried out and in poor condition so we have a new challenge. No matter the weather we experience different challenges and as a result opportunities to help our customers.
Has becoming a franchisee changed your life, if so how?
My life has changed completely, I have gone from working in an office for somebody else to running my own business in the outdoors employing my own team and I find it invigorating. I definitely feel fitter and healthier from working outdoors in the fresh air.
What marketing/promotional tools do you use to grow your franchise?
I use a variety of tools to compliment the national marketing activities that head office take care of. For example this year head office ran a national advertising campaign in Ideal Home and Gardeners World so I complimented it with my own local advertising, leafleting and PR which I find works well. We have a dedicated marketing company that is made available to us by head office to assist us with any activities we undertake which helps.
What differentiates your franchise from the competition?
After meeting up with two lawn care franchises I picked Greensleeves because of their in-depth knowledge, attention to detail, professional manner and friendly management staff. I was told how successful their franchisees are and what to expect. It was explained how some franchisees worked with partners, children and friends. This was an idea I warmed to as my hope when I started was that in 5 years time my franchise will be bringing employment to the Aberdeen area, helping people like myself who found themselves out of work. Now only 3 years on I am already in that position.
In your opinion, what makes a successful franchisee?
To be successful you need to work hard in all areas of the business and ensure that you provide the utmost levels of service to your customers. A large amount of my new business comes from customer referrals – when you do a good job people tell their friends and family. There is no quick fix it takes time and dedication but it is certainly worth it.
What advice would you give to someone thinking of buying their first franchise?
Take your time and select the right franchise for you, the support that I have received from Greensleeves has been excellent and I cannot stress the importance enough of finding the right fit with the franchise that you choose. Talk to as many people as you can including the competitors in the same market. Be sure to budget and plan realistically and get the support from your partner and family. Be prepared to work hard, paying a franchise fee is not a guarantee for success. Be resilient, there will be tough times in the early years but with the right work ethic and the support from your franchisor and your family you will succeed.
What are your plans for the future?
So far we have exceeded both our customer numbers and revenue targets year on year which has allowed us to bring on 2 full time employees and 3 part time employees and put a second van on the road. Business is looking good and I am currently looking at investing in a third van which will also require another member of staff. I am very enthusiastic to see what is next, the business is growing and I am having a lot of fun running it.
Would you do it again?
Absolutely, I wish I had done it sooner.
---
Interview with Karl Temata of Greensleeves, Maidenhead - 30-March-2015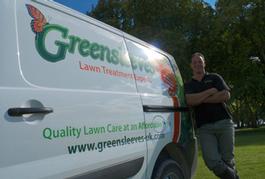 Name: Karl Temata
Location: Maidenhead
Franchise: Greensleeves
Why did you go down the franchise route? And why did you choose the Greensleeves franchise?
Choosing the Greensleeves franchise route had a number of benefits; we had the peace of mind in knowing that the Greensleeves system was already proven and successful. We also knew we could rely on continued support from head office as well as neighbouring franchises. Combined with these benefits we still had the freedom to run our franchise in our own manner without being locked into a rigid, inflexible system, this was of particular appeal to us.
What did you do before taking up a franchise?
Before establishing a Greensleeves franchise, I have spent the last 15 years playing professional Rugby league. Towards the end of my career I was a player/coach and also worked in a vineyard in the south of France while studying a degree in Horticulture.
How did you raise the finance?
In order to invest in the franchise business I arranged a business loan and used my savings.
What training and support did you receive initially and ongoing?
The initial meetings with Greensleeves answered a number of questions I had and outlined the full and ongoing training and support available. The training covered the entire operating process and the administration system. Ongoing training included additional help I needed such as extra accounts training. During my time as a franchisee I have also benefited from Greensleeves business partners who provided equipment support, parts and other administrative and marketing help and advice.
What is a typical day for you as a franchisee?
A typical day will always involve interaction with our customers, this is either in person, over the phone, email or social media. The emphasis is on excellence in customer service. Other major tasks include the comprehensive work involved in making our customers lawns green and lush. Day to day planning also involves planning the franchise schedule weeks or months ahead, visiting potential customers, and carrying out marketing activities.
What challenges have you faced?
The greatest challenge for me was the first month, as I had bought an existing franchise with a few hundred customers. This meant that I did not have the luxury of learning slowly and gradually building up the customer base. I was extremely busy from day one and it did seem a bit daunting on the busiest days. However like everything it did not take long to 'learn the ropes' and I had the benefit of a solid foundation of training from Greensleeves head office to get me through this challenging time.
Has becoming a Greensleeves franchisee changed your life, if so how?
Yes it certainly has, I came from a job where I was in a large team environment to one where I was in control, the boss, lawn operative, and office worker all at once. I now have my own business which is a big part of my life.
What marketing/promotional tools do you use to grow your franchise?
A range of marketing methods are used, both large and small. We find this range of tools allows us to reach a far wider range of people who are interested in lawn care. Marketing methods include: royal mail leaflets, garden centre magazines, social media, internet, website and competitions.
What differentiates your franchise from the competition?
The Greensleeves commitment to excellence in customer service is what I believe is the main difference between us and other franchisees in our industry. We give the customer what they want and often go beyond what is defined in our treatment. I often sum it up by saying 'we do what we say we will do' as so much is promised by businesses these days and seldom delivered.

In your opinion, what makes a successful Greensleeves franchisee?
Someone who is driven, organised, and self motivated. These qualities are important as ultimately you are responsible for the success or failure of your franchise.
What advice would you give to someone thinking of buying their first franchise?
I think it helps to have an interest in what you choose as initially a lot of time is going to be spent on the daily operating of the franchise as well as planning for the future. Having a similar or related background will also help, however training is always there for whatever franchise you choose. I would also recommend doing some actual time on the job to get a taste for what you are in for once you purchase a franchise, and to see if it is something you are going to enjoy doing.
What are your plans for the future?
My plans for the future is to expand the business, by creating a large team of great employees whilst continuing to provide an excellent lawn care service with the highest level of customer service possible.
Would you do it again?
Definitely, although it was a stressful and busy time when we first started the franchise, it did become easier. I now want every day to be busy, and I'm excited about what each day brings. It is quite motivating in itself when you see the difference we can make to people's lawns!
---