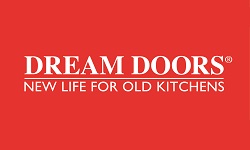 Dream Doors Franchisee Case Study Feed
Last updated: 06-December-2021
---
FRANCHISEE FOCUSING ON MAKING SALES TO SUPPORT GROWING FAMILY -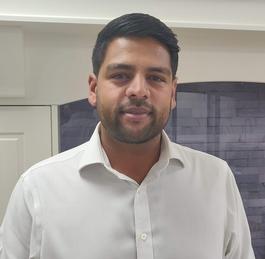 VISHAL Amin has found a way to balance spending time with his growing family and earning a great take home salary with Dream Doors.

The former investment banker joined the UK's #1 kitchen makeover company earlier this year and is now the director of Dream Doors Surrey and Sussex.

After earning a degree in financial computing from Brunel University London and starting work, Vishal created a roadmap for his future career.

"I set myself a timeframe of spending no more than ten years in the City before I would want to get out.

"From day one it's all been about setting up my own business.

"Once I decided the time was right, I started looking for something that I could get my teeth into and call my own.

"I'd always seen business opportunities come up in the past, some were franchises and some were not.

"I put off making a move a few times, because I always used to think about having that regular pay cheque.

"By September of last year my wife and I decided to progress things.

"With the support of my family, now's the time to go and do it."

As a father of one, with another baby on the way, Vishal said he was looking for a business that can fit around his growing family and still earn a great take home salary.

He said: "With a baby on the way, I'm not going to continue commuting to London for an hour each way every day.

"I saw the model Dream Doors offers, its support and infrastructure, and a territory was available nearby so I jumped at the chance."

Dream Doors is looking for more talented franchisees like Vishal who are ready to generate huge profits by representing an industry-leading brand.
---
Mum, Dad, Don and Daughter working together for Dream Doors! -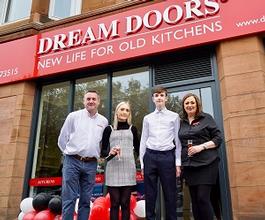 CHANGING career direction has given Wilson Craig the chance to work alongside his family.

Wilson worked as a transport consultant in the Middle East for eight years before joining Dream Doors, the UK's #1 kitchen makeover company.

Now he can work alongside his wife Patrice, daughter Jenna and son Adam running their own showroom in Prestwick, Ayrshire.

Wilson said: "I spent a long time looking into franchising and, with Dream Doors, the potential to earn a high income was clear – all the figures I saw in franchisees' accounts made sense and added up.

"It was an easy decision to make once I got all the information.

"With some franchises you're just left to it, but not with Dream Doors.

"The training is great – the model that's in place is well-structured and well thought out.

"For the franchise fee, what you get back is good."

He added: "It's clear that if you follow the model you can recoup your investment costs really quickly and that's a nice bit of security. The turnover potential is very high too."

Patrice, who has been a support worker for over ten years, said: "Now that our children are older the time is right for me to get my teeth stuck into something new. Part of the appeal is that we can work with our daughter Jen and we can grow together. It's nice to get the family involved."

Dream Doors is looking for more talented franchisees like Wilson and Patrice who are ready to generate huge profits by representing an industry-leading brand.

There are just 19 new franchise territories available nationwide, particularly in the North East, North West, Yorkshire and Scotland.
---
FAMILY SELLS MOTOR BUSINESS TO OPEN DREAM DOORS KITCHEN SHOWROOM -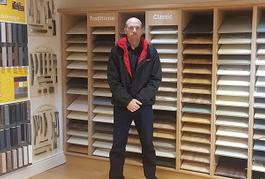 SELLING up the family business allowed the Bachelor family to start a lucrative Dream Doors kitchen makeover franchise.
Mike Bachelor's grandfather first began working in the motor trade in the mid-60s, eventually building up a network of 13 truck dealerships in the Cheshire area.
The Bachelor family went on to sell that business and reinvested their cash in opening a showroom for the UK's #1 kitchen makeover company in their hometown.
Mike said he and his dad David were looking to do something 'different and fresh' outside the motor trade, and perhaps related to David's passion for woodwork and joinery.
Mike said: "We went to several franchise exhibitions and were impressed by the Dream Doors business model.
"This business is very different to what we were doing. The first year or so was a learning curve, but it gets far easier as you gain more experience.
"For example, in the first four months of this year we've turned over more than £310,000.
"That's better than we did during our whole first year and that increase comes from our experience and from people getting to know you, leading to an increase in referrals."
Mike added: "Don't be fooled into thinking you can do this part time; if you want the return you've got to do the hard work.
"If you do that, then there's real money to be made from this franchise."
Dream Doors is looking for more talented franchisees like Mike who are ready to generate huge profits by representing an industry-leading brand.
---
Change of career direction for married couple with Dream Doors -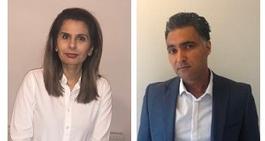 RELOCATING to the Midlands presented Jaspal and Sarbjeet Hayle with the perfect opportunity to take over a Dream Doors franchise.

Jaspal has been self-employed as an IT consultant for the last 20 years while Sarbjeet has been a full-time mum to their three children.

The couple jumped at the chance to change career direction, with the opportunity to enjoy uncapped earnings in their hometown, by representing the UK's #1 kitchen makeover company.

Jaspal said: "The timing was right for everything.

"We were moving back to the Birmingham area and thought that we would like to work together.

"After beginning the conversation with Dream Doors, we went through the accounts for the Wolverhampton branch of Dream Doors.

"The numbers made sense for what we're investing in and, more than anything, we're pleased to be getting the support of a national network."

Sarbjeet added: "Jaspal is quite modest but he has a flair for design.

"And I'm relishing the chance to get back to work and build up this family business."

Dream Doors is looking for more talented franchisees like Jaspal and Sarbjeet who are ready to generate huge profits by representing an industry-leading brand.
---
DREAM DOORS SHOWROOM OFFERS BEST RETURN FOR YOUNG FRANCHISEES -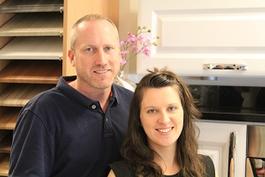 SEAN and Katie Hebdon tried to find a good reason not to join Dream Doors – and when they couldn't, they bought a franchise.
As with all of Dream Doors' new franchisees, the couple did diligent research before making a commitment just over seven years ago.
For Sean, the clincher was taking some impartial advice from his bank manager.
Sean said: "I was looking into franchising and had found a Dream Doors advert online.
"I kind of kept coming back to it, so I thought: 'Okay – let's try to find something negative about it.'
"I couldn't find anything and then - completely unrelated to my franchising research - I happened to have a meeting with my bank manager, so I asked him about Dream Doors and if he had any account holders on his books.
"Of course, he didn't reveal anything that he shouldn't have, but he did confirm that he was familiar with the accounts of several Dream Doors' franchisees and he indicated that they were all very healthy.
"I took that as a good indicator and set up our first meeting with Dream Doors – the rest is history."
Prior to signing a franchise agreement with Dream Doors, Sean had been a branch manager for a builders' merchant - a trade he had been working in since leaving sixth form college.
Katie, who previously worked in HR for 12 years, had just finished an 18-month period of maternity leave and was also ready to take on a new venture.
Katie said: "We were both pretty open-minded about what we wanted to do, although we wanted to do something that suited our skills.
"It was important to Sean that he worked for himself in his next role, so we decided to take this opportunity when it came up.
"We were both aware that many small businesses fail in the first year, so we wanted something with a proven business model that we could latch onto.
"Franchising was the logical way to go for us."
Launching at the beginning of 2012, Sean and Katie quickly built a successful, family-run business that delivers the lifestyle they had always craved. In fact, two years ago, they were able to buy the home of their dreams using the profits generated by their Dream Doors franchise.
Dream Doors, the UK's #1 kitchen makeover company, is looking for more talented franchisees like Sean and Katie who are ready to generate huge profits by representing an industry-leading brand.
With 91 showrooms open in the UK, there are just 19 new franchise territories available nationwide, particularly in the North East, North West, Yorkshire and Scotland.
To learn more about franchising opportunities with Dream Doors, request more information here!
---
Dream Doors allowed couple Martin and Alex to take back control of their working lives! -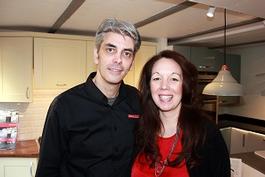 FOCUSING on top notch customer service has allowed Martin and Alex Smith to build a highly profitable business.

The couple joined Dream Doors, the UK's #1 kitchen makeover company, in 2015 as a way to take control of their working lives while still earning good money. Their plan has certainly worked out – the couple generated over £660,000 in sales last year and secured a handsome take home salary.

Ex-wedding photographer Martin said: "I had been looking to change careers for a while."

"I went into kitchens because I liked doing technical drawings at school and have always been very involved in doing DIY and things like that."

"But, not having come from a kitchen background or from a sales background, I felt like joining Dream Doors was buying into a complete turnkey operation. The back-up and experience that you get is second to none."

Martin and Alex won Dream Doors' Franchisee of the Year award in 2018. They have also been nominated by Dream Doors in the British Franchise Association's Franchisee of the Year category for 2019 for the quality of their customer service. The husband and wife team have so far earned a 9.5 out of ten rating on independent consumer monitoring website Checkatrade, based on 128 customer reviews.

Dream Doors is looking for more talented franchisees like Martin and Alex who are ready to generate huge profits by representing an industry-leading brand.

Dream Doors' recruitment team will host two exclusive Discovery Days at Double Tree by Hilton Hotel at Newcastle International Airport on Saturday, March 16 and at Hilton Manchester Airport on Sunday, March 17.

There are just 19 new franchise territories available nationwide, particularly in the North East, North West, Yorkshire and Scotland.
---
Interview: Former Mailman finds new post at Dream Doors! -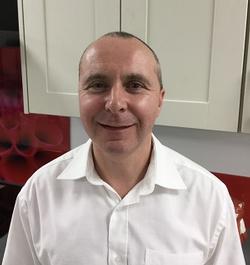 EX-MAILMAN Anthony Nolan has found a new post running a Dream Doors franchise.

After 34 years' working for the Royal Mail, the Sefton native found himself facing redundancy last year.

With a view to restoring his work/life balance while earning a good income, Anthony looked into starting a franchise with the UK's #1 kitchen makeover company in the Sefton and Ormskirk area.

Anthony said: "I had worked for the Royal Mail ever since I left school. My last 21 years were as a manager, but I had started before that as a 'cadet' - as they were then called - on a Youth Training Scheme.

"An opportunity to take redundancy came up last year. I feel that the Royal Mail is changing, and I felt like I was stagnating there, so I decided to take a leap of faith.

"I thought of franchising as something I could do now that I'm a bit older."

So, with a thousand franchise opportunities available in the UK today, why did Anthony choose to invest in Dream Doors?

"I looked at several franchises – including several man-in-a-van type operations - but I was looking for something that's bigger and really resonates with me," Anthony said. "I chose Dream Doors because I like the fact that it is an award-winning brand. I also like the fact that it's so professional in its approach to customers and franchisees. In short, I was impressed by the way the company's run."

Anthony added: "I've worked in a lot of post offices in Sefton and Ormskirk, so I've got a good feeling for the area. Running a showroom covering that area really appealed to me.

"I was very happy when this opportunity came up – it was a big plus point at a crossroads in my career.

"I've found something I can enjoy doing; it's not just all about the money for me."

Dream Doors is looking for more talented franchisees like Anthony who are ready to take control of their working lives and earn good money while representing an industry-leading brand.

Dream Doors' recruitment team is hosting two exclusive Discovery Days in Newcastle on Saturday, March 16 and in Manchester on Sunday, March 17.

There are just 19 new franchise territories available nationwide, particularly in the North East, North West, Yorkshire and Scotland.
---
Ex-teacher moves back to his favourite part of the country thanks to a Dream Doors franchise! - 29-November-2019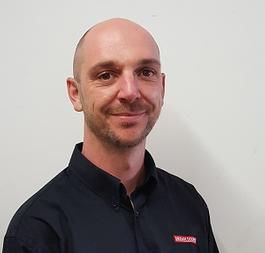 TAKING on a Dream Doors franchise allowed ex-teacher Matt Jones to move back to his favourite part of the country. The former design and technology teacher had been looking for a way to change career direction and relocate to Cornwall while still generating a very good income.
He chose to join Dream Doors, the UK's #1 kitchen makeover company, in Truro as it ticked all of these boxes.
Matt, 41, said: "I wanted to get out of teaching and I wanted to do something that I really wanted to do, rather than just jump ship and do anything.
"Dream Doors ticked a lot of boxes for me – I still get to use my practical skills and be a bit creative. "It seemed like it would be a good idea for me to do this for a living and it still does.
"I liked the concept of franchising just because you get a bit of back-up. If you just jump into something with both feet, completely on your own, then it's really an 'all or nothing' situation."
"But with Dream Doors there is much more of a safety net around you, with great support from the head office and Business Development Managers."
Matt, who had worked as a teacher for 13 years before changing careers, began trading just under three years ago.
He added: "When I looked into it and saw what Dream Doors was all about - and what the earning possibilities were – it certainly appealed.
"It was definitely another reason to follow the Dream Doors path. Dream Doors is expanding - really snowballing actually - and to be part of it at the moment is quite exciting. It should be fun to see how it continues to grow."
Dream Doors is looking for more talented franchisees like Matt who are ready to generate huge profits by representing an industry-leading brand.
Come and meet the Dream Doors recruitment team at The British and International Franchise Exhibition on February 1st and 2nd at Olympia London. The recruitment team will also be at The National Franchise Exhibition on February 15th and 16th at the NEC in Birmingham.
There are just 19 new franchise territories available nationwide, particularly in the North East, North West, Yorkshire and Scotland.
---
Interview: "I have an opportunity here to do whatever I want." - 19-July-2019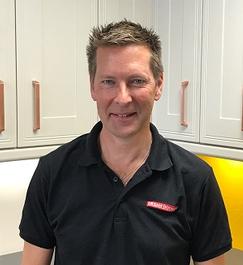 EX-BANKER Jerry Innesbeer took back control of his working life by taking on a franchise after being made redundant.
After working in the banking sector since the early 80s, Jerry was looking for a worthwhile investment for his settlement cheque. He chose a Dream Doors kitchen showroom franchise for the opportunity to earn great money while building a business he could call his own.
Jerry, 53, said: "When I found out I was losing my job, I put a corkboard up in my kitchen.
"Every time I had an idea of something I really wanted to do, I would put a note on the board. I started looking at it as: 'I have an opportunity here to do whatever I want.'
"I was going through the board one day and talking to a friend who was also being made redundant and had taken on a franchise.
"I thought: 'I could do that too.'"
Jerry attended a franchise exhibition and spoke to Dream Doors' Director of Franchise Recruitment, Alex Waite, about opportunities with the company.
Jerry said that when he heard about the Dream Doors model he felt he could 'buy into it' and saw that the market was buying into it too.
So what advice would he offer to anyone currently facing redundancy or considering a career change?
"I think the biggest thing for me was to keep reminding myself that it's not a worrying time," Jerry said. "It's not: 'Oh god, I'm losing my job' - it's an opportunity.
"Someone's giving you a big cheque – what do you do with it?
"For me I wanted to do something more interesting – I'd served my time in banking and didn't want to go back into that. With Dream Doors, I liked what they had to say, I liked the concept.
"There was clearly a great level of support behind you. I was not really ready to jump out and do something completely on my own.
"This was a good way of running my own business and having the support network at the same time."
Dream Doors is looking for more talented franchisees like Jerry who are ready to generate huge profits by representing an industry-leading brand.
Leran more about franchise opportunites with Dream Doors here!
---
Exclusive Interview: Dream Doors franchise opportunity took me out of retirement! - 07-February-2019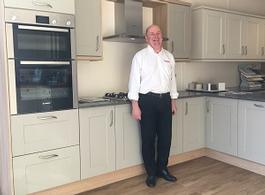 Name: Chris Mills
Location: Bristol
Franchise: Dream Doors
Franchise came under new management: January 2017
Tell us about yourself - what did you do before this?
My wife Linda and I have worked together for the last 26 years, and for 23 of those years we ran a group of printing franchises in Bristol and Bath. I was the sales director and managing director and Linda took charge of the finances and personnel. In 2013 we made the decision to close the businesses and retire.
Why did you pick a franchise business?
Due to our previous experience of franchising it was something we were very comfortable with. Taking on a Dream Doors franchise was a way of starting a new business with a tried and tested business model which has a proven successful track record. It is also much easier to obtain business finance when you are involved with a franchise.
Why Dream Doors specifically?
We were attracted to Dream Doors as it was a business we could run together again, but with defined roles to suit our skill sets. It also offers a product which fills a need in the marketplace, without needing a large investment in plant, staff or equipment.
How did you raise the finance?
We raised a bank loan for the full amount with half of it secured on our property. With the help of Dream Doors we drew up a very detailed business plan, including a cash flow forecast in a format that the bank was happy with.
What are the benefits of buying a franchise resale?
The major benefit of taking over an existing Dream Doors business is that it already has a showroom that is up and running and already generating leads and inquiries. Also, in our case, this business was running from a shop in Gloucester Road where we started our first venture in 1991 - so maybe it was fate.
What's a typical day like?
Every day is different, which is great. One day I can be delivering a kitchen and running through what we are going to be doing for the customer. I may be out on a consultation call to a customer to see what we can do to improve their kitchen or doing a completion visit with a delighted client.
Has becoming a franchisee changed your life? What are the benefits of being a Dream Doors franchisee?
Yes it has, as we now enjoy what we are doing, and it means we are in control of our future
What makes a successful franchise?
Having a business model that has a successful track record in a number of different locations and one that has the resources and experienced staff to support new start-up businesses and enable franchisees to follow the plan.
Do you have any advice for other franchisees?
Follow the model, bring in your own ideas and experiences, but most importantly have fun and enjoy what you are doing,
What are your plans for the future?
To carry on providing a great service and product for another eight years and then maybe try retiring again.
Learn more about franchise opportunities with Dream Doors here!
---
Joing Dream Doors has been a whirlwind that has exceed expectations! -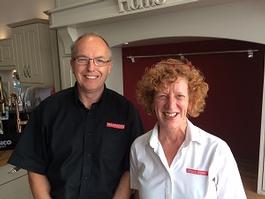 JOINING Dream Doors, the UK's #1 kitchen makeover firm, has been a 'whirlwind' for David and Kate Howle of Worcester – a whirlwind that has generated £235,000 in three months.

David had been keen on the idea of self-employment for some time but Kate needed a bit more convincing it was the right fit for her. It was only after meeting the Dream Doors team she felt happy to make the leap into a new line of work.

Kate, who had previously worked in business administrative support for 18 years, said: "It's been a whirlwind and a steep learning curve.

"We took over an existing showroom and it's been great – we haven't stopped."

David, an operations manager for ten years who began work in the steel wire trade, said: "They say franchising catapults you into a position whereby you are running a profitable business very quickly. "Well this is certainly true.

"The Dream Doors franchise has exceeded our expectations already."

Kate said Dream Doors offered her and her husband the chance to put their extensive property renovation experience to good use.

Kate said: "We've developed properties and converted a barn, so we knew this kind of work was right for us.

"David always wanted to do something else and run his own business.

"I was less interested in that but when I met the Dream Doors team I was very impressed.

"I started to think: 'We could do this.'

"So far it's been amazing and we've been really busy – hence the incredible £235,000 turnaround in a very short space of time.

"We've got a very good team here.

"Dream Doors stood out as being really professional and it was obvious there was real potential there."

Despite getting off to a phenomenal start, David and Kate have big plans for the future.

Kate said: "Over the next few years we plan to start spreading out from Worcester and into Malden.

"We're out to grow and really pursue this."

Dream Doors is looking for more talented people like David and Kate to join its ever-growing franchise network. There are just 19 franchise territories available nationwide, in particular in the North East, North West, Yorkshire and Scotland. Dream Doors will be attending the National Franchise Exhibition at the NEC in Birmingham on October 5 and 6. Find the team on stand L60.
---
Exclusive Interview: "The chemistry was right with the Dream Doors franchise" - 06-December-2016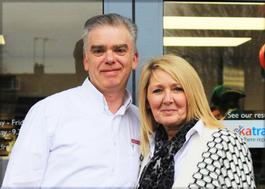 Name: Andy Wilkinson
Location: Beverley, East Riding of Yorkshire
Franchise: Dream Doors
Tell us a bit about yourself and what you were doing prior to buying a franchise business?
I was an area sales developer for Snap-On-Tools, Looking after a number of franchisees across the north of the UK. My role was very versatile, involving everything from developing territories to teaching franchisees to run successful businesses.
Why did you go down the franchise route? And why did you choose a franchise with Dream Doors?
Prior to becoming an area sales developer for Snap On Tools I ran a successful franchise with them and understood the benefits of running a franchise with a proven business model and how successful you can be when a business is run correctly. I saw the same potential with Dream Doors and decided this was an ideal business for me. They had a proven business model that was easy to understand, as well as security and support from the network.
The decider for me was when I met with Troy down at head office in Portsmouth, He was very passionate about his business and I quickly realised that this franchise was the one for me.
How did you raise the finance?
From my savings.
What training and support did you receive initially and ongoing?
We received very good initial training from Dream Doors covering all aspects of the business including product knowledge – computer aided design or CAD as it is commonly known – sales training & business administration.
We keep in regular contact with our business developer and we also have the help & support from other Dream Doors Franchisees in the network if we need it.
What is a typical day for you as a Dream Doors franchisee?
A typical day for me would be meeting with the customer in their home & discussing their individual requirements. For a straight forward kitchen refurbishment, I often prepare a quote for the customer in the home.
For a full replacement kitchen or re-design I provide a design drawing using our state of the art CAD software.I know that our customers really appreciate dealing with me, as the business owner, rather than a commission-driven salesperson. I suppose you could say that I am the face of the business.
What challenges have you faced?
Not many in all honesty. I dived head first into the business from a much larger role and already had the aptitude to make it work. I had plenty of previous experience working with my twin brother (A qualified kitchen designer and joiner) on many occasions designing and installing kitchens and I have a real passion for home improvements.
Running this business came naturally for me and I have to say that I've been loving it. I suppose the hardest thing is trying to separate my work life from my personal life … I am a bit of a workaholic.
Has becoming a Dream Doors franchisee changed your life, if so how?
Yes it has; in fact I am the happiest I have been in years. I missed being self-employed prior to joining Dream Doors and also missed being in charge of my own future. I really enjoy once again being self-employed working alongside my wife Terri.
Meeting customers is a joy – it's the fun part! Head office are there when I need them, too. But what's important to me is that I'm allowed to run my business, without unnecessary interference, and stamp my own personality on it.
What is the most invaluable piece of advice you could give someone looking to buy their first franchise?
Make sure you allow time to do your own due diligence. Do your homework beforehand and, once you're in possession of all the relevant information, take time to study the information, business plan and model.
Don't rush into a decision, as this is something that will change your life. But, equally, don't hang around and miss out on an opportunity if you feel it's right for you. Finally, make sure you like the people you're dealing with. It's something that was very important to me – and to Dream Doors as the franchisor. The chemistry has to be right.
What are your plans for the future?
I want to expand the business and run a multi area franchise. I don't want to stand still.
Would you do it again?
I wish I did it ten years ago. A lot of franchises are time wasters but Dream Doors appealed to me. To begin with I was dubious of my possible success but now I'm wiser I know it was guaranteed. Dream Doors can be a fantastic business in the right hands.
To immediately download our FREE and non-obligatory franchise prospectus, click here.
---
Ex-O2 Director shares his experiences as a new Dream Doors franchisee -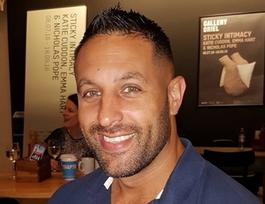 Before joining Dream Doors and launching his franchise in Swansea, Lavine Jones held several lucrative positions for high street brands, working his way up to become an Operations Director for O2. But, while he thrived on responsibility and appreciated the financial rewards on offer, Lavine had never felt fulfilled in his career.

That changed when he decided to open his own Dream Doors franchise; here Lavine tells us what first attracted him to the proposition:

"I could instantly see the value in the Dream Doors service as well as the potential prospects for a franchisee," he says. "The fact that customers could save up to 40% is a big deal, no matter the business. So, to me, it's obvious why so many have warmed to Dream Doors".

Like many people leaving behind the security of a salaried role, Lavine was a little apprehensive about his transition from employee to franchisee. He had previous experience in interior design, although was only just joining the kitchen industry. Lavine was driven, with personal discipline and the ability to learn from those around him. He also recognised that everyone involved with Dream Doors shared his hunger for success.

"As soon as I met Troy (Dream Doors' founder and Managing Director) I knew that this was the company I wanted to invest in," says Lavine. "His passion for the brand is infectious. I've work closely with my Business Development Manager since the outset too, and his skills, knowledge and enthusiasm for the business have definitely helped us get to where we are today."

Lavine admits that his journey so far has had its fair share of challenges. For a start, he must travel from his home in Cardiff to Swansea every day, and back again. On average Lavine drives 100 miles daily!

"There were no opportunities in Cardiff when I approached Dream Doors. The nearest available territory was in Swansea," he says. "But I believed so much in this business that I was prepared to travel, and that belief has paid off. The benefits of being able to work with my wife, and see more of my kids than I ever did when I was employed, far outweigh the hassles of the commute!"

"This is the best experience I've ever had," Lavine adds. "But it might not be right for everyone. My advice to anyone starting out in a franchise is to be patient, and be prepared to put a huge amount of time and effort in. You'll need to be humble at times too, and be willing to change the way you work. Do that and you could have a fun, rewarding and lucrative business of your own."

Dream Doors is the U.K's largest kitchen facelift retailer with over 70 showrooms nationwide.
---
"Dream Doors is the best thing I have ever done!" -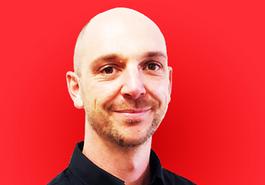 Matt Jones, the new owner of Dream Doors Truro, worked as a design technology teacher for 12 years before taking on a franchise. He'd spent some time searching for a business for sale in the west country, but was struggling to find an opportunity that excited him.

Then he stumbled across an existing Dream Doors franchise for sale in Truro and, after researching the kitchen makeover brand in depth, he felt confident the business could meet both his financial and personal goals.

"I wanted to be my own boss and have control over how I work and the money I earn," Matt says. "Dream Doors ticked all the boxes. I have my freedom now, but what's also nice is I'm using some of my old skills as a design technology teacher to help customers design their dream kitchens."

Matt admits that quitting full-time employment was quite a risk. He had a young family to support and would be leaving the security of a regular pay packet. What's more, jumping head first into a business that was already trading - and in an industry in which he'd had no previous experience - left little room for error.

But Matt had seen what other Dream Doors franchisees had achieved and, reassured by the brand's success and its reputation in the franchise industry, he felt the potential rewards far outweighed the risk. Nine months on and those rewards are no longer potential - they're real. And, as he explains, Matt is more than pleased with his decision to join.

"Dream Doors is the best thing I have ever done!" he says. "Sure it can be hard work sometimes, but it's definitely worth it for what I get out of it. The training provided was top-notch too; I always knew what I had to do and how to act, but I learnt so much during that period that is bound to help me way into the future."

Matt's final words are for anybody else thinking seriously about buying a franchise: "Listen to all the advice you're given; you don't know everything and that's okay. You buy a franchise to learn from other people's experiences, so just listen to the professionals and embrace change as that's how you become a success."

Dream Doors is the UK's largest kitchen facelift retailer with more than 70 franchised showrooms nationwide. The company is attending the National Franchise Exhibition again this year; the team will be on stand L60 on 30th September and 1st October looking for new franchisees to cover areas throughout the country.
---
A family business with Dream Doors franchise - 07-May-2013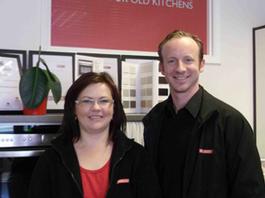 Disheartened with a career that he felt was stagnating, events manager Mark Edmans visited the British & International Franchise Exhibition in London. He admits the visit was primarily to assess a rival exhibition company, and that, at the time, he had just a passing interest in franchised businesses. Three months after the show Mark bought the Dream Doors Chilterns franchise which he now runs from its showroom in Chesham with the help of his sister, Amanda.
What did you do before starting a franchise?: Before joining Dream Doors, I worked as an Operations Manager for an events firm. I'd also had sales and marketing experience from my time living and working in Australia. My sister, Amanda, worked in administration before leaving to help me with the franchise.
Why did you make the move into franchising?: I wasn't happy with my career, and felt I was under-appreciated in my last job. I visited the franchise exhibition in London for some inspiration. I wasn't necessarily looking for a franchise, but as my job involved careers events, and Venture Marketing Group are involved in a similar field, I thought there might be some synergy there.
After speaking to a couple of franchisors, and for a long time with Dream Doors, I realised I could use my existing skills to work for myself. From that moment I was convinced it was the right move for me, and that I really didn't want to carry on working for other people.
What made you chose Dream Doors?: After spending time with the personnel involved with Dream Doors, I immediately became comfortable with them. I could see this was a genuine franchise, and that there's lots of support in all aspects of the business. It's also very much a people business, and one that capitalises on my sales, marketing and management skills.
How has working with family worked out?: It's great having Amanda in the business with me. As my sister I trust her implicitly, and have no issues with passing on any confidential information. I also know that family will put more effort into this business than an employee who, when 5 o'clock on a Friday comes along, will forget about Dream Doors until Monday morning! Equally, because we live separate lives away from the business, we can take time off independently and leave the other to look after the business.
We have very defined roles, working in a similar way to typical Dream Doors' 'husband and wife' teams. I deal with the sales and invoicing, manage our fitters and do most of the running around, while Amanda handles the paperwork, and looks after all the finance and day-to-day accounts.
What plans do you have for your business?: We've just had a great year, our first full year in a showroom. We were joint winners in Checkatrade's franchisee of the year award handed out at the Dream Doors Annual Conference. Checkatrade is an independent consumer monitoring scheme, and the award takes into account feedback and scores from customers, as well as how professionally and diligently a business is run. That was a great achievement, and one we're very proud of. A business like ours relies on its reputation, and we work really hard to make sure our customers are totally satisfied. Without that, we have no business.
This year we plan to increase sales, building on the successes we've already had and promoting ourselves in all corners of our franchise territory. There's definitely room for growth here.
---
UK Dream comes true for Dream Doors franchisee couple - 04-May-2012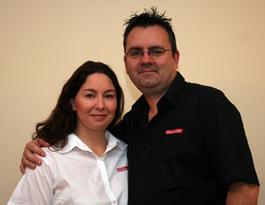 For most franchisees, starting a new business is testing enough. Leaving the security of a monthly pay-packet, embracing new skills and processes, and investing life-savings into a venture takes some nerve. But for South African nationals, Hayley and Gary Ashe, joining Dream Doors as its Guildford and Woking franchisees was just one of a series of challenges they faced as they left their friends and family to start a new life the UK.
But overcoming challenges is a characteristic that often sets successful business owners apart, and the Ashes have certainly shown their mettle in an intense period of stress and upheaval. Moving to the UK in June last year, the couple had found rented accommodation, schools for their two young daughters and embarked on a new business venture within just six short weeks of landing at Heathrow. Less than a year later, they and their daughters are settled, and they have a business that has generated more than £200,000 of sales in the last three months.
"Gary had been speaking with Alex at Dream Doors from springtime last year, with regular Skype sessions and lots of emails flying back and forth," says Hayley. "Before that we'd been looking at a number franchises, both in the food sector and in retail, but Gary was particularly keen on the kitchen industry."
"You can do a great deal of research online these days, and we could immediately see the appeal of the Dream Doors concept. Changing the kitchen doors and the worktops while retaining the existing base units and cupboards makes sense both economically and environmentally. And when you realise that the job can be completed in a day or two, you can see why customers appreciate the convenience of the whole process."
"So we were both excited about the opportunity before we set off for the UK, but internet research, a few phone calls and emails doesn't give you a true reflection of the business. As soon as we met the Dream Doors team in June last year, though, and then went on to speak to a couple of franchisees, we were convinced this was the right move for us."
"As a sales and management franchise, the skills needed to operate a Dream Doors franchise fit closely with our own expertise. And although the £70,000 investment is quite high, we could see exactly where the money is invested and why it takes that amount to launch the business properly, to market it effectively, and to open a showroom."
Dream Doors helps its franchisees find suitable premises, using a mix of demographic analysis and its own historical trading patterns to determine the best showroom location. The site identified for the Ashes sits on a major road between their territory's two main towns of Guildford and Woking. With a decent sized showroom area, office space and storage, and cars streaming past all day long, the only downside was the interior of the building which was a decade or two out of date.
From autumn onwards, and over the entire Christmas period, Hayley and Gary, and the sub-contracted fitters that Dream Doors had helped the couple find, worked around the clock to turn the tired old building into a state-of-the-art kitchen showroom.
Opening in the second week of January, the Ashes are now the proud owners of one of the most attractive showrooms in a network that boasts some 45 franchisees.
Hayley adds: "Bryn, our support manager from Dream Doors has been fantastic. He helped us through every step, from our initial training course to opening the showroom, and was even here helping us hoover on the morning of our official launch day!"
"It's been an incredible, experience but not without its fair share of stress. We're so busy right now, busier than we've ever been, and Gary is really positive because every other appointment seems to be leading to a sale! We couldn't have done it without all the help from head office though, and from all our neighbouring franchisees. There's real warmth within Dream Doors, with no competition between franchisees and genuine support from everyone. And we, probably more than any other franchisees, have really needed that."
---
Living the dream job with Dream Doors franchise - 29-September-2009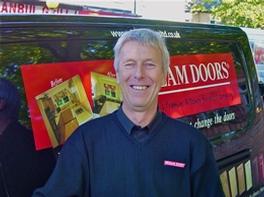 Franchise Company: Dream Doors Ltd
Franchisee: Barry Kent
Franchise Territory: York
"Giving myself more leisure time will be one of the greatest measures of the success of this business, and is one of the main reasons I chose a Dream Doors management franchise."
At 58, Barry Kent has had a rich working life. He has worked in management roles with leading international airlines, and is already a seasoned franchisee. After living in Australia for ten years, working in a management role with what is, today, Qantas airlines, he returned to the UK to start a family. He became a Signs Express franchisee, and ran a highly successful operation for 12 years. When the time was right, he sold his Signs Express business. Now, just four months into his new role as York's first Dream Doors franchisee, he talks about his experiences with the UK's leading kitchen facelift franchise.
There are hundreds of franchise opportunities out there. Why did you choose Dream Doors?
After I sold my Signs Express business, I played golf for about a year, and did the odd bit of franchise consulting. It was good for a while, but I soon learnt two things: I wasn't ready to hang up my hat and sit by the fire, and I didn't like working from home. I looked around at a number of franchise opportunities, and came across Dream Doors. It struck me as a really good proposition, but I didn't jump straight in. First, I got a job with a major kitchen company, and worked for about a year on the design and sales side of the business to see if the sector was right for me. It was during that time I made my mind up there was a big market for kitchen makeovers. Because of my Signs Express experience, I knew what to look for in a franchised business, and Dream Doors met all of my requirements.
What are your intentions for the growth of the new business?
Firstly, I view Dream Doors as a management franchise. It was never my intention to do the actual fitting. Now my hope is to grow the business by taking on staff and fitters, while I oversee business operations, which is what I'm best at.
You've been running your business for four months. Were you worried about the state of the economy before you signed the franchise agreement?
Not really. Dream Doors' products are right for the current market and will continue to be right. This is the type of business that works well regardless of the economic climate. During a recession, a lot of people don't move house because it's too costly and too risky. Instead they do various things to their current homes to upgrade them. The good thing about kitchens is that, although they get old and tired, structurally they are usually pretty much laid out the way people want. The carcasses are intact, and all that's needed is a bit of sprucing up, and that's precisely what we do.
What are the main selling points for customers, in addition to those you've just mentioned?
Kitchen facelifts are great for customers for a number or reasons. They're environmentally sound because you're not ripping anything out and throwing it away, they're much quicker than a full renovation, they're far more cost-effective, and the end result is a kitchen that looks fresh and new. It's important to remember that most of our customers are mature and don't want the upheaval of a complete renovation, which will often take more than a week. With Dream Doors, we are in and out in one or two days. The kitchen facelifts are also of a high quality, but they're still less than half the price of a new kitchen.
Why did you buy a franchise, rather than set up your own business?
I'm a firm believer that you buy a business and stick with the plan. If you look at a business and think you could do it better, I would say: "don't buy it!" A lot of potential franchisees buy a business and then want to change it. What's the point in that? You're paying for the formula, and the formula will give you success if you work at it. I think that franchisees who fail with a good franchisor are the ones who pay their money and think they've done the hard bit. The work starts after you've paid for the business. It's your business and you have to make it into something valuable. The franchisor won't do that for you. If the business model is right and the franchisee works hard at the business, it will be successful.
In that case, would you say that the Dream Doors business model right?
Absolutely. I know that Dream Doors has evolved over the last ten years, and is now a mature company. All of the right systems are in place and the support is well balanced. Of course, running my new franchise is not without its hiccups, but so far, any problems I've had haven't been related to the franchise model – they're the kind of teething troubles you get starting out in any business. The real difference is that, when I do run into problems, Troy and the Dream Doors team are always there to help. I really like that – having people on the end of the phone and feeling part of a team, while at the same time feeling as though I have a great deal of independence.
Did you get any training before you began operating?
Yes. I had two weeks of training in Gosport, which is where Dream Doors head office is based. After that I had training on the job from regional franchise support managers. It's a staged learning process that gives you enough knowledge to begin trading with confidence.
Since you began trading, what has the sales activity been like?
It's been a challenge, but for all of the right reasons. The business took off so well that my fitter has been flat out fitting when he could have been helping me get the showroom sorted out! I needed help there too. It's a nice problem to have, though. Overall, my lead-to-sale conversion has been much better than I expected.
How did you market the business to get the leads?
Dream Doors supplied all of the necessary marketing material. All of the advertisements I used, I picked from a small catalogue of templates supplied by Dream Doors. Head office gave me exactly the right advice about where to place my ads to reach the right audience. This eliminated all of the trial and error scenarios associated with marketing a non-franchised start-up. If you start on your own, you've got to dream up new ads and you've got to think about where to place them. To be honest, I'd rather be thinking about how to get my kitchens fitted than worrying about whether my marketing is working or not. The comprehensive package laid on by Dream Doors has saved time, helped me to generate really good leads and subsequently boosted my conversion rate.
It's sounds as though, overall, you're happy with the decision you made to team up with the Dream Doors brand?
Definitely. It's done more than live up to my expectations – it's exceeded them. Things are going much better than I could have hoped. Of course, I'm only four months in, but I've been around long enough to know what starting a business is like, and this has been a lot less stress than I imagined. With Dream Doors, It's all there. The plan works. It really is a business in a box.
In addition to the telephone and field support, do you have a manual to help you if you get stuck with something?
I do have an operations manual, which is comprehensive and thoroughly written. Everything is covered in the manual from finding fitters, advertising for staff, and interviewing techniques to contracts of employment, dealing with customers, carrying out quotes and completing orders plus lots more. You name it; it's in the ops manual.
What happens when you reach a point of confidence and don't need as much support?
Really, that's a great place for both the franchisors and franchisee to be. A smart franchisor will quickly sum up the strengths and weaknesses of all of his or her franchisees. If you don't need support they should let your run your business without interference – as long as your hitting your agreed targets of course. I know that when I want the help from Dream Doors, they are there for me, but they also give me space to run my own business. It's a balancing act that Dream Doors has got right.
Did being represented by a recognised franchise brand help with funding?
Definitely. There's no doubt in my mind that if I'd gone to the bank to ask for a loan to start a kitchen showroom, I wouldn't have got it. But with an established franchise name behind you, one that's been successfully operating and expanding for more than ten years, doors tend to open more freely.
What do you enjoy most about what you're doing now?
I get a big kick from starting a business up. Both times I've been a franchisee, I've started in a virgin territory. I've found the showroom, found the clients, and got a great deal of satisfaction building something from nothing. It also gives me a good feeling to know that there will be at least three or four more people with jobs in York because of me.
The other thing I like is the sense that I'm responsible for my own destiny. At 58, I'm not ready to throw the towel in, and I don't think I could ever work for anybody again, so I'm really pleased I've started something new. Don't get me wrong, I'm not a workaholic, and I do want to get a lifestyle out of this business, such as nice holidays, and a few more rounds of golf, but it takes a while to get to that point. Giving myself more leisure time will be one of the greatest measures of the success of this business, and is one of the main reasons I chose a Dream Doors management franchise. My approach is: get the right staff, get the business geared in the right way, and in a year or two the business should tick over nicely whether I'm there or on holiday.
---
Excited for the future of franchising with a Dream Doors franchise - 17-November-2008
"I have never felt so excited, enthusiastic or inspired by work as I have in the last 6 months." – Helen Mahon, Dream Doors franchise Norfolk
Helen and Philip Mahon opened the doors to their Dream Doors showroom in Norwich on Friday 1st February with local radio celebrity, Helen McDermott there to cut the ribbon. This is the 20th showroom to open for the kitchen facelift company and recognises a phenomenal year of growth for both Dream Doors and their franchisees.
After visiting the National Franchise Exhibition in 2006, Philip & Helen researched a number of franchises before choosing Dream Doors franchise,
"We are professional people and having a quality product we believed in was really important to us. We met the team at head office and were inspired by their enthusiasm and belief in the company and we came away feeling this was something we wanted to be part of." Helen adds, "I have never felt so excited, enthusiastic or inspired by work as I have in the last 6 months."
Dream Doors franchisees provide an innovative kitchen facelift service that saves customers both time and money. Helen says, "Our customers are amazed by the transformation that takes place within such a short time period - it really is an easy, no fuss option." Discussing their showroom launch she adds, "We are very excited about this step forward and look forward to welcoming old and new customers through our doors to see the displays"
---
Believing in Dream Doors franchise - 04-October-2007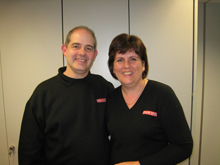 Why I chose franchising
We didn't specifically set out to buy a Franchise. Originally we were looking to buy an established business probably centred on cabinet making and were subscribing to Daltons weekly. However there didn't seem to be very much available in the Norfolk area. Then one week my husband noticed the Dream Doors advert, which seemed quite appealing and ticked all the boxes. We knew nothing about franchising but luck (or design!) would have it that this was just before the Franchising Conference at the NEC, so we hot footed it over to Birmingham and went to all the seminars, getting info on everything we could. We also talked to the Dream Doors franchise team. We rapidly came to the conclusion that for us, with no previous knowledge of running our own business franchising seemed to make perfect sense. It was a more secure way of starting our own business as it was a recipe that had already worked elsewhere and we would have all the support from head office as well as other franchisees within the network. The more we found out the more it seemed the right choice for us
Why I chose Dream Doors franchise
At the NEC we talked to many stands covering a huge range of different franchises, as we didn't want to go rushing in with our first choice. However with my husbands background in cabinet making the kitchen companies seemed more in line with our original plans. We looked at other "facelift" companies but they did not seem to be as professional as Dream Doors franchise or provide the same quality product and service. We are both professional people and having a quality product we really believed in was really important to us. When we met the team again at head office we were really inspired by their enthusiasm and belief in the company and in us and we came away feeling this was just something we really wanted to be part of. I have never felt so excited enthusiastic or inspired by work as I have in the last 6 months. (Mind you I was very disillusioned in my previous job!)
What I did before taking up a franchise
I originally trained as a maths teacher, but worked as an NHS senior manager for the last 17 years specialising in data processing and analysis and the internal market within the NHS. My husband was an IT procurement consultant for the Civil Service, but having taken voluntary redundancy in 2003 he took the opportunity to retrain and is a fully qualified cabinet maker.
The training and support I receive from my franchisor
The training and support has been fantastic and has really reinforced the fact that we feel we made the right decision. The initial training was really helpful and there have been plenty of visits from the Franchise Support Manager to keep us on the right path. We've also had courses on sales, finance and building regulations, which have been very helpful, as well as a visit to Ireland to see the doors being made.
The challenges I have faced
Never having done anything like this before, in terms of running a business, sales or working in the kitchen industry, we had quite a large learning curve, but it has been an exciting challenge. Learning about the product has been the biggest challenge for me, but it's a case of persevering. A lot of it is common sense, being organised and a desire to please your customers, the rest sort of falls in around theses principles. At one stage we did feel we seemed to have a lot of mistakes to learn by, but I think that's part of the challenge and what drives us forward to keep improving. If you always get it right you become complacent and things become stagnant, which isn't a good place to be.
My advice to someone thinking of buying their first franchise
Do plenty of research first into how the companies work and what the package includes. Make sure you meet the people first and make sure it's something that excites and motivates you as it may take over your life! Most of our fact finding was based around the NEC exhibition. We did further research on the BFA website as well as the banks franchising guidance. We also researched the other kitchen companies and weighed up the pro's and cons of each one.
My plans for the future
We are just about to move into our showroom, which we are extremely excited about as the business has rather taken over our home. The showroom will move the business to another level which is where we want to be. Within a few years we then hope to open a second satellite showroom elsewhere within Norfolk to tap into geographical areas we have only briefly touched on so far and grow the business further still.
---