Advertise on whichfranchise.com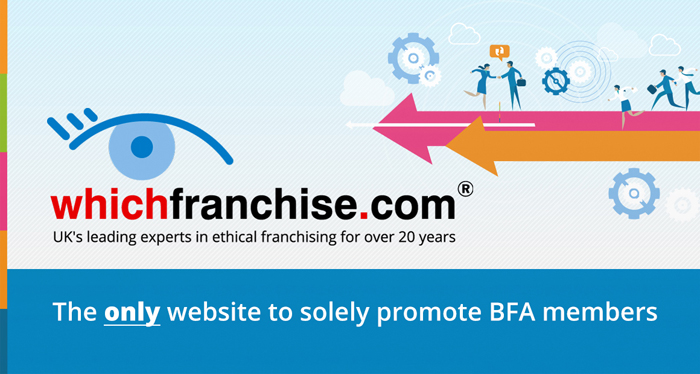 Established over 20 years ago, whichfranchise.com, the official online partner of the British Franchise Association (bfa), have helped literally hundreds of prospective franchisees find the right franchise for them.  
As well as providing you with the key contacts for your enquiry, we also outline in this section why we are number one choice for franchisee recruitment and for helping suppliers target the franchise industry.
Key contacts
? Looking to attract serious franchisees in the UK?
To find out more about advertising your franchise opportunity on whichfranchise, please contact sarah@whichfranchise.com or call 0141 204 0050, and request a copy of our media pack.
? Got an existing franchise to sell?
To receive information on our resale section please contact suzanne@whichfranchise.com
? Looking to target the UK franchise industry?
If you are a supplier who is interested in targeting the UK franchise industry, we have several packages that could meet your needs. To find out more about promoting your services and products to the UK franchise industry via whichfranchise, please contact suzanne@whichfranchise.com
? Are you an international franchisor looking for a UK master franchisee or area developer?
To find out more about advertising on our UK Master Franchise section, please contact suzanne@whichfranchise.com
Why advertise on whichfranchise.com
"We've been working closely with whichfranchise for many years now and for very good reason. The website is full of useful, impartial advice that should be noted by every prospective franchisee. Like the bfa, whichfranchise focuses on educating and informing its readers, not on selling them something."
The website includes features and interviews that can't be found anywhere else from some of the leading names in the sector, and exclusively showcases bfa-accredited franchise brands that have demonstrated their commitment to franchising ethics, rather than simply promoting any business willing to pay for the privilege. That alone should tell you everything you need to know about the quality of information on offer.
"We're proud to call whichfranchise our official online partner."
Pip Wilkins, Chief Executive, British Franchise Association
We are not just another franchise website! whichfranchise is more than just a franchises for sale directory, we are the leading online provider of franchise information in the UK.
Our step-by-step guide to franchising provides prospective franchise owners with everything they need to know about buying a franchise in the UK. We give them a taste of what franchising is really like by providing stories of real-life successful franchise owners, as well as keeping them up-to-date with the latest franchise news and events taking place.

"Lloyds Bank has supported the whichfranchise.com website for many years as it provides an essential source of sound advice and information for people looking to research investing in a franchise opportunity."
Richard Holden - Head of Franchising, Lloyds Bank
How we help franchisors
By providing prospective franchise owners with everything they need to know about franchising, we help them to self-screen themselves to identify if franchising is right for them. With our guidance they are then able to make educated choices at all stages of the decision-making process.
By structuring our site in a way that encourages and nurtures only those serious about and suited to franchising, franchisors can be ensured that the leads we generate for them will be of a high standard.

"We have tried all the major franchise recruitment websites and found that whichfranchise.com is consistent in supplying not only a regular quantity of potential franchisees but also those of excellent quality. We understand our potential franchisees find that navigation of the site is simple and helpful, which reduces the amount of time in their searches. whichfranchise.com are continually rethinking their strategies and are really most innovative. Furthermore, their team is so helpful and nothing is too much trouble for them. Highly recommended!"
Norman Grossman, Auditel

"whichfranchise has generated great results for us and we're delighted with the service they provide. While the number of responses is important, we've also been very impressed with the quality of the candidates who convert from initial enquiries to the application stage."
Andy Hirst, Head of Franchise Development, Domino's Pizza

"Trophy Pet Foods have used whichfranchise.com for a number of years and as such it forms a major part of our recruitment campaign. We have signed up a number of franchisees as a result. The site is constantly expanding, introducing valuable information to prospective franchisees. The leads we receive tend to be of very high quality from people who are serious about franchising. There are many franchise recruitment sites, whichfranchise.com is the market leader."
Sue Reid, Sales & Marketing Director, Trophy Pet Foods
Read more franchisor testimonies...
Read testimonies from franchisees who bought their franchise via whichfranchise...
Sign up to our newsletter
Our newsletter will keep you up-to-date with the latest UK and International franchise news, franchise events taking place, special offers from selected partners and whichfranchise, new developments to whichfranchise and much more. Click here to sign up