Interview with John Kirk, Home Instead, Swindon & Vale of White Horse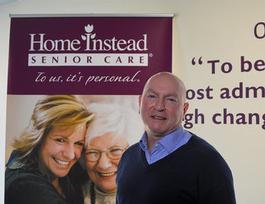 Name: John Kirk
Location: Swindon & Vale of White Horse
Franchise: Home Instead Senior Care
Tell us a bit about yourself and your background in the armed forces
Before moving to the commercial sector, I was privileged to have a full and successful career in the Royal Air Force, serving for 23 years – initially for 5 years as an Air Traffic Control Officer with the balance as an officer in the RAF Regiment. I was fortunate to deploy to most of the active theatres of operation that characterised the period of my service including the Falkland Islands, Central America, Europe, the Balkans, Northern Ireland and the Middle East. I was also lucky enough to have a 'warm weather posting' working on exchange for the US Government in San Antonio in the USA. I retired from the Royal Air Force in 2002 having risen to the rank of Wing Commander.
I'm married to Jill and I have two sons aged 24 years and 21 years. My family 'followed the flag' for almost all of my service career. When I first entered the civilian job market, I worked as a Branch Manager for Waitrose following a period as a management trainee. After 3 years, I resigned and moved to a company providing residential nursing and dementia care. Four years ago I became a franchisee of Home Instead Senior Care.
Where did you first hear about franchising? Was there a particular reason why you decided to buy a franchise?
I first heard about franchising many years ago. A colleague in the RAF Regiment left the service and became an extremely successful franchisee with McDonalds. He told me that successful franchisees followed the systems and processes set out by the franchisor – that's exactly what he did. He's now retired and I had a note from him this morning – he's currently on holiday skiing before returning to the UK ahead of his next sojourn to Florida in May! Having worked in a Corporate (and for the MOD), I wanted to have more control over the day-to-day operational and strategic investment decisions that affected me. Working for myself seemed to be the ideal solution.
What research did you undertake? And why did you choose Home Instead franchise?
I had some experience of working in senior care and wanted to set up a business close to my home. I researched all the major franchises in the domiciliary care sector and Home Instead was the one whose values and ethos resonated most closely with my own. I was really impressed with the franchisee recruitment process which allowed both parties sufficient time for dialogue and research before making a commitment.
How did you raise the finance to fund your franchise?
This was my biggest concern. As most people who work for the Government for a long time will know, you don't get rich in the Armed Forces! The franchise helped introduce me to the funding banks and I was able to get a bank loan to fund the majority of my franchise fee and working capital. The rest was provided from savings.
Many ex-servicemen and women go into franchising, why do you think this is?
In the Armed Forces you learn to follow successful processes but in every serviceman or woman there is also the ability to show that spark of initiative – an entrepreneurial spirit if you like – when the policy, process or plan doesn't work. Nothing frustrates a serviceman or woman more than being accused of only being able to follow orders! The complexity and ambiguity of modern warfare means that yes, there is a plan to be followed, but every man or woman down to the lowest level needs to be able to take decisions independently to exploit unexpected success or to react when things go wrong. This ability to follow a process and show initiative along with strong leadership and people management skills make ex-Armed Forces people ideal franchisees.
How did you find the transition from being on a salary to being self-employed?
There is a perception amongst the wider public that franchising means 'turn the handle and the money comes churning out'. Not so - it's hard work! The franchise helped by making it very clear about the commitment required (both personally and financially) from the outset. We were asked to write a 'personal survival budget' so we understood that not only could we afford the franchise but we could afford to live. In the early days we were not only running a strict cashflow for the business but also a strict family cashflow. It required us to modify our lifestyle somewhat but made the whole family value money more. It's been a real 'life lesson'. Getting a good accountant helped me to understand how to make the business work for me and my family in the most tax-efficient way.
What is a typical day for you as a Home Instead franchisee?
I let my team settle and resolve any immediate problems of the day before I arrive at the office between 0900-0930. Beyond that, there is no 'typical day'. I could be out networking for new business or attending one of the many groups where I seek to have influence. In the office, I take the lead on sales and marketing as well as ensuring that we are compliant from a regulatory perspective. We are a people-driven business and so recruiting, leading and encouraging the team – be they in the office or delivering care in the field is an important feature of every day. I love the variety that our service brings to my working life.
What challenges have you had to overcome as a franchisee?
The normal ups and downs of running a business. In contrast with working for someone else, it always feels very 'personal' and you get more emotional about the highs and lows. The support from my franchisor and his team has been excellent and I always feel able to seek their wise counsel when I need to. The first couple of years were tough, financially, for my family but we now appreciate the returns more so than perhaps we would have done. Staff issues have been a low-level but consistent theme over our four years of operation as the impact of a bad hire or poor performance on a small business can be significant.
Has becoming a franchisee changed your life, if so, how?
Absolutely! I have a freedom – both in decision-making and lifestyle that would never have been achieved had I remained working for a corporate. The returns from the business are not just financial. I am able to take time – when it suits me (and the weather permits!) to pursue my hobbies of cycling, running and sailing. Holidays that fit with my wife's working pattern are much easier to arrange. This has not just been a positive career change, it's been a positive lifestyle and wellbeing change.
In your opinion, what makes a successful franchisee?
Someone who's ready to put in the 'hard yards' and follow the proven franchise systems. Over the time I've been a franchisee, it's those who try to 'reinvent the wheel' that fail to realise the expected returns.
Would you recommend franchising to other ex-servicemen or women? And what's your reason for this?
Franchising provides sufficient structure along with proven systems and processes for an ex-serviceman or woman to feel in familiar territory. There are lots of corporates who fail to recognise the transferable skills of those leaving the Armed Forces. Franchising allows service leavers to move straight into the commercial sector without having to endure the sometimes misguided recruitment processes of the less enlightened companies. Of note, we've recently appointed a serving Army officer as a non-executive director to both provide him with some commercial experience while we leverage his analytical skills to help us grow.
If you could give one piece of advice to someone thinking of buying a franchise, what would it be?
Choose a franchise delivering a business or service that you are passionate about and do your research. If you don't enjoy your business, you might as well work for someone else and let them take all the risk!
What are your plans for the future?
We are a fast-growing franchised business and having put in the groundwork, we want to exploit our success. Longer term, we are considering having a General Manager run the business for us. We are enjoying the journey and currently have no plans to exit.
Would you do it again?
Unequivocally, yes – and I probably would have done so on leaving the service rather than waiting for a few years trying to get a commercial CV together.