Interview: 'Transferable skills learned in the military have opened new doors for me!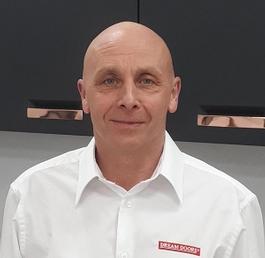 Name: David 'Sharky' Ward OBE
Location: West Country
Franchise: Dream Doors
EX-MARINE David 'Sharky' Ward OBE has swapped conflict zones in Europe and the Middle East for a Dream Doors kitchen showroom in the West Country.
Mr Ward left the Marines as a Lieutenant Colonel after 30 years of service and helped run the Royal Marines charity for years after that.
He feels the transferable skills he learnt in the military will now help him as he opens the doors of a new kitchen showroom in Plymouth.
David said: "I joined the marines because of the challenge and because I wanted a physical, outdoor job.
"It allowed me to serve all over the world – in Afghanistan, Iraq, Kosovo and Northern Ireland among other places.
"I wanted a second career after leaving the military, it was just a case of finding the right moment to take that step.
"I feel happy to move on from the Royal Marines charity and to set up my own business working for the UK's number one kitchen makeover company in the South West, where I want to be.
"I have always wanted my own business and I always wanted that business to be people-centric and related to home development in some fashion."
Mr Ward added: "I think franchising is a great fit for people from military backgrounds.
"Franchising takes strong project management skills, which you need in the military, and it's a way to combine the ability to manage people and serve people."
Dream Doors is looking for more talented franchisees like David who want to run their own local business, while also representing an industry-leading national brand.
To learn more about franchise opportunities with Dream Doors, click here!