Controlling his own future with franchising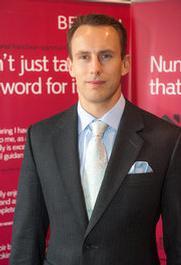 Name: Tim Hughes
Location: Newbury
Franchise: Belvoir
Tell us a bit about yourself and your background in the armed forces
I commissioned into the Royal Logistic Corps in April 2008, and deployed to Kuwait, Canada and Afghanistan. I applied for and was selected to train as an Ammunition Technical Officer, and went on to command Shorncliffe Tp, 621 EOD Sqn.
When I was medically retired, I took on a role as Technical Field Manager for Mines Advisory Group, carrying out EOD clearance and technical education in Libya.
Where did you first hear about franchising? Was there a particular reason why you decided to buy a franchise?
When I was looking for a permanent career I happened across an advert for a lettings franchise on (I think) the CTP website. I wanted to work for myself rather than as a small cog in a large organisation, and franchising seemed to fit the bill – a proven business model, with control over how I ran my business.
What research did you undertake? And why did you choose Belvoir franchise?
Extensive internet research, visits to competitors in my (first) chosen location and then in my eventual choice (Newbury).
How did you raise the finance to fund your franchise?
I had some savings, plus earnings from working in Libya, topped up with a bank loan using the EFG. The successful franchise meant that several banks were happy to loan, and as we didn't have any assets for security the EFG was tremendously helpful.
Many ex-servicemen and women go into franchising; why do you think this is?
Franchising and running your own business means no compromises in how you do things. You can impose your ethos and the core military values on your business, as opposed to trying to fit into an organisation with its own way of doing things.
How did you find the transition from being on a salary to being self-employed?
For me it has not been too tough – my wife's employer provide accommodation, and so I have no need to pull money out of the business. There's definitely a high degree of stress though, as you go from a safe, secure wage to having sole responsibility for bringing in sufficient revenues.
What is a typical day for you as a Belvoir franchisee?
At the moment, less than 18 months in there is no typical day. I find myself filling multiple roles, reacting to incoming work, and trying to fit in admin, marketing and strategic thinking. I try hard to carve out enough time to exercise each day – this helps me to calm down, and I'm not sure the business would survive a heart attack!
What challenges have you had to overcome as a franchisee?
The same as most – it is significantly harder than I thought it would be, the business's appetite for cash is huge, and I have had to teach myself quite a few new skills.
Has becoming a franchisee changed your life, if so, how?
I can see that it will, but not sure it has yet. I enjoy having almost sole responsibility for my fate, but it does lead to tension at home when I work another weekend, home late again, can't take time for holidays and so on. In a year or 2, with a strong team on board I will be able to take time to myself, spend more time with my wife and so on.
In your opinion, what makes a successful franchisee?
As far as I can make out, the successful franchisee is positive, open to learning new skills, networks well, and truly understand the financials of their industry and business.
Would you recommend franchising to other ex-servicemen or women? And what's your reason for this?
I would. There are vast swathes of businesses and industries that in general are not well managed or giving a good service. Forces types tend to have a sense of purpose, determination and the drive to get things done. They can operate systems, constantly search for improvements and are used to high degrees of responsibility.
If you could give one piece of advice to someone thinking of buying a franchise, what would it be?
Understand the growth rate for your business. Find out how long it took other franchisees to break even/make a profit. When arranging bank funding, be generous – don't assume you'll immediately be wildly successful – you can always pay back more, you can't always borrow more.
What are your plans for the future?
Continue to grow the business, until the point where I can leave the team to run the office with only minimal input from me. Open a 2nd/3rd office, and look out for other opportunities.
Would you do it again?
Very probably.