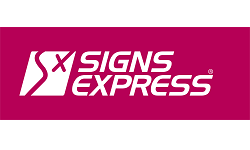 A day in the life of a Signs Express franchise owner
---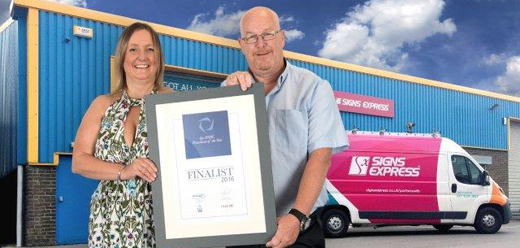 A Day in the life of Jane Wiles, a Signs Express Franchisee
In January 2015, Jane Wiles and Ray Allenby took over the Signs Express (Portsmouth) franchise and immediately hit the ground running. The couple have worked tirelessly to grow their customer base, more than doubling their turnover in their first year. All of their hard work hasn't gone unnoticed, with the pair being recognised as finalists for the 2016 British Franchise Association (Bfa) Customer Service Awards.
Jane tells us what a typical day involves for her:
8am
Every day starts the same way…with a production meeting and a cuppa! We always begin the day this way so that the team can discuss current jobs and we can work out a schedule for production. After the meeting we then mark on the production board all the jobs for the day and allocate them to the relevant staff.
Our production supervisor Shane oversees the team, so we make sure he's fully aware of the tasks in hand and can delegate them to the relevant areas such as the application department or to artwork etc.
9am – Midday
Following on from the meeting I catch up on calls and emails and speak to anyone that may visit the centre to make an enquiry. Usually I get involved in processing new orders and quoting for any new enquires. We are very lucky to have a large supplier database that the procurement team at HQ monitor. This not only means we're getting the best prices around but it also allows us to obtain the most competitive prices for our customers.
Building strong relationships is the favourite part of my role and something that is critical in developing the business.
I also have a lot of communication with the marketing team at HQ who are always on hand to help, whether that's updating our website with images or writing news stories.
Midday
Half way through the day we have a production meeting in order to check how production is coming along and look to re-plan if needed. It also ensures that we stay on top of orders whilst sticking to our schedules.
Afternoon
Customer visits and paperwork usually take up most of my afternoon. There's a fantastic technical support team at HQ who are always there to help with file formats, advice on fitting and product choices ensuring we have any information we may need.
We are a busy centre and that makes for a busy diary, so I am often seeing existing clients at their businesses to assess their requirements as well as meeting potential clients and advising them on the wide range of services and products we offer.
We also always seem to have a steady flow of customers that pop in, particularly when it's anything to do with vehicle graphics. I really enjoy them coming to see us and it's a great opportunity to show them around the centre, in particular our specialist vehicle bay. It's also means we can talk through design ideas over a cuppa together too.
Close
Usually our day wraps up about 5 - 5.30pm at which point we will always check we are on schedule and then make sure that the centre is all good to go for work to begin again the following day.
This is what I would say is a typical day, but no two days are the same. I love the diverse nature of the signs industry, it keeps you on toes and encourages me to keep driving our business forward. We recently invested in further staff training and new equipment to ensure we can take on any kind of project and keep growing the business.
Why not meet the Signs Express team and franchise network in person - to ask about Discovery Days, complete the short form here.