Exclusive Interview: 'Taking the Franchise gave us the opportunity to live and work local'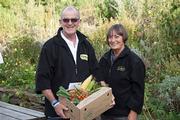 Riverford Organic Farmers grow and deliver award-winning organic fruit and veg boxes straight from the farm to homes across England and South Wales.
Operating since 1987 the business has grown from delivering to a handful of customers in South Devon to delivering to over 50,000 customers each week.
Hilary and partner Tom, launched their Riverford home delivery business in 2013 and are now looking to hang up their onions and semi retire. Here Hilary tells us why she chose a Riverford franchised business.
Name: Hilary Garnham
Location: West Somerset
Franchise: Riverford Home delivery
Tell us a bit about yourself and what you were doing prior to buying a franchise business?
I had previously been an arts administrator with roles including Director of Arts in the South West Office of the Arts Council, Producer for Kneehigh Theatre in Cornwall and Creative Producer for the Eden Project.
In a high proportion of my previous roles, logistics was a key component e.g. scheduling touring schedules for theatre companies, co-ordinating the logistics involved in bringing a large- scale Circus company to live and work at Eden for the summer or the front and backstage running of the Eden Sessions.
Why did you go down the franchise route? What made you choose your industry? And why did you choose Riverford?
My partner Tom started by looking at jobs available with Riverford and during his research came across the option to purchase a home delivery franchise.
I originally trained as a Dancer and have always been interested in food and health. For many years I had been a vegetarian and been convinced of the benefits of eating organically. In addition, having worked at the Eden Project for 4 years I was keen to continue to work for an organisation that was committed to safeguarding the environment and had a strong ethical commitment.
Why do you think franchising is a suitable career option for over 50s?
At this stage in life you are likely to have the self-knowledge to know whether you have the capability of running your own business; specifically whether you have the ability to self motivate as well as being able to keep a clear head when required to respond directly to challenges under pressure.
Do you think being 50+ provides benefits that might not apply to younger franchisees?
You are more likely to have the basic resources or credit worthiness with which to purchase and run the franchise.
What training and support did you receive initially and ongoing?
The Riverford franchise model is quite prescriptive and if you follow it and perhaps more crucially willing to put the hours in you are more likely to be successful.
The initial training was focused on understanding the product, the Riverford processes and how to use the Riverford bespoke extranet system.
There is ongoing regular support from a Riverford Business Development Manager throughout. Meetings take place quarterly and focus on review of delivery against business plan and consideration of any support required in the next 3 month period.
What advice would you give to other over 50s thinking of buying a franchise?
Think carefully about the commitment that will be required for the business to be successful, it's not a part time option.
Have you faced any challenges coming into franchising at an older age? How did you overcome them?
None come to mind. However good health and stamina are definite requirements!
Has becoming a franchisee changed your life, if so how?
'For a number of years, both Tom and I have either worked some distance away from where we have lived and with little exception not worked at all within the community we lived in. Taking on the West Somerset Franchise gave us the opportunity to live and work together within our own local community.'
What is the most invaluable piece of advice you could give someone looking to buy their first franchise?
Think carefully and make sure you have the resources, commitment and stamina to be successful.
What are your plans regarding retirement?
We are currently looking to sell our Riverford business, but retirement is unlikely ever to be total! I will continue to take work that I am committed to, when any other opportunities arise. Crucially however it won't require 45 hours a week commitment!
Would you do it again?
Yes!
Learn more about Riverford Organic and this resale opportunity here!