FASTSIGNS Swansea franchise invests in 'greener' printer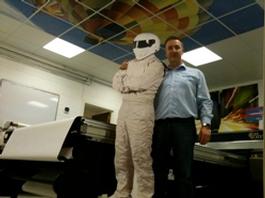 Swansea based business FASTSIGNS® has just invested over £60,000 on a top of the range, eco-friendly flat bed printer, to make the business more efficient by speeding up production, increasing capacity and vastly increasing the variety of materials that can be printed.
Simon Rees, owner of FASTSIGNS Swansea said: "Despite the tough current economic circumstances it is still important to keep on investing in your business. This new printer is so efficient it will cut down manufacturing time which in turn reduces prices and makes us more competitive. We are determined to grow our business and continue to give our customers a fast and professional service, buying this printer will help maintain our position in the market place.''
On the 26th, 27th & 28th of January, FASTSIGNS are holding an 'Open House' and inviting anyone to come along and see the new state of the art printer which will allow Simon, owner of the signage and graphics business at Minster Court, Valley Way, to print near photographic quality images directly onto a wide range of rigid and flexible materials, including glass, ceramics, wood, card, metals and plastics.
From an eco point of view, the Gerber Solara Ion printer uses the latest Cationic Inkjet inks, creates no Ozone unlike some other printers, is emission free and uses less energy than other printing systems.
Said Simon: "it's amazing, we can print onto virtually anything now, from ceiling tiles and kitchen cabinets to glass and acrylic. If you want pictures of your children on your kitchen cabinets, come and see us!"
If you would like to attend one of FASTSIGNS' Open Day events, please telephone 01792 785070 to reserve your space. Spaces are limited & each attendee will receive a 25% off voucher to spend on the day against any products printed on the new printer.