View main The Original Poster Company franchise page
---
The Original Poster Company (franchise for sale)
Location: Tunbridge Wells
Franchise for Sale – The Original Poster Company, Tunbridge Wells
An ideal opportunity to purchase a territory in a semi-rural location that stretches from Tunbridge Wells to Billingshurst in the West. With a population of over half a million this territory and its mix of large towns and pretty villages, the area is a varied territory within which to operate.
This territory is priced at £35,780 (inventory/stock included)
Comment of exiting franchisee
"I purchased the franchise in June 2006 when the previous franchisee decided to move on to pastures new. Now, I too have decided to move on and return to my former roots. My background has always been in retail, particularly within the Royal Mail and I am currently in the process of purchasing a new Post Office. For the past two years my daughter Rachel has been taking care of the day to day operation of the franchise but she has decided to follow me into my new venture.
There is plenty of potential in the area to vastly increase the number of accounts and therefore the profitability of the business.
I have thoroughly enjoyed my time at OPC".
Peter and Rachel Munday, OPC Franchisees (Tunbridge Wells)
About The Original Poster Company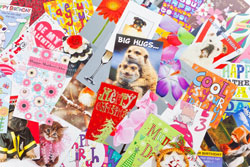 The Original Poster Company (OPC) is the world's leading greeting card distribution franchise, operating in an industry worth over £1.4 billion just in the UK. Established in 1991, OPC's franchise network has had complete UK coverage for over 20 years and is a full member of the British Franchise Association. Some franchisees are now selling their existing territories as they retire or move on to new business opportunities, creating huge potential for new owners to step in!
Start a franchise with an income from day one
These franchise resale territories are already established, so you start with an existing profitable business, including stock, cash flow and customers. So, our extensive range of high quality products brings you an income from day one.
"I had previously owned my own shop – a 7 'til 11 and I decided to sell that on, stop working so many hours and spend more time with my family. My advice to others looking at buying a franchise is to have a go, I did and I love it! I've had a lot of support from the OPC Business Development Managers and even though I started in 2001 with my OPC resale territory, I am still growing the business!"
John Thompson, OPC Derby & Tamworth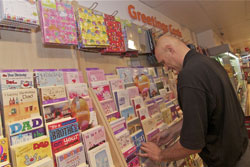 Training and support
All new franchise owners follow an initial comprehensive training programme with regular on-going field support from a dedicated Business Development Manager. This provides you with all the support you need to grow your sales and keep overheads low, whilst achieving great profit margins.
"There was good initial training from our Business Development Manager (BDM) – formal training followed up by time out in the field merchandising with us. There is also on-going training at our regular meetings with our BDM."
Jim Brady, OPC West Yorkshire & OPC North Yorkshire
Our franchisees
In the UK, OPC is a great franchise for those with strong management and customer service skills. Over 90% of our franchisees surveyed agree that OPC's home-based system gives them the flexibility to enjoy family life.
We look for people:
Who are confident in customer relations
Have a strong desire to change their lives through being successful in business
Who want to work from home and have somewhere to store stock
Who have their own transport to visit retailers and deliver stock
To take an existing business and breathe fresh enthusiasm into it.
"I began looking in to franchising when I was made redundant and I started to realise that there were a lot of good franchises out there which had excellent business models in place. Franchises offer you a safety net and a degree of support so you can get help and support from the franchisor that you simply wouldn't have if you started up a new business on your own."
Mark & Tracey Sheldrake, OPC Croydon & South East London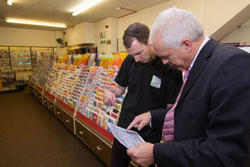 The financials
Each of our resale territories has a different cost based on size of territory and current business assets but we are happy to provide you with a breakdown of financial information on application. The franchise licence fee is just £3,000 + VAT for a 5-year term and our resale territory prices start from £20,000 including stock.
Within this package you will receive all the great support you would expect with a franchise but you also benefit from an income right from day one.
Exclusive territory
Access to independent and branded retailers
A dedicated Business Development Manager
Superb product range of cards and related items
Choice of latest presentation fixtures
Central online system to process orders
Franchisee Incentives
Our franchisees don't even request upfront payment for our greeting cards and because it is all based on sale or return – the retailer simply pays for what they sell.

If you enjoy interacting with people, are enthusiastic, and would like to know more about how to join our greetings card franchise network, then OPC would love to talk to you.