Last Updated: 03-February-2012
Riverford Organic Invites Potential Franchisees to Day of Discovery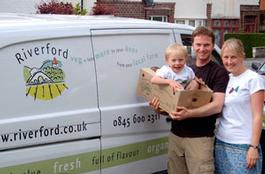 Growing in prestige and brimming with awards and accolades, the UK's leading veg box delivery franchise continues its search for budding entrepreneurs – or seasoned ones – and is holding a Discovery Day on Saturday February 12 at its main farm – Wash – in Devon.
Says Laura Cottee, Riverford's Territory Services Manager: "We expect people to visit us from all over the country. We're a large and well established franchise with around 70 franchisees delivering more than 50,000 organic food boxes each week. In a network of this size, there is natural shedding. We therefore have some resale opportunities for individuals or couples who want to move into an established territory with a proven track record.
Currently, Riverford has a number of franchisees making more than 500 deliveries per week, with some turning over more than £1million a year.
Says Cottee of these successes: "Many of our new franchisees were able to hit the ground running because they saw the potential in buying a business with an established customer base. Having said that many started from scratch with virgin territories, of which we have several available. The entry price for a virgin territory is just £9,000, which includes training, and represents exceptional value for money within the franchising industry.
Adds Cottee: "The Wash Farm Discovery Day is, I think, the best opportunity for potential franchisees to come and meet the Riverford Team, and find out what the company is all about. They'll get to visit the farm, and see where the food is grown and packed, and they can ask questions about the various business models to find out which one is most suited to their lifestyle demands."
People who bought a franchise…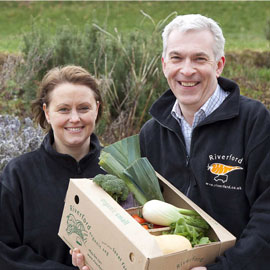 Tim and Jaqui Rix (left) bought their Riverford resale in Buckinghamshire in January 2010 and are now reaping the rewards of their investment. Says Tim: "I started looking at Riverford two months before I was made redundant. At 49, I wanted the challenge of working for myself. Riverford has given me that, and also given Jaqui and I more flexibility. Currently, we're making around 650 deliveries a week, and our recent figures showed that our last year was the highest turnover the territory had ever had. I think we achieved that because we increased and improved on the sales and marketing of the previous owners."

Mary and Chris Watson (top photo) started their virgin Sheffield veg box delivery business in 2007, while Mary was pregnant. She says: "It was daunting, but we quickly got the hang of it. In our first week we had just 60 deliveries to make. We now have more than 500 with plans for further growth. For us, the biggest benefit of becoming Riverford franchisees is that Chris has been able to spend more time with our son, Zach. Before running our own business, Chris worked long hours and saw very little of him during the week. Now, even though Chris starts work at around 5.30am, he's home by early afternoon, which means we now have the lifestyle we want!"

Read more about Riverford Organic franchise opportunity