Last Updated: 30-January-2012
Baguette Express franchisee goes down master franchise route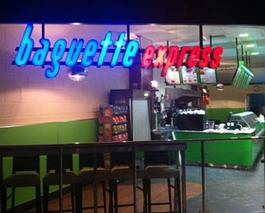 Accomplishing a 0-5 successful store opening record within two years is no minor achievement, however, actualizing such momentous growth through recession is certainly bucking the trend and prevailing nationwide economic downturn.
Baguette Express have an already proven track record of defying the odds, having grown in stature to over 60 stores throughout the UK within six years; the emerging global franchise newcomer is recognised competition for larger names such as Greggs and Subway.
The rising star of the Franchise world decided to take the popular route of expansion; widely recognised to benefit from fast growth rates; through geographically assigned Master areas, appointing carefully selected Master Franchisees to move the business forward within their own defined region.
This has proven to be a wise move with the North East, Newcastle and Carlisle Master demonstrating a rapid two year growth and an enviable 20% return on investment. With five stores opened and operating profitably, there are yet more new openings on the immediate horizon and multiple enquiries from prospective franchisees who have witnessed this particular success story.
"After owning and operating 2 Baguette Express stores as a franchisee, my brother and I felt the next step was naturally to take on a master franchise licence.
After approaching the head office and telling them we were interested in the north east of England and Carlisle, the whole process went smoothly. We were the first masters on board but a few others have since come on board.
Business in the north east has been extremely fruitful for us and we now have 5 stores trading, ranging from small take away stores to the large corporate coffee feel with ample seating type of stores. These are based on the high street and within shopping centres. Here's hoping this year is as successful as the previous one and we achieve our aim of having 8-10 stores open and trading by the end of the year," commented Wasim Arshad.
Three of the five outlets within the North East Master Franchise area are trading from shopping centre food courts; prime space but also highly competitive with rival outlets neighbouring the BE stores. Competing favourably, Baguette Express has employed structured marketing tactics and strategies to fight off any competition, offering freshly baked baguettes on the premises and one low price for any filling combination.
The chain's USP is obviously a success as growth continues into 2012 and spreads further afield from the UK and into Europe and beyond, where interest is blossoming and recognition of the brand grows, ultimately recognising Baguette Express as an International concern.