Last Updated: 20-September-2011
Two Men and a Truck franchise defies downturn in housing market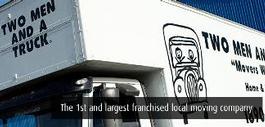 "What housing slump? The UK removals market is worth £1.5 billion"
It may seem an unlikely time to start a removals business, but Two Men and a Truck have been defying downturns for sometime. A business that you would expect to suffer when house sales have slumped is actually on the up, thanks to a significant boost in the lettings market.
"We've done all the huffing and puffing so our franchisees can look after the business of managing their people, assets and growing the business."
"The downturn in house sales hasn't affected us one bit because we're in demand through a reputation of providing great customer service," said UK Managing Director Mike Harrison. "Over two million people will be on the move this year, either from homes, apartments or businesses, in a market worth £1.5 billion. We specialise in short-haul trips in a radius of around 25 miles, so we can keep our overheads down by not making long, costly and time-consuming journeys.
"Couple that with a proven operating system, expertise gathered over 25 years and a really friendly, professional team, who'll look after your furniture as if it were their own grandmother's, and you've got a proven business model that's going places."
During the global financial woes, Two Men and a Truck have been busy expanding their franchisee stable to +215 Franchisees and +1200 moving trucks throughout the US, Canada and Ireland.
Two Men and a Truck has been doing business in Dublin for 5 years now, and has proved the model successful in both the UK & Irish markets.
Two Men and a Truck's development strategy is to is restrict the number of UK and Ireland franchises to a maximum of 70 and says enquiry numbers are "more than healthy…When they're gone, the opportunity to get in on the ground floor of this highly successful business will be gone as well" says Harrison.
The US company was born when single mom Mary Ellen Sheets hit on the idea of supporting her two high school sons with a summer business using a used van to do moving jobs for friends and neighbours. Mary Ellen told her children to look after their customers and word would get around. It did, and today, launched with a $350 van and a lot of enthusiasm, it is the largest franchised removal business in the world.
Franchisees pay an initial franchise fee of £29,950 and will need working capital. They'll be expected to share the company vision of building a profitable business by delivering superior customer service in the moving industry and will be expected to have the kind of entrepreneurial spirit that demonstrates leadership. "They won't be expected to do any huffing and puffing because we've sorted that already," added Mike Harrison. "But they must be able to manage people and develop their market."