Last Updated: 15-July-2010
Gas-elec franchise system frees up franchisees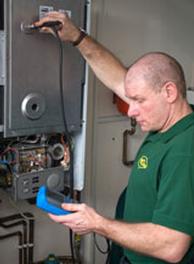 Almost two years since e-cis – the gas-elec group online booking system – went live; it has recorded over 600,000 jobs.
The bespoke IT booking software was designed in-house by gas-elec as a complete management solution to be used by the network for private landlords, lettings agents, homeowners and commercial clients.
"The entire booking process is automated, which allows clients to make web bookings for our products and services and for staff to track and trace orders. Clients can also manage their account by logging in and downloading their reports at their convenience. In fact it's a full franchise support tool built by a successful network for other networks," says John Davidson, managing director of the gas-elec group.
Over and above bookings, e-cis can also track renewals and store reports within an archive facility that is linked to individual customers or larger establishments. The software is modular and includes gas-elec's full service accounting bureau, which handles all forms of payment from any customer type, and includes invoicing, credit control and debit collecting to the full bookkeeping and VAT for the franchisees.
"This means that our franchisees have more time to concentrate on their business and don't spend hours doing time-consuming administrative work. The system takes care of all the back office tasks and bookkeeping for the entire network," concludes John.
The software has integrated five user levels and makes payment runs every fortnight, which is hugely beneficial to gas-elec franchisees.
Client Testimonials
e-cis is the heart of our operational management system. It maintains full records of all our inspections, it tells us when they are due, plans our engineer workload and maintains full financial records. Without e-cis our admin would be very labour intensive. Bob Cadman, gas-elec regional manager: North East England, Cumbria
e-cis is a live system which means that we have the ability to carry out an inspection and get the certificate on the desk of the customer on the same day. This is not a handwritten report – it is a professionally-printed certificate. The reports are also accessible via the internet for customers to download. It is unique to gas-elec and has made life so much easier in the office: my team and I have everything we need at our fingertips. The possibilities are endless with enhancements being added on a regular basis. Dee Curl, regional manager: Kent, Sussex, South Surrey
gas-elec inspire confidence from booking to certification. Especially helpful are the live reports from engineers from properties to advise on faults and solutions which makes for a very timely and efficient service. Richard Baugh, Romans: Crowthorne

I

think that gas-elec provides a very efficient service. They take care of a lot of the admin, as well as actually doing the services – a must for every estate agency. Denise Chard, Prospect Estate Agency: Reading
e-cis means that everything is accessible at the click of a button. Not only do I use e-cis to view the jobs booked for me each day, but I use it on a monthly basis to complete my accounts. At year end I use e-cis as a double check point when submitting my accounts to accountant. The VAT calculator is also very handy as it calculates the correct VAT amounts. Back in the day when there was no e-cis, things certainly took considerably longer to complete. David McVicker, gas-elec safety inspection franchisee: Swineshead
Read more about gas-elec franchise opportunity