Last Updated: 19-March-2010
Fresh Growth for TruGreen franchise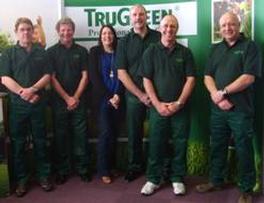 Leading lawn care service provider TruGreen is delighted to be expanding its network of UK franchisees with the addition of five new businesses covering Bromley, South Oxfordshire, South Berkshire, South Bedfordshire and Cheltenham and the Cotswolds.
The growth of the network has been attributed in part to the renewed focus within the business as the new franchisees all join TruGreen at an exciting time following the recent addition of former Wembley Head Groundsman, Steve Welch as Network Manager; along with the launch of the new look TruGreen branding.
Steve comments; "We have worked hard within ServiceMaster over the last few months to refine the TruGreen franchise model and to ensure we are offering the most comprehensive support package to both existing and new franchisees. It's very much a team approach and the combined effort of our sales, marketing and technical support teams is producing some impressive results."
Each of the new business owners has had their TruGreen vehicle wrapped in the striking fresh livery and having completed the TruGreen Training Academy in March are all ready to get started on spring lawn treatment programmes.
Mark Ellis joins TruGreen following a career as a Lettings Negotiator and decided on TruGreen having investigated several other lawn care franchises as he was impressed with the support structure in place. He aims to be in a strong position to expand his business and increase his workforce by 2011.
TruGreen was recommended to Paul Taylor by a friend who is an existing franchisee and having worked for many years as an assistant groundsman he had no hesitation in investing in TruGreen of South Oxfordshire.
Les Liberda had used a competitor lawn care provider to look after his own gardens for some time. Having been made redundant in 2009 and with a strong background in sales he decided that a lawn care franchise would be an option worth investigating. Les looked into several opportunities through both national and local franchises and decided on TruGreen as he felt the on-going support package would be a long term benefit.
Les Graves found TruGreen via an internet search and bought into TruGreen South Bedfordshire as he was impressed with the level of experience and industry knowledge within ServiceMaster (the franchisor) and felt that TruGreen offered a great business model.
Rob Edmunds joins TruGreen due to his love of the great outdoors as he feels the franchise will enable him to work outdoors in his own business. He intends to develop his area in Cheltenham and the Cotswolds into a multi van operation in time.
Pictured, numbered from left to right are:
1 Mark Ellis, TruGreen Bromley
2 Paul Taylor, TruGreen South Oxfordshire,
4 Les Liberda, TruGreen South Berkshire
5 and 3 Les & Tania Graves, TruGreen South Bedfordshire
6 Rob Edmunds, TruGreen Cheltenham and the Cotswolds