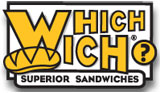 which wich UK Master Franchise
Submit details to receive our prospectus
---
Which Wich? Superior Sandwiches ready to open in the UK
Which Wich? Superior Sandwiches franchise is looking for entrepreneurs in the UK to join our growing family of restaurant franchises. We are looking to award franchising opportunities to passionate entrepreneurs interested in multi-unit development.

About Which Wich Superior Sandwiches
Which Wich Superior Sandwiches was founded in Dallas in late 2003 by restaurant entrepreneur Jeff Sinelli. The national sandwich chain is best known for its customizable sandwiches, creative ordering system, and personalized sandwich bag.
In 2007, Which Wich received the coveted Hot Concepts! Award from Nation's Restaurant News, the premier trade publication for the restaurant industry. Which Wich currently has 400 locations open or in development in 38 states and five countries.
Which Wich master opportunity
Which Wich is looking for multi-unit operators able to open at least 10 units over time. Exact development schedule will be defined after a qualification process and discussion of territory and capability of franchisee.
Which Wich's international market strategy is to allocate territory for exclusive development so franchisees can capture the future growth of the brand they helped establish, without threat of other franchisees entering their immediate area.
Master rights to subfranchise the brand will only be considered after a predetermined number of company-owned units are operating successfully.

Ideal master candidate
1. Experience of being a multi-unit franchisee or owning and operating at least three non-franchised restaurants. Such experience should include:
Site selection, construction, training, marketing and operating.

Supply chain and establishing a local vendor network.

Commercial real estate ownership, lease expertise and/or established broker relationships for identifying sites in desired territory.
2. Lived in and operated retail units in the desired area of development for at least five years such that candidate has knowledge and understanding of the local culture, infrastructure, and business customs.
3. Be able to articulate the benefits of operating in a franchise system including brand consistency and specification standards.
4. Fully understand all country and local laws and licensing processes relating to opening and operating a restaurant.
5. Be able to present a financial, strategic, and infrastructure plan that proposes large-scale development in a reasonable time period and in large markets.
6. Preferred candidates will have strong oral and written communication skills in the English language.
7. Have liquid assets and capital available to immediately both secure territory rights and fund the development of five stores without relying on positive cash flow from operations for first three years. Financial criteria will vary based on size of market, international minimums are listed below.

How much does a Which wich franchise cost?
Franchisee Profile
Liquid Assets: $1,000,000
Net Worth: $2,000,000
Estimated Initial Investment
$181,000 to $480,500 (per unit)
Franchisee Fee
$35,000 per unit (included in estimated initial investment)
Franchise Term
10 years
Territory Protection
50% of the overall Franchise Fees are collected upfront, in lieu of a separate territory fee
Royalty Rate
6% gross revenue
Advertising Fund
1-2% gross revenue
If you are interested in finding out more about this exciting opportunity, please fill in the form below or email johnny@whichfranchise.com