Gloria Jean's Coffee UK Master Franchise
Download our prospectus
---
Introducing the global Gloria Jean's Coffee brand to the UK
Gloria Jean's Coffees is a much loved brand of Retail Food Group (RFG), Australia's largest multi-brand retail food franchise operator.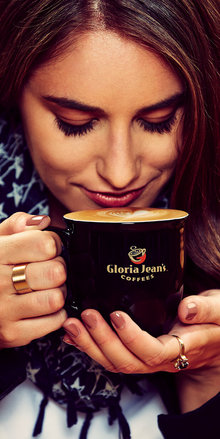 RFG was founded in 1989 and now has a strong portfolio of world class franchise systems with an extensive global footprint - Gloria Jean's Coffees, Brumby's Bakery, Donut King, Michel's Patisserie, Crust Gourmet Pizza Bar, Pizza Capers Gourmet Kitchen, Café2U and The Coffee Guy franchise systems.
In addition, the company is a significant wholesale coffee roaster supplying existing Brand Systems and third party accounts under the Evolution Coffee Roasters Group, Roasting Australia and Di Bella Coffee manufacturing brands.
About Gloria Jeans
Gloria Jeans was founded in the USA before being brought to Australia in 1996. By 2004, Gloria Jeans was present in every state and territory. The next step was to make it an international success story by purchasing the international branding and roasting rights for all countries outside of America and Puerto Rico.
In 2009, global ownership of the Gloria Jean's Coffees brand was achieved, with a buy out of all retail and franchise operations in the USA. In 2014, Gloria Jean's Coffees was acquired by Retail Food Group (RFG).
Gloria Jean's Coffees is now a global success story, serving guests in more than 800 coffee houses worldwide. We are committed to growing our much loved brand across the globe, bringing our passion for people and great coffee to the world.
The flexibility of our coffee house design means that all formats can be adapted to a broad range of locations and localized to suit individual markets. Whether it be a kiosk, a small coffee house, a large coffee house or a drive thru format.
The Gloria Jeans UK master franchise opportunity
We're proud to be an international award-winning, Australian-owned company; we attribute much of our success to our strong network of Master Franchise Partners. Nobody works alone – we provide our partners with excellent training, a proven franchise operating model, along with the ongoing support to help their business grow from strength to strength.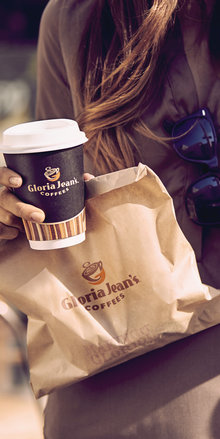 We are looking to replicate our success in the UK by finding the right master franchisee to partner with us.
As a MFP you are required to set up a franchise infrastructure to nurture and grow the business, including:
Training franchisees on how to operate their outlet
Marketing
Leasing
Operational support
Throughout the life of your Master Franchise Agreement you will have the support of our global operations team and other seasoned professionals within RFG who will be able to share their expertise in product development, strategic marketing, sales activation, merchandise, international business and management.
Our experienced Market Development Managers are our Master Franchise Partner's dedicated resources to assist in day-to-day business operations and overall business growth. In addition, an expert management team is always ready to listen and respond to your needs. Regular communications, regional meetings, workshops and conferences with other Master Franchise Partners allows you to network and keeps you updated on what's happening across RFG.
RFG will negotiate a development schedule, which outlines the number of stores to be developed within an agreed timeframe
To receive a copy of our brochure, please fill in the form below or if you have a question to ask, click here to send us an email