As a prospective franchisee, you will be looking for a top-quality, highly lucrative and exciting franchise business opportunity. With World Options, you receive all of this and more!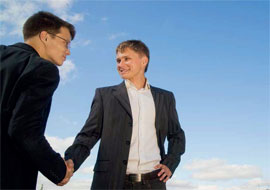 With over ten years of experience in the industry and with both a dedicated and highly experienced team in place, World Options offers a first-class franchise model to those who are looking to work from home, improve their work/life balance, and invest in a profitable management business.
We are seeking ambitious, passionate and determined individuals who are looking to be in business for themselves but not by themselves. If this is you, would love to hear from you!
"Having worked with the WO system in the past I am fully aware of the benefits and feel I can sell the service... The reward of working for myself is so much greater than when working for someone else, I would highly recommend it."
Mike Lowe - World Options Franchisee

World Options offers SME businesses a world-class service which no only saves time and money but allows business owners to concentrate on their business.
The World Options franchise gives you everything you need to launch, build and manage client's shipping needs whether UK or International via Road, Rail, Sea, or Air.


The courier industry is highly lucrative as logistics is the backbone of the UK economy.
With an increase of online shopping, the domestic parcel industry alone is worth £4.4 billion. This industry continues to expand and the need for logistic services will, likewise, increase dramatically. Becoming a World Options franchisee opens a massive and growing market to profit from.


To invest in a World Options franchise opportunity, you will require a minimum personal investment of £12,000.
The typical start-up cost is £29,995 but bear in mind that major banks can fund up to 70% of the amount, dependent upon your financial history
"At World Options it's not just about the franchise fee, we have a finance package available which can remove obstacles for hard working and motivated individuals. Feel free to discuss your personal financial circumstances in the strictest confidence, we are always willing to listen and assist the right franchise candidates."
Warren Ferguson - World Options Franchise Director
For your investment you also receive the following benefits:
Value for money - Low entry cost.
Comprehensive training – With a highly professional and dedicated team.
Huge earnings potential - Work within a highly lucrative market.
Dedicated ongoing training and support – From launch and continuously throughout your time as a franchisee.
Non-exclusive franchise – choose where you work.
Unique software solutions – offering customers multiple choice carriers.
Minimum overheads – no vans, trucks, stock or warehousing.
Financial Options - Exclusive Affordable Financing Package
Work comfortably from home – Create the work/life balance that suits you.

If the above interests you and you are an entrepreneurial individual who is highly motivated and would be committed to following a proven business formula, we want to hear from you!