Chemex International is an award-winning franchise supplying "must have" cleaning and hygiene products to businesses as diverse as London Ambulance Service, Michelin star restaurants, football stadiums, bars and pubs, and children's soft play.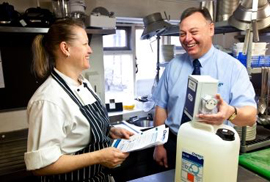 In fact, any business you can imagine could probably become a customer of Chemex. This is a high-profit, low-risk franchise with a tried-and-tested business model within a lucrative market.
The Chemex range consists of over 650 products including unique chemical formulations for our top products, newly created biological solutions indeed everything that your customer may require to maintain clean, healthy, hygienic premises.
Here are just some key benefits:
Massive market - £5 billion and growing
B2B - Business to business opportunity
Repeat sales/volume sales – Clients can be customers literally for decades
Unlimited market – Healthcare to Food, Retail to Entertainment.
Necessities – Recession or boom customers need to buy
Legislation – Your customers need our help
Low risk model – Van and home based
We are currently seeking individuals with a passion for success. If this sounds like you, immediately download our FREE franchise prospectus here.
Your life as a Chemex franchise owner
The reality of the Chemex opportunity is exciting; to fulfil that dream of building your own future with the freedom and flexibility of being your own boss.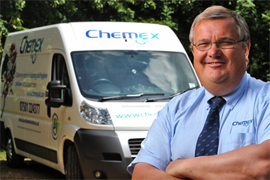 Our dedicated and highly experience franchise team is with you every step of the way, from helping you arrange the lease/purchase of a van to stocking it with a wide and renowned range of products for you to sell.
As part of your investment you are allocated a large territory with over 8000 potential businesses and you will then be able to sell directly to customers by visiting their premises on a regular and reliable basis. There is a small royalty fee of 7.5% that is capped so the more you turn over the more you earn
UK Expansion within a Lucrative Market
Since franchising our network has expanded to 55 franchisees with a potential UK market of over £5 billion.
Existing Chemex franchisees are typically supplying between 100 and 300 customers from a single van. Each van is capable of driving £100k net profit!
The fact is that, with your investment, you can build valuable goodwill as an asset value for your territory and sell it on as a going concern to an existing or new Chemex franchisee when the time is right.
There are virgin areas available as well as a small number of resale opportunities, download more information via our enquiry form.
Your Investment and Rewards
Joining Chemex is now even more affordable with the financing support we can provide:
Capped royalty: £23,500 plus vat means you start on our best trading terms of 6% capped royalty.
Chemex incentive: Achieving your business plan will enable you to realise a £5000 rebate over the first year of your operation. Money you can reinvest in growth.
In both cases you will benefit from great support and receive your in-field support.
What you get for your investment
Your Chemex license
Allows you to operate under the highly reputable Chemex brand
Gives you a proven system to help you build your own successful business
Provides access to the comprehensive and innovative Chemex product range
Allows access to the Chemex on-line support and technical system
Gives the ability to build your territory into a valuable asset and sell on as a going concern
Comprehensive training with our induction programme
Train – 2 weeks initial training – residential and external
Launch – Business launch with your Regional Franchise Manager
Coach – Extended coaching programme to help you reach your business objectives
Re-train – Regular training courses to update and improve knowledge are available throughout the year
What we are looking for
Experience is an advantage, but attitude is essential
Previous sales and business experience is an advantage
Self-motivation
People skills
Reliability
Financial stability, clear credit history
Full driving license