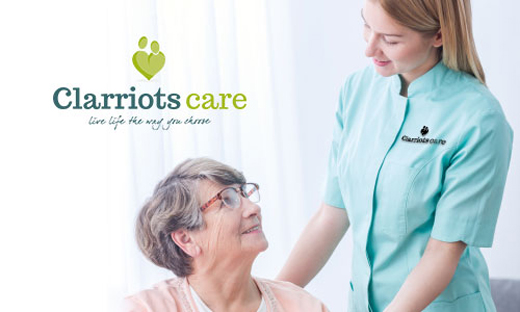 A Franchise that Cares…
Caring for our franchisees as we do for our clients
In searching for a worthy franchise to invest in, it makes sense to choose an ethical franchise with a successful track-record and proven business model. Clarriots Care, tick all those boxes AND provide a high-quality, essential service to local communities throughout the UK.
So if you want to be your own boss, take control of your future and achieve job satisfaction then Clarriots Care should be on your shortlist.
To request our FREE prospectus to receive full details of our franchise offering, click here.
Established Brand, Ongoing Success
Clarriots Care was established in 2008 by James Carratt who has extensive experience in care industry as both carer and manager, therefore bringing a wealth of first-hand experience to the business.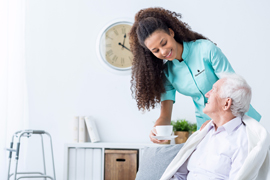 With James as Managing Director and, therefore, hands-on knowledge of what constitutes world class care, Clarriots has achieved an exceptional record of success and a solid reputation for excellence. Franchisees greatly benefit from the Franchisor's extensive experience, a highly recognisable and established brand name, high-quality training, and on-going support.
In short…at Clarriots Care, your success is our success! This means that we constantly invest back into the brand, ensure that we are on the forefront of the industry by continuing to offer world class care, and help you in every way to ensure that your business is not only successful but also highly profitable.
It's Time for Your Share of a Growing Market
It is safe to say that Clarriots Care is positioned as one of the market leaders within this thriving sector in the UK.
Only last year did we see the Clarriots network grow by 75% and we are experiencing month-on-month growth to our network turnover. In June of this year, we increased our network turnover by 18.9% followed by a 6% increase in July a common trend that shows no sign of stopping.

Entrepreneurs continue to recognize just how lucrative a care franchise is, especially in the context of a lucrative market. Over 11.6 million people in the UK are over the age of 65, that is a whopping 17.83% of the population who might be interested in our services at some point in their life.
In fact, with people living longer than ever before, this percentage of target audience will only increase. In addition, it is not just the elderly community which need care, so we are offering you the opportunity to get involved in a lucrative market by offering essential care services for all who need it.
Catering for your local community
In response to the increasing need for excellent care, Clarriots Care has responded by providing the most diverse range of domiciliary care services in the UK.
As a Clarriots Care franchise owner, you will be able to offer 18 different home care services to the health and social care market, which provides you with multiple revenue streams:
| | |
| --- | --- |
| Care for Children | Learning Disability Care |
| Personal Care | Social Care |
| Live-in Care | Domestic Care |
| Respite Care | End of Life Care |
| Dementia & Alzheimer's Care | Night Care |
| Physical Disability Care | Other Specialist Services |
| Rehabilitation Care | Recruitment Services |
| Training Services | Commercial Cleaning |
| Home Maintenance Care | Pet Care |
The Clarriots Franchise Package - A Wise Investment
The Clarriots Franchise fee is £32,500 + VAT (funding available - banks can lend up to 70% of the total cost). This comprehensive and, industry-leading package can be tailored to your individual needs and includes:
Unrivalled, Intensive Training from Experienced Professionals
Ongoing, Personalised Support
£10,000+ worth of Training Equipment (to train your own staff)
Instant Accreditation from Professional Bodies
State-of-the-art Bespoke Software
100% Exclusivity in your Territory
IT Setup & Support
Marketing Expertise
A £1000 contribution for your Launch Event
And much, much more!
To receive full details of your franchise package, click here to request our free and non-obligatory prospectus.
Training and Support
Our expert team of qualified professionals are here for you from Day 1. This may be your business but we will work with you to achieve and exceed your targets. As a Clarriots Care franchisee, you would receive:
Care experience is not necessary as this is a management franchise
In-depth training and development programmes
Dedicated on-line "franchise owner hub" hosting a wealth of information and support materials.
An experienced head office support team
Conference calls
Site visits and regular meetings as you need us.
Access to all marketing materials and support to help you drive enquiries and build your business.
Free targeted marketing to your own enquiry database.
Clarriots' Franchisees - What do they say?
We believe in our franchise model, but don't just take our word for it, hear what our franchisees have to say.


Is Clarriots for you?
If you are a motivated, go getting, type of person then the answer is most likely – yes! If you are just as passionate about making a difference as you about are making a profit then your local community needs you! Get in touch today and get the self-rewarding benefits from becoming an integral part of your local community.