Benefit from a proven business model within a booming market!
Ableworld was founded in 2001 when it was recognised that there was an untapped niche within the aged-care sector. Since then, Ableworld has grown into the largest mobility and stairlift retailer in the UK.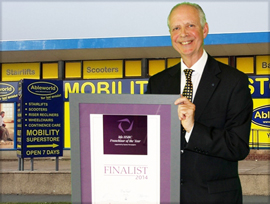 We recognised that due to the population living longer thanks to medical advancement, there was a growing need for hands-on help for the elderly living at home, as well as those living with disabilities. Our aim was to provide them with essential products and services to help them enjoy greater independence so as to live more comfortable and active lives.
As this market is predicted to grow even more rapidly over the next 20 years, there is a high demand for more Ableworld stores across the UK, and hence the need for the right people to join our growing network.
We are looking for ambitious individuals who have what it takes to follow our proven business model and develop a thriving retail outlet. Sound like you?
If yes, get fuller details on this exciting opportunity, why not request our FREE and non-obligatory franchise prospectus here.

The Ableworld franchise opportunity
Ableworld offers our franchisees two complimentary income streams – a retail outlet and the stairlift business.
Our retail outlets offer customers a large range of mobility and homecare products at value for money prices; our products range from walking sticks to hi-spec mobility scooters. We excel and pride ourselves on the level of customer service and aftercare we offer.
Our stairlife business provides a complete service from initial assessment through to the fitting and maintenance of high quality reliable stairlifts.
Is this franchise right for you?
Whether you are an entrepreneurial individual or a couple/joint business owners (where one person wishes to concentrate on the retail outlet and the other focus on being a specialist retail manager), this franchise opportunity may be the right route into business ownership for you.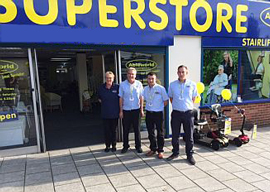 For the stairlift business we will train you to quote, install and repair the equipment. You can either do this yourself or we can help you to recruit an engineer if you prefer to concentrate on the sales and management side of the business.
You don't need to have prior experience as we will give you full training on all aspects of the business, though a background in light engineering or mechanics is an advantage for the stairlift side of the business.
How much does an Ableworld franchise cost?
Some potential franchisees can be put off investing in retail franchises because of the high levels of minimum investment required. Figures of £150K-£250K are not uncommon.
In contrast, an Ableworld Franchise can be started with as little as £25,000 of your own money for a typical-sized retail outlet and stairlift franchise.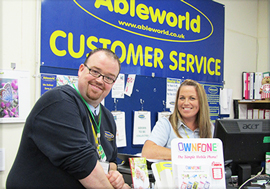 *The total cost of a typical retail outlet and stair lift operation is c.£75,000 but our franchise proposition has been approved by all the main high street banks, finance (subject to status) can be arranged for up to 70% of the total investment. Contact us to ask further about funding options.