The UK's number one 'for sale' board Management Franchise Opportunity
A proven, scalable and profitable multi-van business
The sheer scalability of this business model is huge. There are literally thousands of estate agent and commercial sales and letting signs being put up in your area every week. With a Countrywide Signs franchise you could be the person profiting from managing them.
We are currently seeking like-minded, ambitious individuals to join our thriving franchise network. If you think we would make a great partnership, we would love to hear from you.
To request our FREE and non-obligatory franchise prospectus, please click here.
Your Market: Superb Growth Potential
As the UK's leading estate agent sign board erecting firm, Countrywide Signs can help you start and grow a proven and genuinely profitable business in your local area.
To get an idea of the potential of the Countrywide Signs business model, simply count the number of 'for sale' and 'to let' signs you notice on any local journey. You'll see dozens.
From the outset, we encourage all our franchisees to think big. So we not only initially provide you with a primary territory, but with a secondary area to expand into should you wish to grow from two vans up to a fleet.

Be part of a multi-million pound marketplace today
This is the profitable and exciting scalable multi-van business model you've been searching for. Start your Countrywide Signs franchise with one van and earn on average between £5,000 and £6,000 a month, (based on putting up 22 signs a day).
Grow your business to four vans or more and potentially turnover £200,000. Our average profit margin is 65% on your initial business.
Your Franchise: Getting To Work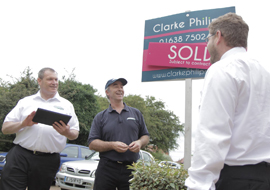 We deploy the latest technology and online systems to manage your invoicing and accounts, admin and phone calls, meaning you can bypass logistical work and better use your time increasing profits.
Our comprehensive training package and on-going support structure means you'll join the 96% of Countrywide Signs franchisees who make a success of their business – one of the best records of any UK franchise network.

Designed to help people from all backgrounds and skill levels, our training package includes three days of practical training at one of our regional branches, and a two-day introduction to the signage business and daily administration skills.
This will be followed by a one-day unit setup session at our national sales office.And after the initial training, you can rest assured our management team will always be on the end of the phone to help you – whenever you need us.
Your Franchise Package: A Truly Great Opportunity
Our franchisees tell us the Countrywide Signs start-up and support package is second to none in UK franchising. That's because our system has been carefully designed to give you the confidence and practical skills necessary to make a profit from day one.

The cost of all this is only £26,950, with on-going franchise fees of just 15% of gross sales, so our average franchisee takes home 65% of what they earn (after tax and expenses). Refreshingly, this business has low overheads and there are no hidden costs.
And with a 95% funding success rate from most major banks - who are keen to fund this opportunity even in a recession - this superb franchise is within the budget of most entrepreneurs committed to starting their own business.
To request our FREE, non-obligatory franchise prospectus, please complete the short form below: