---

Be your own boss – join one of the world's most
successful non-food franchise groups!
Mail Boxes Etc. is one of the world's largest non-food retail franchises. It is the only High Street chain that offers consumers and local companies a truly comprehensive range of business, delivery, postal and print & copy services.
Founded in 1980 in California, the network grew quickly to 5,000 stores in North America. In mainland Europe there are now more than 1,100 Mail Boxes Etc. stores, and over 140 in the UK and Ireland. As our success story continues, we are looking for new UK franchisees to join this globally-recognised network of high street stores that provide the everyday support services our customers have come to rely on.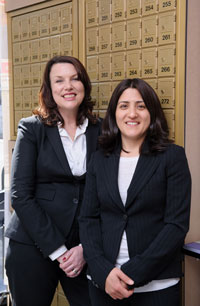 What we do
MBE's current range of services includes:
International and National Courier and Shipping Solutions
Print and Copy Services
Mailboxes
Office Supplies
Business Services and Postal Services
Mail Boxes Etc. (MBE) is a one-stop concept that offers a mix of different services to help meet people's everyday needs. MBE's leading service, the safe and secure packaging and despatch of parcels all over the world, has grown significantly across the network. MBE can pack and ship anything, anywhere - from valuable antiques to holiday luggage.
MBE stores also offer print and copy; mailbox rental and 'virtual address' services for individuals and businesses; Royal Mail postal services; office supplies and stationery, plus support services like internet access, fax and telephone answering that help to make each local MBE store a hub for the community it serves.
Our franchisees enjoy the variety that the business offers, and they appreciate the way it fits into their lives. If you are looking for job security and the satisfaction of shaping your own career, why not consider the many benefits of running your own Mail Boxes Etc. franchise and the flexibility of being your own boss?
What it takes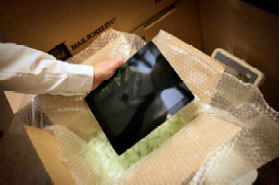 Our franchisees are all independent, committed, positive-minded people who want to make a success of their own business. They are customer-focused and enjoy helping people, often going the extra mile to make their customers happy. Yet they come from all walks of life and from a range of professional backgrounds. Whatever your previous experience, if you are successful in your application to become a Mail Boxes Etc. franchisee we will give you all the training, set-up support and ongoing back-up you need to get your business going and make a success of it.
What you need
You will need to make an initial, up-front investment to open a Mail Boxes Etc. store of around £60,000. Up to 70% of this can be taken as a loan with one of the high street banks, so the initial personal investment is in the region of £20,000.
What you get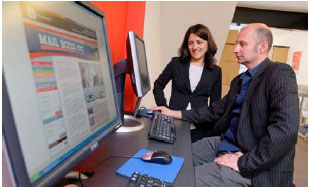 When you join Mail Boxes Etc. you get the full support of a globally-recognised brand with a proven business model and a comprehensive induction and training system that provides a complete turnkey operation. The start-up cost includes all franchise fees, training, help with site selection, shop fitting expenses, legal fees, equipment, supplies and inventory. We will work closely with you to put together a business plan to suit your financial position and aspirations.
Returns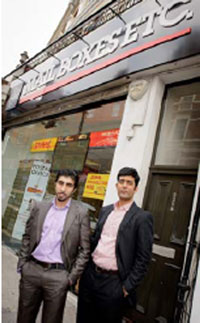 Turnover for established MBE stores generally varies between £100,000 and £600,000 a year. The success of your business will depend to a great extent on how much work you are prepared to put in.

What MBE franchisees say:
"We got advice from our close relations and recognised all that Mail Boxes Etc. has to offer as a successful international business with a strong brand and huge potential for the future."
Faraz Ahmad & Osman Ahmed, MBE Franchisees of the year and owners of six London stores.
"Mail Boxes Etc.'s comprehensive training and support has given me great confidence. There is so much variety in the franchise that one day can never be like any other. We offer a wide range of services and the store is in a vibrant location."
Vladimira Ondruskova, Fulham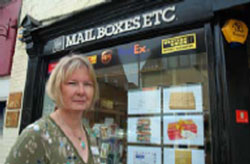 "I am refining my new skills, getting tremendous support from head office with marketing and networking and from other local franchisees, who are only too willing to help me when I hit a log, I offer all the usual Mail Boxes Etc. services, from printing and mail boxes rental to courier services and am developing quite a niche with local auction houses."
Laura Mills, Chichester

"Mail Boxes Etc. met all our criteria, not least because it would provide an opportunity for us to work together, which I can recommend. It has been extremely successful and our personal experience has been great."
Russell & Christine Sykes, Portsmouth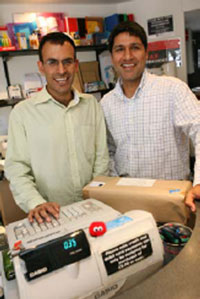 "We particularly liked the variety of services MBE offers and we struck a rapport with the people too. We knew that MBE is a robust franchise, offering a range of services that businesses and individuals really want, so there will always be a demand."
Murli Mulchandani & Rikesh Nichani, former MBE franchisees of the year and owners of four central London stores
"There are limitless opportunities for us to grow as so many new businesses are springing up in this area now, mainly creative ones such as film companies and art galleries."
Bridget Maendl and Naz Celebioglu, Waterloo
What next?
If you are interested in our exciting franchise opportunity and would like to meet us and our franchisees in person to chat informally, why not attend one of our Discovery Days. For more information of these Open Days, please read our recent news article here.
For more information on our Discovery Days and to register your interest,
please complete the form below