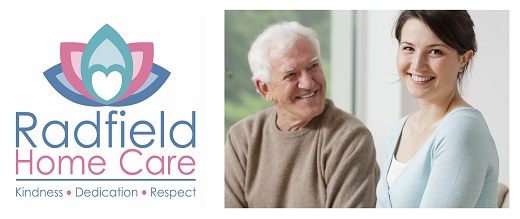 Radfield Home Care…supporting you on your way to business success
For over 30 years, Radfield Home Care has been providing the elderly with specialist domiciliary care services allowing them to live comfortably in their own homes for longer.
We focus our attention on the elderly market as this is the growth area in the industry and by not trying to deliver all types of care you can focus, excel and dominate this market in your territory.
We have many areas available that have room to expand into neighbouring territories and we are looking for ambitious people to join our franchise network early on who can benefit from this opportunity.
Read on to find out more about becoming a Radfield Home Care Franchisee or Click Here to request our franchise prospectus.
The Radfield Home Care story so far
Radfield Home Care was established in 2008 by brother and sister team Dr Hannah MacKechnie, a qualified GP, and Alex Green who has a career background in finance.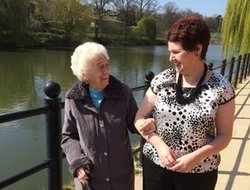 Alex and Hannah were raised in a very highly regarded residential home for elderly people in Shrewsbury. Having grown up living with the residents they have gained a unique insight into the needs of people as they age and what true high quality care looks and feels like. This invaluable knowledge led them to establish Radfield Home Care in Shrewsbury which very quickly became the leading home care agency in the area.
UK expansion
From Shrewsbury they expanded their branch network to be able to offer their bespoke care services into the private elderly care marketplace in various locations across the West Midlands. In 2016 Radfield Home Care Franchising has launched in order to offer likeminded people the opportunity to replicate the Radfield model and business success in their area.
"Radfield Home Care have created all of the tools and techniques to support our franchisees to build a very profitable and successful care business focusing in the private elderly care marketplace. Our franchise is designed to appeal to and target the private marketplace which allows our franchisees to retain control and grow their businesses regardless of local authority budgets and care funding cuts. We have learned many lessons along the way and we are ready to share this knowledge and sector knowhow with our franchisees to help to support them to create their own successful Radfield Home Care franchise." Alex Green, Director Radfield Home Care Franchising
The franchise opportunity
The elderly home care marketplace is booming and the rate of growth shows no signs of stopping as people are living longer and they are wishing to remain in their own homes for as long as possible.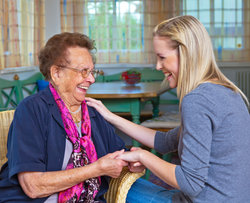 Radfield Home Care franchisees are positioned perfectly to be able to target their specialist elderly care services directly into this section of the care marketplace. It is a far more compelling proposition for a son or a daughter purchasing care for their elderly relative to choose the care provider who is an expert in their field.
From a business perspective this also benefits recruitment and retention of staff as their training burden is less and the difference they can make to a person's quality of life using their specialist knowhow is undeniable.
Our franchise package
Franchisees are awarded an exclusive territory in which there are at least 35,000 elderly people and also a total population exceeding 100,000 people to ensure that there is a sufficient pool of working age people to recruit from.
These are larger territories than many other care franchises and there is much opportunity for ambitious franchisees to expand into adjacent territories and build a larger, more profitable business for themselves.
Our franchise package includes:
Extensive training covering all aspects of setting up and running your care business
Ongoing unlimited support tailored to your specific needs
Site visits and regular meetings as you need us.
An online web portal that hosts franchisee support documents and operational information
Your own suite of web pages that are fully Search Engine Optimised by our in house digital marketing expert.
Full operations manuals and policies with regular updates
Regular sector and legislation updates
Large exclusive territory mapped for potential clients AND potential carers
Marketing support to help you to grow your business locally
Free head office marketing campaigns to your own database
Bespoke software systems with full training, set up and support
Peer support with other franchisees
Annual conferences to develop skills and update knowledge
How we train and support you
We have an extremely thorough training and support programme which starts even before your full training programme begins with support provided for creating your business plan, application for finance and CQC certification support.
Our full training programme covers all aspects of running your own business, marketing for clients and carers, legislation, use of our bespoke software systems and much more.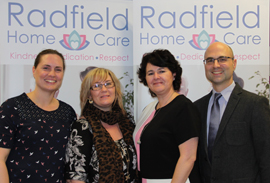 Our franchisees will work very closely with Dr Hannah MacKechnie who has a wealth of experience across the medical and care fields and Alex Green who has many years of experience in business and finance. They support all franchisees to successfully establish and grow their businesses based on their own experiences and understanding of the sector and along with the head office franchise support team can provide as much training and support as a new franchisee requires.
After that you will be ready to get started but you will still need support as you start to take on your first clients and recruit your first team members. That is when a Radfield Home Care franchise really steps up as we come to you and support you in your own location when you need us e.g. interviewing your first employee, undertaking your first care assessment. We really are there every step of the way to make sure that you get off to the best possible start and this training is tailored specifically for you.
Could you be our next franchise partner?
At Radfield Home Care we are looking for the right people to partner with us. We have built a strong family business on solid foundations based on our core values and it is important to us to extend this into our franchise network to ensure that all Radfield Home Care employees and clients will benefit from the culture and ethos we have created.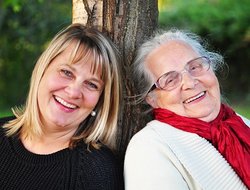 Our franchisees do not need to have had prior care experience to establish a Radfield Home Care franchise as we can support you to recruit these skills into your business, however you do need to be an enthusiastic, optimistic 'people person'.
"We have made it our priority to seek out on the best franchisees in the country and this means that we are prepared to be very selective and choose only those who we feel meet our core values and who we can partner with over the long term. Our franchisees must be caring people who want to look after their employees and their clients well - if they prioritise these things then business success will follow"
Dr Hannah MacKechnie Director Radfield Home Care Franchising
Next steps
If you feel that you have what it takes to join the Radfield Home Care team and would like to be part of an exciting new franchise then we would love to hear from you. Please complete the short form below to download our prospectus or to request further information about one of our Discovery Days.