Looking for a fulfilling and lucrative career? Look no further than Computer Troubleshooters!
Are you looking to get out of the rat race?
Are you searching for a better life/work balance?
Do you want to have more control over your future?
If yes, our tried-and-tested franchise offers you a lucrative business opportunity that gives you flexibility, professional and personal fulfilment, and the chance to create the future YOU have always dreamt of.
To request further non-obligatory information on this exciting opportunity, click here and we will send you our FREE prospectus.
Established brand and a lucrative market
Computer Troubleshooters was created in 1997 in Australia and has since expanded to over 400 locations across 28 countries making us the world's largest IT service franchise.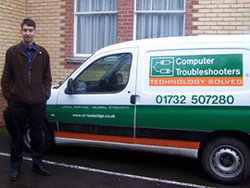 Our success has come from the early recognition of essential on-site and remotely supported IT services. Not only are our services in demand but our franchisees capitalise on the fact that many choose us thanks to our strong global brand, established reputation and solid industry experience.
Instead of worrying about how to obtain customers, what services to offer, what pricing to use, which are the right tools to utilise, and a myriad of other issues, our franchisees are able to hit the ground running with a time-tested formula.
How much does a Computer Troubleshooters franchise cost?
Your financial investment required is from £9,950 + VAT for the Basic franchise package and £12,950 + VAT* for the Enhanced franchise page which includes a larger franchise territory.
In addition to this you will also need to consider marketing funds and personal requirements for the start-up period of 3-6 months. Our dedicated support team can guide and assist you with these areas.
*Banks can often fund 50-70% of your start-up costs dependent upon your financial history.
Invest in our proven franchise system
If you invest in a Computer Troubleshooters franchise you are provided with everything you need so as to work within this fast-paced industry. This includes technical know-how needed so as to offer a top-quality service, as well as all areas of business development, and management.
Once you become a Computer Troubleshooters franchisee, you would offer all or some of the following services to clients:
On-site hardware and software support
Software installation and troubleshooting
System upgrades and networking
Cloud migration and management
Internet, email support and services
Security, data backup and storage
Day to day operations support and help
And much more...
What do I get for my investment?
At Computer Troubleshooters, we are proud to have a unique offering. One of the key benefits is that you are never alone – not only do you have direct and immediate access to our professional and dedicated team, as well as the support of the network of franchisees throughout the UK.
We also have established platforms and preferential pricing for services, such as Autotask, Cobweb Cloud, and Continuum. New franchise owners immediately benefit from using these as part of their business offering. In addition to this, as a Computer Troubleshooter franchisee, you also receive your own:
Exclusive territory
Initial training and ongoing support
Your own franchise location hosted website
Business tools for all areas of development and management
Technical tools
Trademark usage
Complete electronic business documentation and support
Technical support
Access to our private websites and file areas
Business plan assistance
Start-up marketing campaign
To get the full break-down of what you get for your investment, click here to request our FREE and non-obligatory prospectus..
Are we right for each other?
In order to make a success of your franchise it is crucial that you are committed to make the business work by putting in 100% and following the franchise model.
You may wish to operate this business from home and handle most of the technical work yourself. Alternatively you may prefer to start from a service centre and manage staff who would carry out the technical work or you may also wish to become a Business Manager and run a full Managed Services business.
All of the above options are open to you and all we need from you is your commitment, drive and passion for success.
Next steps
If you are interested in this franchise opportunity, we would love to send you some more details and, later, ask you to return details of your experience and aspirations by filling out a no-obligation form.
We would be happy to informally meet you or chat over the phone to answer questions, explain our operation in more detail and provide you with a complete set of documents for you to review, including our franchise agreement and financial details.