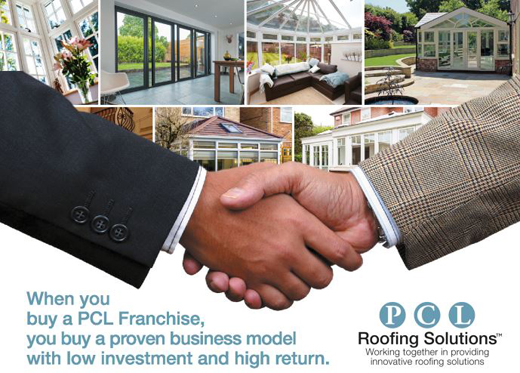 Whether you are looking to be your own boss, have been made redundant or are looking to branch out into a new industry, the PCL Roofing Solutions opportunity should be on your short list!
Established in 2009 by Phil Coppell, and part of the PCL Group of Companies, this niche business has rapidly expanded throughout the UK thanks to the 75+ years' experience of our three main shareholders and operational directors; all of whom have worked extensively in the home improvement, building and construction industry.
We are now looking to expand our existing business operations through selected and strategic franchise partnerships either with individuals looking to start a new business or with businesses operating within a similar sector.
Sound like you? To immediately download our FREE, non-obligatory franchise prospectus, click here.

The PCL Roofing Solutions franchise opportunity
The PCL Roofing Solutions franchise is based around the sale and installation of a range of building products with a lightweight insulated conservatory roof at its heart.
As part of the Phil Coppell Group Ltd we have extensive experience in fitting this product having done so since 2009. Other products include the Internorm aluminium and composite doors and windows along with additional types of conservatory roofs enabling a franchisee to undertake a range of home improvements.
The uniqueness of this franchise opportunity is that, not only can our franchisees choose and tailor the level of franchise they wish to own, the franchisee can also grow and diversify their business through a fully agreed and controlled business development strategy. So - start with minimal cost from home as a sales operation and develop to having premises running your own installation teams.
The PCL Roofing Solutions three franchise options:
Franchise Option A
This option opens the doors to those with no experience in the building industry. All installation work is arranged by PCL Head Office.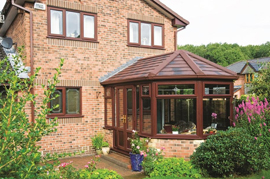 Taking this option, the franchisee needs to generate their own leads, arrange all sales visits, produce a quotation and close the sale. Subsequent liaison with the PCL office will ensure a smooth installation. Training on all aspects of the business including how to sell all the products and how to produce the quotes is provided. Although no specific technical knowledge or previous experience is required, a degree of practicality would be beneficial.
Start-up costs for this Option would be under £25,000 excluding working capital, but all monies are directly invested into the franchise.
Franchise Option B
This option is the next step. Not only does the franchisee need to sell the contract, but they are required to manage the installation side as well. Added responsibility – but added profit!
Again, all training both on site and in the classroom will be given to the chosen installers
Start-up costs for this Option, with everything involved in taking on premises, would be around £32,675, excluding working capital.
Franchise Option C
This builds on Option B by offering the facility to install SIPs panelised extensions and the very exciting range of Acell roofing and external/internal cladding products.
These products are unique to PCL providing a speedy construction method whilst retaining the aesthetics of traditional brick.
As with all Options, full training and support is available for every aspect. All franchisee will have an exclusive area to sell in and all the support necessary to make a success of the venture. Our marketing department provide their services at cost including website construction and all digital marketing (essential in selling today). All necessary training is available and on-going with the program adapted to your needs.
Get the full details of PCL's franchise packages in their FREE and non-obligatory prospectus here

Are we the right match?
There are many elements required to run your own franchise.
Core skills include good organisation and communication including people skills.
Workmanship and customer service of the highest standards along with attention to detail.
The ability to learn and the dedication to work to a proven business franchise model.
An ability to drive (holding a current UK driving licence).
Have the ability to finance the total investment required (you may require bank funding).
Must have the desire to secure your future!