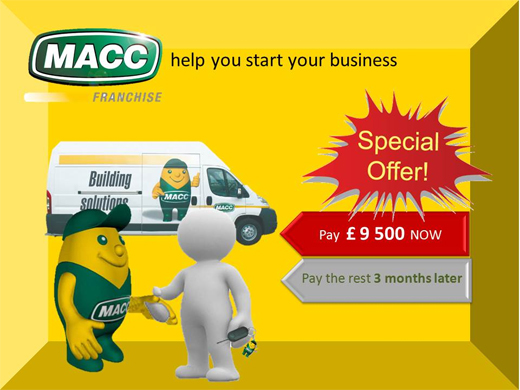 Looking to drive your own future?
Get in the driving seat with MACC Building Solutions!

MACC Building Solutions has been leading the way in the European building industry by providing reliable and unique products for over 55 years. If you are looking for an established company with strong values and innovative products, our franchise model may be the right route into business for you!
We are looking for individuals throughout England to join our established franchise network and to be part of our success story so far. Be part of a business with an exciting future! Download our prospectus for FREE here.
The MACC franchise opportunity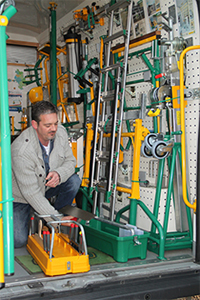 There are many benefits to joining a franchise network: it is an established business and the franchise model has already been thoroughly tried and tested to ensure that franchisees have the tools they need to make their own business a success!
The MACC Building Solutions franchisor and support team have many years of experience within the industry and have already identified how to build a competitive advantage within the market. Franchisees benefit from this experience and know-how, thereby by-passing the challenges faced by new business start-ups within the industry.
What our customers say:
"Excellent quality" A. Harries, A1 Glassmedaway Ltd
"Really fantastic products" P. Watson Roofing
How much does a MACC franchise cost?
**SPECIAL OFFER** - Pay £9,500 now and pay the rest three months later.*
*Banks can lend from 50-70% depending upon your financial history
What you get for your investment…
We firmly believe that MACC Building Solutions franchisees are in business for themselves and not by themselves. Therefore, franchisees receive the following:
A very competitive start-up package that demonstrates the commitment and investment we are putting into developing a successful franchise network throughout the UK
Very innovative and unique products that meet and exceed craftsmen's needs. They appreciate the high quality of our products and services (life time warranty, spare parts always available, specialised products adapted to their job)
On-board dedicated computer and software (IRIS) to take your orders and manage your appointments: database regularly updated, which can as well be regenerated quickly when necessary.
A well-known yellow and green image with our mascot: the MACC man : a friendly figure recognisable by professionals

How we train and support you
One of the many benefits of joining a franchise system is that, from Day One, you receive training and support from a dedicated and professional team.
Primarily, new franchisees spend one week in France at our Head Office so as to learn the basics of the MACC method. Once back in the UK, you will have the opportunity to put theory into practice by visiting and selling to the customers within your own designated area with the help of your Support Manager. Over the first 4 weeks, your Support Manager will work in the field with you and will always remain by your side, should you require further assistance.
Are we right for each other?
To be a MACC Building Solutions franchise owner, experience in direct sales is an advantage, but not essential as you are trained in all you need to know. Therefore, humility and capacity to learn is key to becoming a franchisee!
If you can identify with the following, we believe that we would make a great fit:
Autonomy and organisation
Strong personality, capacity to stand out in front of your customer
Ability to do a life-like and colourful demonstration
Enthusiasm and commitment
Financial stability, clear credit history and liquid capital of £15,000
Full driving license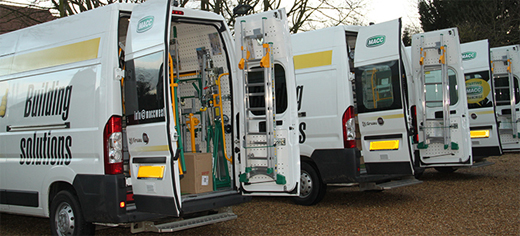 Where we are looking to recruit
MACC is currently only looking for franchisees to cover territories in England.
Next steps…
If you are interested in finding out more about our franchise business, please complete the short form below and you can download our free information pack immediately. Additionally, if you should like an informal, non-obligatory chat, we would be delighted to speak to you in person or arrange a visit.
To immediately download our FREE franchise prospectus, please complete the short form below: