Create your own future with a proven MyHome franchise model
If you are looking to be your own boss, to have full control over your future and to have a work/life balance that suits you, MyHome offers you that…and more!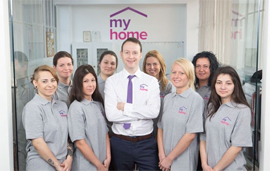 MyHome franchisees benefit immensely from being part of the Franchise Brands Worldwide (FBW) group, one of the leading domestic cleaning franchise groups in the UK. The FBW franchises (MyHome, Ovenclean, and Chipsaway) all have together a collective trading history of 50+ years, as well as a combined global network in 11 countries and over 350 franchisees.
Current MyHome franchisees are talented individuals who manage and build a domestic cleaning franchise business, providing a low cost, consistent and secure, reliable cleaning service to the "up-market" and professional sector.
So, if you are looking for an established and tried-and-tested franchise which is part of a global empire, CLICK HERE
The Franchise Opportunity
As a member of the British Franchise Association, the MyHome franchise is accredited as an ethical brand which offers franchisees a proven business model, training and support. Therefore, franchise owners are given a tried-and-tested blueprint for a successful and profitable business offering.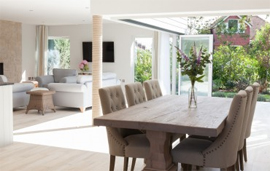 MyHome provide services to a thriving market, which offers franchisees a vast opportunity for success! We have seen a huge increase in the number of households who are employing some form of domestic help year-on-year. Of the 27 million households in the UK, nearly 2.5 million are already employing or looking into domestic help.
In particular, MyHome services appeals to cash-rich, time-poor individuals – senior executives, dual-working households, young people in the early stages of developing their careers, busy working families and affluent mature customers. These audiences have very exacting standards and that's where the MyHome offering and Tri-Colour™ cleaning system shine above all competitors, with a service that is second to none.

MyHome franchisees benefit from:
Support from one of Europe's largest and most successful multi-brand franchisors – Franchise Brands
Proven demand and excellent earnings potential
Massive repeat marketplace with 80% client retention in a growing market
World-class marketing support both from an in-house team and trusted partners Universal McCann – one of the world's top advertising and marketing agencies
Rights to use the MyHome know-how, operating methods and systems
Unrivalled level of training and support
Unlimited expansion opportunities
Use of the Tri-Colour™ cleaning system as developed by Unilever
The services MyHome offers
At MyHome, we offer a unique, methodical and top-notch service to each and every client who will experience precise and extremely consistent cleaning.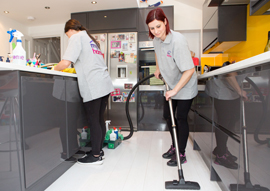 As a MyHome franchise owner, your employees would carry out our specialist Residential Cleaning service. MyHome professional home cleaners are trained to follow a unique cleaning system, which is designed to produce consistently excellent results. The Tri-Colour™ System is a proven step-by-step system which has professionalism at its core, and is designed to achieve excellent standards every time.
How much does a MyHome franchise cost?
The MyHome franchise model has a low minimum investment of £19,995 + VAT*.
*Banks can lend 50-70% of the cost depending upon your financial history.
For this cost, you receive:
Comprehensive training manual
Training and Support
Employee uniforms
Stationary
And much more!
Request our franchise prospectus here to get full details about what you receive!
What do I get for my investment?
When you invest in a MyHome franchise you can be sure that we are with you every step of the way of your franchise journey! Your challenges are our challenges and, likewise, your success is our success! We will provide you with all the tools to become successful and profitable.
Therefore, as a MyHome franchisee you are in business for yourself but not by yourself. From Day 1, you are given in-depth training and support from our highly-professional and dedicated Head Office. This includes:
A 5-day Intensive Training Course at Head Office
Ongoing Training and Dedicated Support
Marketing and Business Development Support from our Team of Franchise Support Executives
A 6-month Marketing Launch program worth £6,000.
MyHome franchisees also benefit from the operational strength that being part of the Franchise Brands Group brings. This is based on its central support services, enabling franchisees' access to world-leading suppliers and systems, which are normally commercially unavailable to small or developing franchisors.
Hear from one of our franchisees: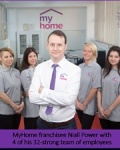 "Since setting up our MyHome business over 10 years ago it has grown month on month, even during the recent economic conditions! From the outset we had terrific support from the MyHome team and we know that we can count on their considerable knowledge and experience as we build the business. The distinctive MyHome branding and Tri-Colour cleaning system ensures we are at the forefront of the continuously expanding and lucrative domestic cleaning marketplace." Niall Power, MyHome North London
Who suits this franchise?
If you are interested in managing a team of high-trained, professional trainers and understand the value of working within a proven business format, we would love to hear from you!
We are looking for enthusiastic and like-minded individuals who share our work-ethic, attention to customer service, and determination for success. If this sounds like you, we would love to send you more details and, should it suit you, have an informal chat about the next steps of becoming part of the MyHome family.
To receive our FREE and non-obligatory franchise prospectus, complete the short form below: