Hitting the high notes with a


Jo Jingles

franchise
Jo Jingles is
pre-school music classes for babies and children
aged 3 months - 5 years. (Classes available for children aged up to 7 and 8 years in some areas).
Our aim is to stimulate interest and enjoyment of music and movement with a series of varied and educational programmes, featuring:
Playing percussion instruments
Movement and dancing
Action songs
Nursery Rhymes
Educational fun themes
During Jo Jingles classes, which are run mainly during school term time, children are encouraged to:
Develop language skills and imagination
Improve physical co-ordination
Gain confidence and independence
Interact with other children and gain social skills
Jo Jingles: a business opportunity
An exciting opportunity to run your own franchise business, offering music and singing classes for children aged 3 months - 5 years in your local area. The benefits include:
Flexible working hours to fit around your own family life
Low start-up costs, good return on investment
Comprehensive on-going training
Advertising and promotional support
Equipment and class programmes provided
Where do you find Jo Jingles?
Jo Jingles has grown steadily throughout the last 18 years and there are now franchisees in most major cities and towns throughout the UK. We also have 9 franchises in Northern Ireland, 4 in Ireland and 2 in Western Australia.
Jo Jingles is now firmly established as the UK's largest provider of pre-school music and singing classes and our aim is for further expansion in the UK and overseas.
What does a Jo Jingles franchise cost?
A Jo Jingles franchise costs from £5,500 - £9,000 + VAT, depending on the size of the territory.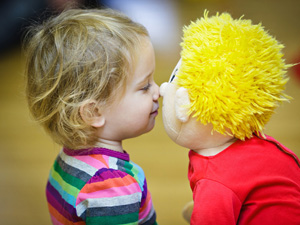 The franchise package includes all the usual benefits, from an exclusive territory and initial/on-going training to an operations manual, class programmes and equipment such as percussion instruments, music books and CD's recorded exclusively for Jo Jingles by well-known presenters, (including the BAFTA Award winning Brian Cant) from BBC's children's programmes. A local website is also included.
How we support you
All new Jo Jingles franchisees receive at least one week's comprehensive training before starting Jo Jingles classes.
We encourage visits to other franchisees, provide additional in-class training and on-going promotional support with the business with marketing and online activities - Head Office also sends out regular updates on regional and national promotional and advertising activities and manages an on-going and active national PRcampaign to support the brand.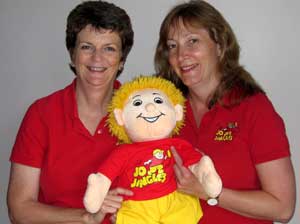 Our training course covers:
Everything you need to know about Jo Jingles
Managing your own business
Accounts
Advertising & pr
Class programmes
Detailed training manuals along with access to online practical training are supplied to each franchisee. The initial training is followed up with further regular training meetings, appointment of a local mentor and on-going support and business ideas for franchisees.
To get the full details of our franchise offering, complete the short form here to receive our FREE prospectus.
Profile of an ideal Jo Jingles franchisee
Typically, Jo Jingles franchisees are mothers who have experience of very young children and may have dealt with the pressures of "juggling" a career and home.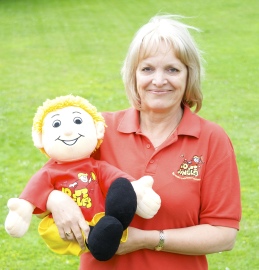 Applicants do not need to have had any musical training, but ideally should have a good singing voice, a musical background, and a genuine interest in music. They should be bright, energetic, have endless patience, be well organised and have good presentation skills.
Above all they need to relate to small children and take pride in being involved in the entertainment and education of pre-school children. A business/sales and marketing background is useful.
Where we are looking for new Jo Jingles franchisees
Opportunities to take on established Franchise areas include:
Derby, Burton-upon Trent, Tamworth & Lichfield
New Forest/Lymington/Southampton
Fareham, Gosport, Portsmouth and Southsea
South Bristol
Sutton Coldfield & Walsall
For a FREE and non-obligatory franchise prospectus, please complete the short form: