Join a bfa HSBC Franchisor of the Year award winner
If you want to succeed in franchising it is essential that you invest in an established and ethical brand which supports their franchisees from Day One.
As the UK's largest and only nationwide estate agency board company, and with nearly 20 years' experience in the industry, Agency Express provides franchisees with a thoroughly tried-and-tested franchise model and all the tools needed to build and manage a thriving business. All we need now is … you!
If you have a thirst for success, we want to hear from you. Complete our enquiry form for our free and non-obligatory prospectus click here.
10 Reasons to choose Agency Express
1. Low start-up costs
2.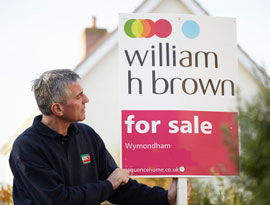 A van based business means low overheads
3. 100% daily repeat business
4. Existing national accounts
5. No national competitor
6. Family friendly working hours
7. Simple to operate
8. Centralised invoicing and payments system
9. Minimal paperwork
10. Accredited by both the British and Irish Franchise Associations
Established Franchise and Lucrative Market
Launched in 1998, Agency Express has rapidly become one of the UK's leading professional estate agency board franchises.
Thanks to our solid business model and established reputation, our franchise network has grown steadily to over 112 franchisees, all of whom provide for over 45% of estate agencies in the UK; that's over 100,000 property visits per month!
As the services we offer will always be in demand, our franchisees will continue to benefit from investing in this highly lucrative market.
The Earning Potential of Agency Express
Due to the lucrative market Agency Express franchisees' earnings are determined by the level of their ambition.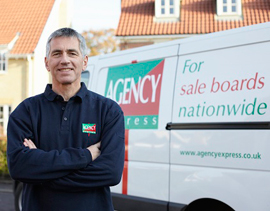 With some of our top franchisees turning over in excess of £160,000, this is a low-investment, high-profit franchise opportunity.
At Agency Express we want our franchisees to continually experience this level of success, so we ensure that franchisee's territories are designed to give them the maximum return for their investment and hard work.
What do you get for your investment?
To invest in our successful franchise business, the cost is £21,500 + fully claimable VAT.
The franchise package includes:
Territory licence: A 10-year renewable franchise agreement to trade under the fully protected Agency Express identity (European Trademarked) within your own exclusive territory.
Fully sign-written van: The deposit paid on a new Renault Master van supplied complete with Agency Express graphics, removable racking and satellite navigation system.
Specialist tools and equipment.
Corporate clothing.
Stationery and marketing materials.
Public liability insurance: The premium paid on your first 12 months' public liability cover (£5,000,000)
Launch and on-going support: Pre- and post-launch support comprising initial territory research, customer database creation and weekly mailshot campaigns.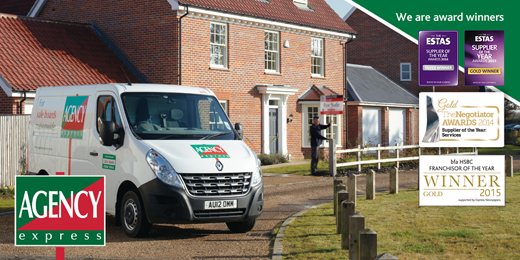 Training and Support
In addition to the franchise package all Agency Express franchisees receive top-quality training and support from our large dedicated team. All our franchisees are never alone in their franchise journey as the team are only a phone call away with help and advice.
Furthermore, Agency Express' offer franchisees a unique business management system which reduces administration, giving franchise owners more time to concentrate on offering a top-quality service and building up a thriving business.
Awards Winners
Agency Express is proud to be multi-award winners – here are just a few that we have won:
bfa HSBC Franchisor of the Year WINNER 2015
Franchise Marketing Awards 2015 – Best Website
ESTAS 2015 – Supplier of the Year – Best in Sector
ESTAS 2015 – GOLD WINNER
The Negotiator Awards – Supplier of the Year 2014
Estate Agency of the Year 2014 - Bronze

To receive your free and non-obligatory prospectus about our award-winning franchise, please complete the short form below: