About whichfranchise - the leading UK franchise website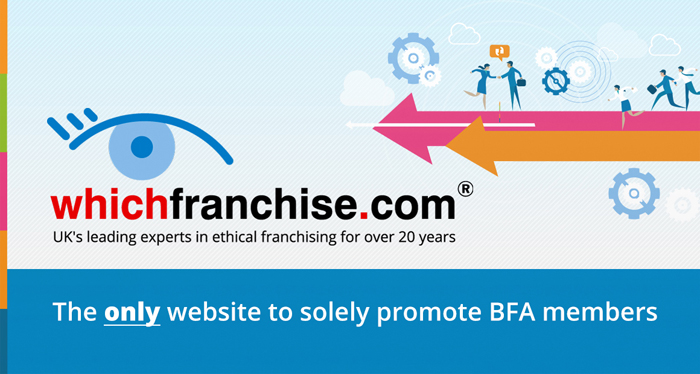 whichfranchise.com, is the UK's number one website for free franchise information, advice and opportunities, and the official online partner to the British Franchise Association (bfa).
As well as our UK franchise website, we currently have websites for "Franchising in Ireland", "Franchising in South Africa", "Franchising in Australia" and the "US Franchise Resales".
whichfranchise, named in the bfa/NatWest report as "useful recruitment tool for franchisors", attracts a serious of potential franchisees from:
attending all bfa-approved national franchise exhibitions,
advertising in traditional franchise press and non-traditional press such as national newspapers, business magazines, women magazines etc
and from our close relationships with key organisations/suppliers such as the bfa, HSBC, Lloyds TSB, development agencies, national press etc.
The story so far...
whichfranchise.com is the brainchild of Jonathan Sellyn who has been actively involved in promoting ethical franchising in the UK for over 20 years. He is recognised as one of the leading experts in franchising throughout the UK, focusing on the needs of prospective franchisees. Jonathan speaks regularly at franchise seminars and events.
Having identified the need for further, easier accessible franchise information, "Cdfex" the world's first Interactive franchise exhibition and directory, and also "The Franchise Advisor", a Franchise Educational CD-ROM were developed. Both products were endorsed by the British Franchise Association (bfa).
Though the Cd-roms proved a success, a more effective and efficient way of delivering this information to a mass audience was needed. The answer was to provide the information online, which led to the development of whichfranchise.com.
Contact Details
Email: suzanne@whichfranchise.com
Address: whichfranchise.com, Suite 4/4,75 Bothwell St, Glasgow, United Kingdom, G2 6TS
Tel Number: 0141 204 0050
Fax: 0141 204 0048